Daphne Joy Responds to Ex 50 Cent's Post: 'I Just Want to Be Happy'
Rapper 50 Cent's ex, Daphne Joy, posted a statement on her Instagram on Monday night, saying she is tired of defending her character after 50 Cent publicly called out amid dating rumors.
There was speculation that Joy—a model and mother to her and 50 Cent's son, Sire Jackson—was dating rapper P. Diddy after the pair were seen together at the iHeartRadio Music Festival in Las Vegas this past weekend.
50 Cent (whose real name is Curtis James Jackson III) and Diddy (a.k.a. Sean Combs) have famously feuded for years. On Monday, 50 Cent posted a photo of himself and Sire, writing in the caption: "oh s**t, that's your mommy over there with Puffy. LOL😆😆😆 Remember what i told you the other day, these b****** be crazy. SMH."
While neither Diddy nor Joy has confirmed or denied any dating speculation, Joy shared her own statement on her Instagram following 50 Cent's post.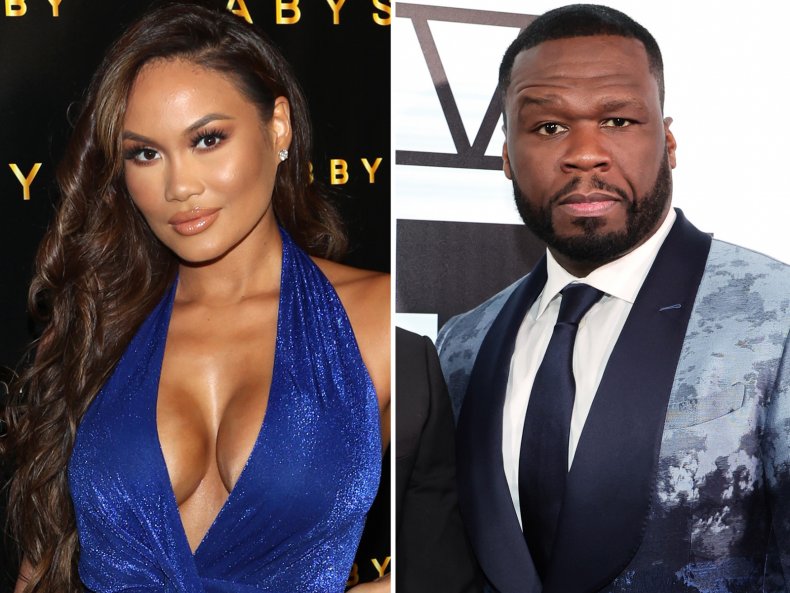 "I hate speaking about my private life on social media. But I feel it needs to be addressed, I'm so tired of my narrative being what it is," Joy wrote. "I was in a 2 year relationship 10+ years ago and out of the relationship God blessed me with a beautiful healthy baby boy. Although my child's father and I parted ways, I shifted my focus on my sons well being emotionally, spiritually, and everything in between.
"I've healed privately, matured, have been closer to God then ever before and really appreciating this life," she continued. "I just want to be happy and be left alone. We're all human and you never know where life can take you. I value and cherish anyone i bring into my life and when I finally show a glimpse of my happiness, I feel I'm attacked for on it. I'm so tired of defending my character, being pre judged and constantly being villainized. I'm not doing anything wrong and wish no ill to anyone.
"I just want to be happy," the model concluded. "Thank you and God Bless."
50 Cent and Joy split in 2012 after dating for two years. Their son Sire was born in 2012.
The popular rapper has feuded with a number of other artists in the past, including hip-hop star Lil' Kim recently.
Earlier this month, 50 Cent called out Lil' Kim for lyrics in her "Plan B" remix with Megan Thee Stallion, saying that Lil' Kim's verse allegedly disses Nicki Minaj's son. Lil' Kim responded, writing at the time: "I never said a word about anyone's child ...please feel free to listen to the song where we were clearly talking about an EX. To try and twist my words to have an excuse to take digs at my child is disgusting."
Newsweek reached out to representatives for 50 Cent and Daphne Joy for additional comment.