Lil' Kim Denies Megan Thee Stallion Collab Disses Nicki Minaj's Son
Rapper Lil' Kim responded to claims on Thursday that her recent collaboration with Megan Thee Stallion throws shade at Nicki Minaj's son, saying that she "never said a word about anyone's child."
Megan Thee Stallion and Lil' Kim, whose real name is Kimberly Denise Jones, collaborated on a remix of Megan Thee Stallion's song, "Plan B," with Jones adding a new verse saying, "Your father's a b****, your brother's a b****, keep actin' like this and your son gon' be a b****."
The lyrics were misconstrued, however, and rapper 50 Cent took to Instagram to call out Lil' Kim for allegedly dissing Minaj's 2-year-old son, who Minaj refers to as Papa Bear since the child's name isn't publicly known, in the verse. In a post that has since been deleted, 50 Cent tagged Minaj and said she "better light her a** up" for saying "something about the baby."
He also appeared to comment on Lil' Kim's 8-year-old daughter, Royal Reign, saying, "Her baby eye f**ked up. LOL."
The comment was then reshared on The Shade Room's Instagram.
Lil' Kim responded to the claim on her Instagram story, writing, "I never said a word about anyone's child ...please feel free to listen to the song where we were clearly talking about an EX. To try and twist my words to have an excuse to take digs at my child is disgusting. I'm one of the most disrespected legends in the game but what you will not do is come for MY CHILD."
"I still can't believe y'all can't see through 50's lame a**, disgraceful, ugly, and narcissistic tactics... y'all still falling for that s**t," she wrote in a follow-up Instagram story post. "He created this whole false narrative to cause drama and confusion because the girl he wanted is getting too much attention."
She also tagged 50 Cent's girlfriend, Jamira Haines, writing, "you are a gorgeous sophisticated intelligent woman but being with someone who openly and comfortably attacks children is a bad look get out while you can girl!!! Anyone who knows me knows even if you are my enemy I would never say anything about anyone's child. Kids are off limits!!!"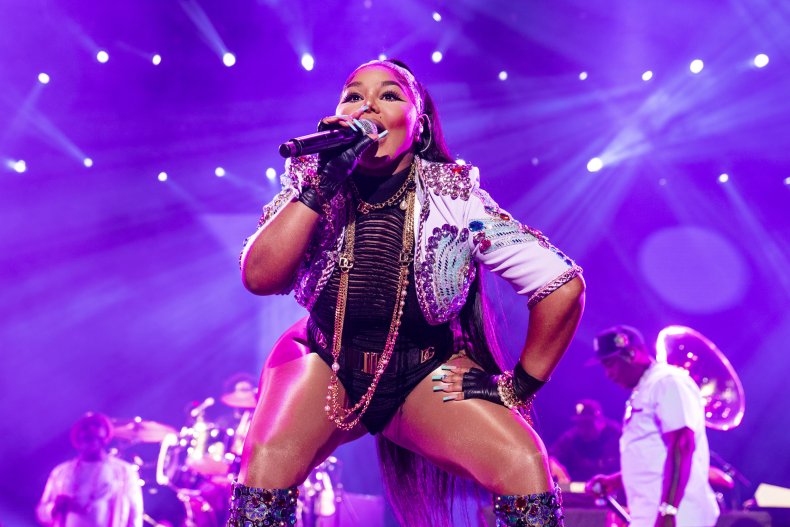 This is not the first time 50 Cent has come for Lil' Kim. Last July, he made public comments that the all-white Prada outfit she wore on stage at the BET Awards made her look like an owl. A few months later, he also compared her to a leprechaun in an Instagram post that has also since been deleted.
This time around, 50 Cent was attempting to reignite the decade-old feud between the two female rappers. In 2010, Lil' Kim spoke with This Is 50, saying that Minaj had been taking shots at her and other female rappers. Minaj responded in a Hot 96 interview that same month, saying, "Put your music out and when I see your name on Billboard that's when I'll respond to you. You're going to go down in history now as a sore loser, as opposed to going down in history as the Queen... Don't play with me."
Minaj also recently released a collaboration remix of her song "Super Freaky Girl," with JT, BIA, Katie Got Bandz, Akbar V, and Maliibu Miitch.
Newsweek reached out to representatives for Lil' Kim, 50 Cent, and Minaj for further comment.