Megan Thee Stallion Twerks to Her Song 'Body' With She-Hulk in Marvel Debut
Megan Thee Stallion has made her Marvel debut in She-Hulk: Attorney at Law.
The rapper, 27—whose real name is Megan Jovon Ruth Pete—appeared in the Disney+ show's third episode as well as the post-credits sequence.
The legal drama follows Jennifer Walters (played by Tatiana Maslany), a lawyer specializing in superhuman cases, while she navigates her personal life and career as a nearly seven-foot, green hulk.
In the most recent episode, Walters' former colleague Dennis Bukowski (played by Drew Matthews) gets catfished by a shape-shifting elf from New Asgard who disguises herself as Pete. Since the case involves an Asgardian national, Walters' firm, GLK&H, must take on Bukowski as a client.
During the courtroom scene, Pete appeared as herself, sitting amongst the public. Later, she and Walters danced to her 2021 hit while celebrating Walters becoming Pete's attorney.
"Oh you are way more fun than my last lawyer," the P-Valley actress said in the clip.
"I will kill for you Megan Thee Stallion," Walters responded, to which Pete replied, "Dial it back!"
It's unclear if Pete will appear in future episodes. Newsweek reached out to her representative for comment.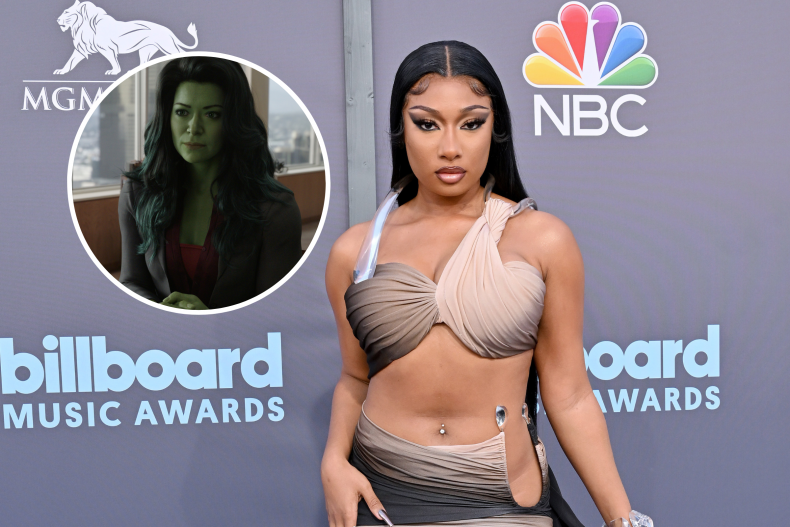 Jameela Jamil, who worked with Pete on Legendary, was the one who suggested the "Savage" singer for the role.
Executive producer Kat Coiro told Digital Spy, "It was scripted as a famous person who we would never believe would date Dennis Bukowski—and it was actually Jameela Jamil who has worked with Megan before who suggested her, and everybody on the team just said, 'Yep! That's who it should be!'"
Coiro added that when Maslany, 36, heard the news of her casting, she "almost had a heart attack."
"She is the world's biggest genuine Megan Thee Stallion fan. So that scene where they dance together was written kind of on the fly to give Tatiana the time of her life, and we all discovered that she can twerk and hold her own with Megan Thee Stallion," she continued. "Just another thing to add to her huge list of accomplishments!"
On Monday, The Cut confirmed Pete was cast in She-Hulk: Attorney at Law following rumors she would appear in the series.
The Grammy Award winner told the outlet that she admires fellow musicians who have made the transition into acting.
"When I look at them, it inspired me to take it further than just music," she said, referring to artists like Queen Latifah and Ice Cube. "I don't feel like I'm only going to be an actress—I feel like I'm also going to be a director and I'm also going to be a producer."
Pete is the latest real-life star to play a version of themselves in the Marvel Cinematic Universe. She joins talk show host Sara Haines in The Falcon and The Winter Soldier​​​​​​, TV personality Jim Cramer in Iron Man, Elon Musk in Iron Man 2 and Joan Rivers in Iron Man 3.
She-Hulk premiered on August 18 and has released episodes weekly on Thursdays. The first season is set to conclude on October 13.