'She-Hulk: Attorney at Law' Disney+ Release Date, Cast, Trailer, Plot
The Marvel Cinematic Universe plows on with its latest TV show for Disney+, She-Hulk: Attorney at Law.
She-Hulk, which has a release date this summer, has premiered its first trailer. In this promo, we meet Jennifer Walters (played by Tatiana Maslany), a hotshot lawyer turned six-foot-seven green superhero.
The show's trailer also gave MCU fans a peek at some of the other cast, which includes a familiar villain as well as the return of a certain Avenger. The promo may not give us much idea of the show's plot, but it does give us a pretty good idea of the dating problems that come along with being a giant green woman in her 30s.
Here's everything Marvel has revealed about its Disney+ She-Hulk series.
When is She-Hulk: Attorney at Law coming out?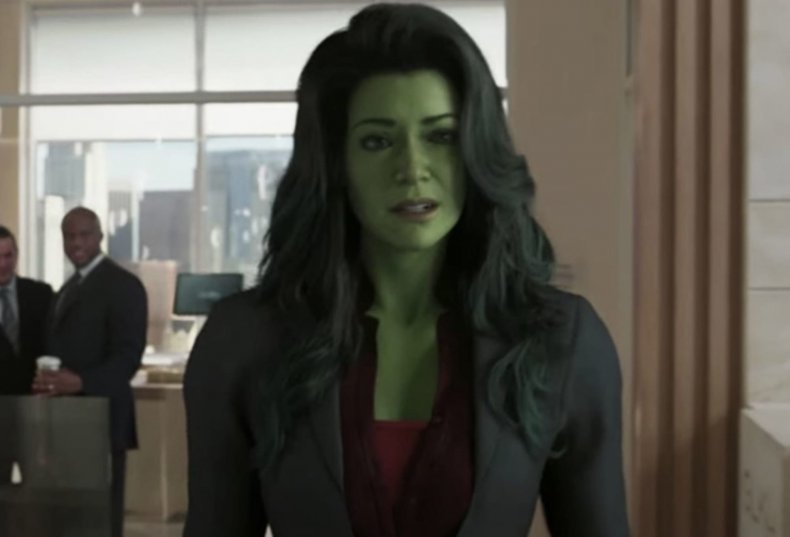 The She-Hulk release date has been set for Wednesday, August 17, when the first episode will come to Disney+ at midnight PT / 3 a.m. ET.
The show was originally reported to have 10 episodes, but Marvel Studios chief Kevin Feige has since said the first season would have nine installments. This means viewers should get episodes weekly until the finale on Wednesday, October 12.
In terms of the MCU release schedule, this is after the release of fellow Marvel TV show Ms. Marvel on June 8, between the release of movies Thor: Love and Thunder on July 8 and Black Panther: Wakanda Forever on November 11.
Who is in the cast of She-Hulk: Attorney at Law?
Playing the eponymous She-Hulk, aka attorney Jennifer Walters is Tatiana Maslany. The actor is best known for her deft work playing multiple characters on cult TV show Orphan Black, which won her an Emmy in 2016.
The character becomes the female version of the Hulk after receiving a blood transfusion from the green man himself, Bruce Banner (Mark Ruffalo). As this suggests, Ruffalo is appearing in the Disney+ show, in his first MCU appearance since Avengers: Endgame.
As teased in the trailer, another MCU character is back for She-Hulk: Attorney at Law. Reservoir Dogs actor Tim Roth is back as Abomination after previous appearances in Shang-Chi and The Incredible Hulk. Per the promo, he is one of the clients Walters takes on when her company starts operating in superhero law.
A number of other confirmed She-Hulk cast members were missing from the trailer. These include Benedict Wong, returning as his Doctor Strange character, and The Good Place's Jameela Jamil. Jamil, who recently made headlines by saying she was quitting Twitter, looks set to be playing She-Hulk's rival Titania.
Other confirmed cast members include Ginger Gonzaga (playing Walters' best friend Nikki), Josh Segarra, Jon Bass and Renée Elise Goldsberry.
Of course, the MCU did just reintroduce another of their TV lawyers, Matt Murdock (Charlie Cox). Though unconfirmed, it feels very possible that Walters could meet him in court, especially as Disney+ looks set to reboot Daredevil soon.
What will She-Hulk be about?
Marvel's short plot synopsis for the show reads: "​​the new comedy series stars Tatiana Maslany as She-Hulk/Jennifer Walters, a lawyer who specializes in superhuman-oriented legal cases." The tagline, meanwhile is "you'll like her when she's angry." See what they did there?
As mentioned above, the trailer is pretty light on plot details. Instead, it focuses on Walters and her cousin training to control her powers. As has become increasingly the case for the MCU, Walters has no need for a secret identity—much of the promo sees her dealing with the attention of being a sudden super-celebrity. It also features a set-piece of She-Hulk scrolling through Tinder, which is a welcome addition to the usually sexless MCU (though let's be real, all the supers would be on Raya).