What Those 'Spider-Man' and 'Hawkeye' Reveals Mean For the Future of 'Daredevil'
Spider-Man: No Way Home came out on Friday, December 17, and, alongside Hawkeye's fifth episode, saw the return of two beloved Marvel characters.
**Warning: This article contains spoilers for both Spider-Man: No Way Home and Hawkeye**
In the latest episode of Hawkeye, which was released on Wednesday, December 15, it was revealed that Kingpin, aka Wilson Fisk, was working with Kate Bishop's mother Eleanor.
The character is once again being played by Vincent D'Onofrio, who first took on the iconic role in Netflix's Daredevil and appeared in all three seasons of the show.
Meanwhile, Spider-Man: No Way Home featured a cameo from Charlie Cox, in which he reprised his role of Matt Murdock, aka Daredevil.
Cox's Murdock met with Peter Parker (Tom Holland) after his identity was revealed to the world and the public believed he was responsible for the death of Mysterio (Jake Gyllenhaal).
While he only features in the one scene, Murdock tells Parker that he needs a "good lawyer" and also catches a brick mid-air after it's thrown through a window.
With both Cox and D'Onofrio firmly back in the Marvel Cinematic Universe (MCU) after Daredevil's cancellation in 2018, it begs the question: What does this mean for the future of the show?
What Those 'Spider-Man: No Way Home' and 'Hawkeye' Reveals Mean For 'Daredevil's' Future
Daredevil always took place in the same universe as the MCU, with events like the alien attack in Avengers being referenced to in newspapers and also having an impact on the lives of the residents of Hell's Kitchen.
But even though Daredevil, and indeed Marvel's other Netflix shows, took place in the same universe, they were always adjacent to it, with the programs remaining separate to the films.
When the Netflix show was canceled in 2018 there was a statutory period in which the characters could not appear in the same form, i.e. played by the same actors, in Marvel projects for the next two years.
The rights for Daredevil officially reverted back to Disney and Marvel on November 29th, 2020, which means that the show can now officially be renewed for a fourth season on Disney+.
While there were some fears from fans that the show would return with a whole new cast, the fact that Cox and D'Onofrio are back proves Marvel are interested in keeping the original cast.
Whether this means Daredevil could be renewed for a Season 4, or perhaps come back as a film, has yet to be confirmed.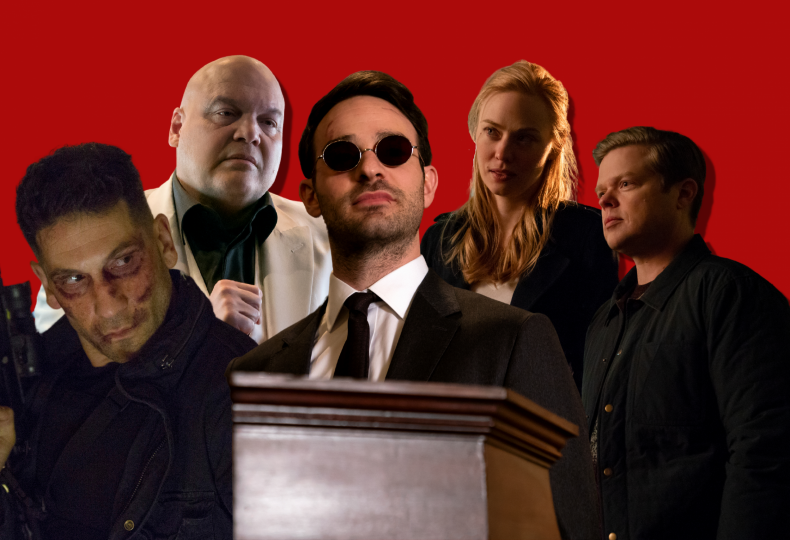 Cox's Murdock would be nothing without Foggy Nelson (Elden Henson) and Karen Page (Deborah Ann Woll), and Daredevil's third season ended with the trio deciding to re-open their law firm as "Nelson, Murdock, and Page."
Given what he says in Spider-Man: No Way Home, Murdock is clearly back practicing law, and this could mean that the offices "Nelson, Murdock, and Page" are up and running in the MCU.
It would make sense, then, for both Henson and Woll to return to their roles given Cox is back as Murdock, because the trio should remain just that, a trio.
And, really, what would Daredevil be without his villains? D'Onofrio's Wilson Fisk was the most prominent, but other characters who remain alive in the universe include Frank Castle (Jon Bernthal) and Benjamin "Dex" Poindexter (Wilson Bethel), who are Punisher and Bullseye respectively.
Castle first appeared in Daredevil Season 2 which launched his own spin-off series that lasted for two seasons, until Netflix canceled all of its Marvel shows, and Dex was Daredevil's adversary in Season 3 and came into his Bullseye alter-ego in the finale.
While the Punisher has his own show, which certainly deserves to be renewed just as much as Daredevil, the character could easily return in a possible Season 4, and the same goes for Bullseye.
Following D'Onofrio's return as Kingpin in Hawkeye, the actor confirmed he was the same iteration of the character as he had been in Daredevil and he admitted he'd be keen to reunite with Cox onscreen.
When asked by TVLine if he'd want a Daredevil reunion with the actor he said "I would love for that," and added: "It hasn't crossed my mind a lot; I've kind of walked away from Daredevil. For a bit, I thought it might come back, but it's been years now.
"I gave up on that [possibility].But I didn't know that I was going to get a call from [Marvel Studios chief] Kevin [Feige], either, so everything's up for grabs. I had no idea that I would do Hawkeye."
Newsweek has contacted representatives for Deborah Ann Woll, Elden Henson, Jon Bernthal and Wilson Bethel for comment.
Spider-Man: No Way Home is out in theaters now, and the Hawkeye finale airs Wednesday, December 22 on Disney+.
Update 12.24.2021 02.56 a.m. EST: This article was updated to include Vincent D'Onofrio's comments on having a Daredevil reunion.