'Daredevil''s Charlie Cox Shares Unexpected Thing He Learned From Vincent D'Onofrio on Set
It's hard to forget Vincent D'Onofrio's menacing performance as Wilson Fisk in Daredevil.
The actor portrayed the villain for three seasons and cemented himself as one of the greatest bad guys to appear in Marvel's films and TV shows.
His take on the character was so formative it even helped lead actor Charlie Cox in his own career, both in Daredevil and beyond.
Speaking at a panel at MCM London Comic Con on Sunday, Cox shared what he learned from his co-star and the unexpected way in which D'Onofrio influenced the way he acts.
"I had a very specific moment with Vincent where I witnessed something and I learned so much from that one particular moment, and I've taken it and used it many times since," Cox explained during a panel on Daredevil, which he took part in alongside former co-star Deborah Ann Woll.
He admitted that as an actor with a theatre background he is accustomed to performing long speeches from start to finish, but this was something that D'Onofrio wouldn't do on the Daredevil set.
Referencing a scene in which Cox's Matt Murdock meets with D'Onofrio's Fisk while he is incarcerated in season 2, he said that his co-star would instead choose to perform the scene in parts with the camera still rolling.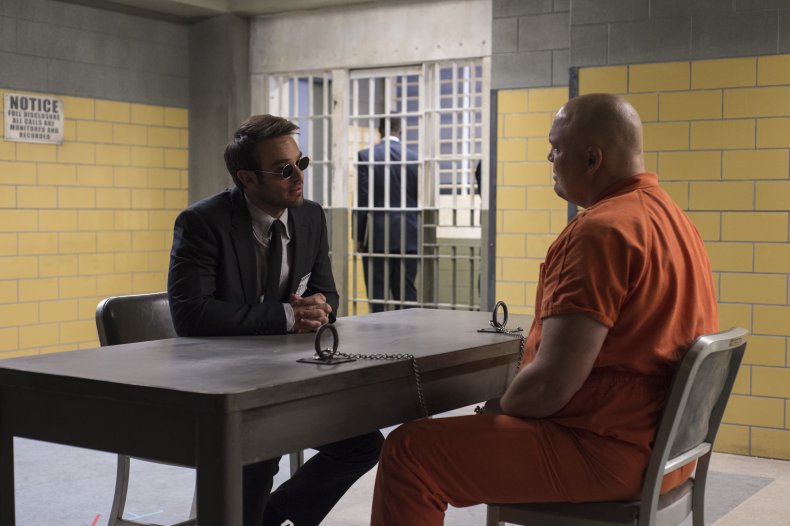 Cox explained: "Vincent had this really amazing speech in season 2 in a scene where he and I are in prison together, well he's in prison and I visit him, and when the camera turned around on him he said to the director 'keep the camera rolling, don't stop even if I've seemed to have stopped, just keep going.'
"Then he kind of started the speech and then he stopped halfway through and he went back to the beginning, he picked it up halfway through and he walked away from the camera, and he allowed the feelings to swell and he came back and started again.
"He jumped in and went right to the end, he was going all over the place and my job at that moment was to just stay with him, because I'm not on camera I just [have to] be there for him.
"As a result, by the end he got such an amazing variation of performance but he was able to use the energy, so if he got to the end of the speech he was all fired up and then he went back to the beginning and it was a whole different feeling, a whole different speech."
Cox was so impressed with D'Onofrio's acting choices, he added: "That's something that I would never would have thought to have done before I worked with him."
With rumors circling that Cox could be returning to the role of Matt Murdock in Spider-Man: No Way Home, perhaps it won't be long before he can learn more from D'Onofrio as they share a set again.
Daredevil Seasons 1-3 are available to stream on Netflix now.