'Dark Brandon' Fans Celebrate Biden's Expletive in Hot-Mic Moment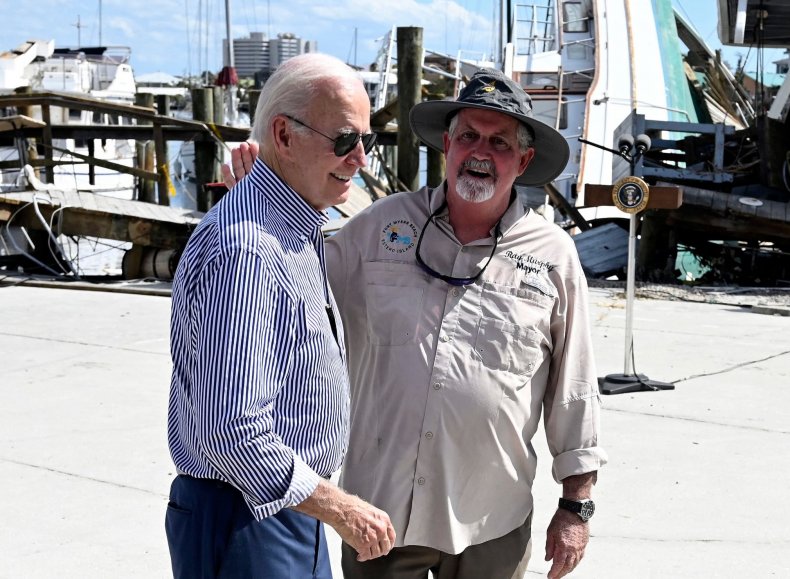 President Joe Biden has been captured saying "no one f***s with a Biden," delighting fans of the "Dark Brandon" meme online.
Biden made the remark on a hot mic during a visit to Fort Myers, Florida, to survey Hurricane Ian damage alongside Republican Florida Governor Ron DeSantis on Wednesday. The president was speaking to Fort Myers Beach Mayor Ray Murphy, a Democrat, who smiled and said "you're goddamn right" in response.
Dark Brandon, a meme that was originally meant to mock Biden but has since been reclaimed by supporters of the president, trended on Twitter soon after a clip of the R-rated remark emerged. Many appeared to enthusiastically approve of the comment, while some took the opportunity to troll anti-Biden conservatives over the Dark Brandon meme.
"Right wing snowflakes triggered by Dark Brandon," writer Oliver Willis tweeted in response to a tweet on the incident from conservative news outlet The Blaze.
"Dark Brandon is out here wildin..." tweeted progressive MSNBC host Joy Reid.
"Dark Brandon finding another gear!" tweeted professional wrestling coach Danny Cage alongside a "face with tears of joy" emoji.
Journalist and Twitter mainstay Aaron Rupar tweeted that the incident was "a Dark Brandon moment" while sharing an image of the encounter from a CNN broadcast.
The official Twitter account of The Late Show with Stephen Colbert shared its own meme of the moment, superimposing Biden's head over an image of a character from the movie The Big Lebowski and the words "Nobody F*cks With The Biden."
Film critic Chris Evangelista tweeted: "Dark Brandon on the hot mic."
"#DarkBrandon rises yet again," public relations strategist Cliff Schecter tweeted.
White House deputy press secretary Andrew Bates tweeted about the incident multiple times, sharing an image of Biden as Dark Brandon with glowing red eyes and highlighting Murphy's response to the remark.
The Dark Brandon meme was also invoked on Twitter alongside images of Biden and DeSantis. The Florida governor, who some have speculated could challenge Biden for the presidency in 2024, was captured praising the president for his assistance following the hurricane.
The Dark Brandon meme has become a rebuke of two memes popular among supporters of former President Donald Trump—"Let's Go Brandon," which has become conservative shorthand for "f**k Joe Biden," and the authoritarian pro-Trump "Dark MAGA" meme.
The White House has seemingly leaned into the meme by promoting a more brash version of Biden in recent months. Some suggested that a speech on the dangers of Trump and MAGA Republicans, which the president delivered under dark red lighting early last month, was part of an attempt to play into the meme.
The official White House Twitter account has also taken a more aggressive approach, often directly confronting MAGA Republican rhetoric in recent months.
Newsweek has reached out to the White House and Murphy for comment.