Darrell Brooks has been charged with five counts of murder after a red SUV sped into a Christmas parade in the Milwaukee suburb of Waukesha
The driver of the red vehicle, 39, plowed into the crowd of people at the parade in Waukesha at around 4.40 p.m. on Sunday. At least five people have died and more than 40 were injured, the city of Waukesha said in a post on Facebook. "However, these numbers may change as we collect additional information," the post added.
At a news conference Sunday night, Waukesha Police Chief Dan Thompson said the SUV had been located and a "person of interest" was in custody. He said there was no further threat to the community, but gave no details about the person or a possible motive.
But Brooks, 39, was identified as the person taken into custody Sunday night and is being questioned, NBC News reported, citing five law enforcement officials.
Four senior law enforcement officials told the outlet that a person of interest who may have a significant criminal history was being questioned overnight. Investigators are looking into the possibility that the driver had been fleeing an earlier incident involving a knife fight.
According to online court records, Brooks has a criminal history in Wisconsin dating back to 1999. Online records show he had posted a cash bond in connection with a domestic abuse case on Friday. He is facing charges that include recklessly endangering safety with domestic abuse assessments, battery, bail jumping and resisting or obstructing an officer. The attorney listed for Brooks in that record could not immediately be contacted for comment.
Brooks is also facing felony charges that include recklessly endangering safety and possession of a firearm while convicted of a felony in a separate case filed last year.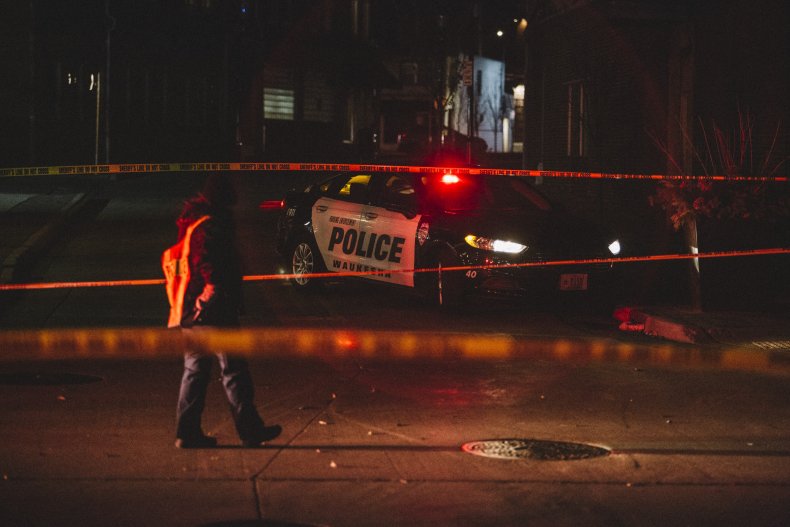 At Sunday's news conference, Thompson said a police officer had fired several shots to try to stop the vehicle, and that no bystanders were injured by the gunfire. Thompson said he did not know if the driver was struck by the officer's bullets.
Authorities are also investigating whether the suspect was fleeing another crime scene when he ran into people at the parade, a law enforcement official familiar with the early findings of the investigation told CBS News. Officials said the incident didn't appear to be an act of terrorism.
"Today we experienced a horrible, senseless tragedy," Waukesha Mayor Shawn Reilly said during the news conference. "I walked in the parade at the beginning. I saw all the happy children sitting on the curb. I saw all the happy parents behind their children. I can still see the smiling faces."
"What took place in Waukesha today is sickening, and I have every confidence that those responsible will be brought to justice," Wisconsin's Attorney General Josh Kaul added in a tweet.
The Waukesha school district canceled all classes on Monday. However, counselors will be available at all buildings for students and staff in need of support services.
Waukesha is located about 55 miles north of Kenosha, Wisconsin, where Kyle Rittenhouse was acquitted on Friday of all charges stemming from the shooting of three men during protests that erupted over the shooting of a Black man by a white police officer in August 2020.
The Waukesha Police Department has been contacted for additional comment.
This article has been updated to state that Darrell Brooks has been charged as a suspect.