Pastor Calls Trump 'Most Pro-Black President in My Lifetime' as New Poll Gives Biden 64-point Lead Among Black Voters
Darrell Scott, a pastor who served on the presidential transition team, has described the President Donald Trump as the "most pro-black president" he has ever seen.
Scott, who is also part of the National Diversity Coalition for Trump, accompanied the president in his trip to Michigan on Thursday, making the comments at a roundtable event during the visit.
"I'll say it again, this president, and I've lived under 12 presidential administrations, I was born during Eisenhower's administration, this president has been the most pro-black president in my lifetime," he said.
"But when I say pro, I'm saying pro in the sense of being proactive. He's been proactive rather than reactive to issues concerning minorities, underserved and disadvantaged communities than any other president in my lifetime.
"I really believe history is going to be kinder to you, Mr. President, than fake news media is today."
To this the president laughed and said: "It can't be any worse, thank you."
Yesterday, Scott shared a video of the meeting, in which Trump can be heard speaking in the background and wrote: "Great roundtable."
In contrast to Scott's comments, a poll conducted earlier this year suggested black Americans are largely dissatisfied with the president's performance.
A Washington Post/Ipsos survey of more than more than 1,000 respondents in January found 90 percent of black Americans disapproved of Trump's actions in office. While around three quarters (76 percent) said Trump is doing things in his role which are bad for the black community. A majority of those surveyed also said they believe Trump is a racist, accusations he has denied, having previously describing himself as "the least racist person."
Another poll in May found the approval rating of Trump's handling of the coronavirus pandemic among black Americans had dropped, with 68 percent of those asked in a Navigator poll saying they disapproved of how he had handled the COVID-19 crisis. This puts them among the groups in which Trump's approval ratings in regards to the crisis are at their worst.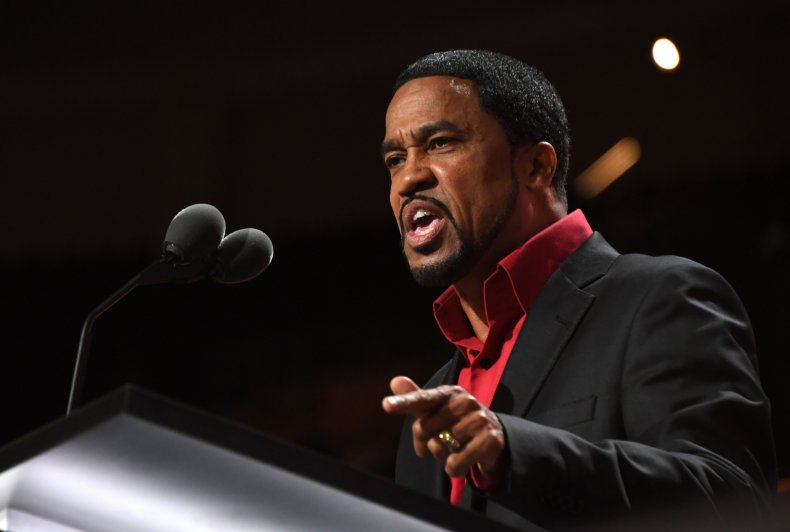 A survey from Fox News showed the presumptive Democratic presidential nominee Joe Biden also had a lead on Trump with black voters ahead of the election, with Biden ahead by 64 points.
The telephone poll was conducted from May 17 to 20, with 1,207 randomly-chosen registered voters. It also showed Biden lead by 20 points among women voters.
Scott has made similar comments in the past, having described Trump in the same terms during a meeting with a group of inner city pastors at the White House in 2018.
"This is probably going to be, and I'm going to say it at this table, the most pro-black president that we've had in our lifetime. Because, and I try to analyze the people I encounter, this president actually wants to prove something to our community."
He said "the last president [Barack Obama] didn't feel like he had to."
"This administration is probably going to be more proactive regarding urban revitalization and prison reform than any president in your lifetime," he said.
Scott has also been involved in the Black Voices for Trump campaign, encouraging members of the black community to reelect him Trump as president.
Exit polls from 2016 showed Trump only received 8 percent of the black vote.