As President Donald Trump continues to invoke race as a major talking point ahead of the 2020 election, the daughter of an infamous segregationist politician from decades ago sees parallels between her father, former Alabama Governor George Wallace, and Trump.
"I've never seen anything like it," Peggy Wallace Kennedy said. "I saw daddy a lot in 2016."
She suggested that Trump, a president who has consistently created controversy — both on and off the campaign trail, as well as before he was elected president — with racially-charged remarks, is perhaps not only racist, but that he is more so than Wallace, a politician who once promised "segregation now, segregation tomorrow, segregation forever."
"Unfortunately, it does look like the '60s now," Wallace Kennedy said. "Each of us, individually, need to act with compassion and pray for our democracy. I hope we don't go back. But it looks like where we are slipping... that seems to be where the top is taking us."
The 69-year-old's remarks, which were made last week at the Birmingham Public Library and published by The Birmingham News Wednesday, came at a time when Trump has continued to dig into his racially-charged rhetoric.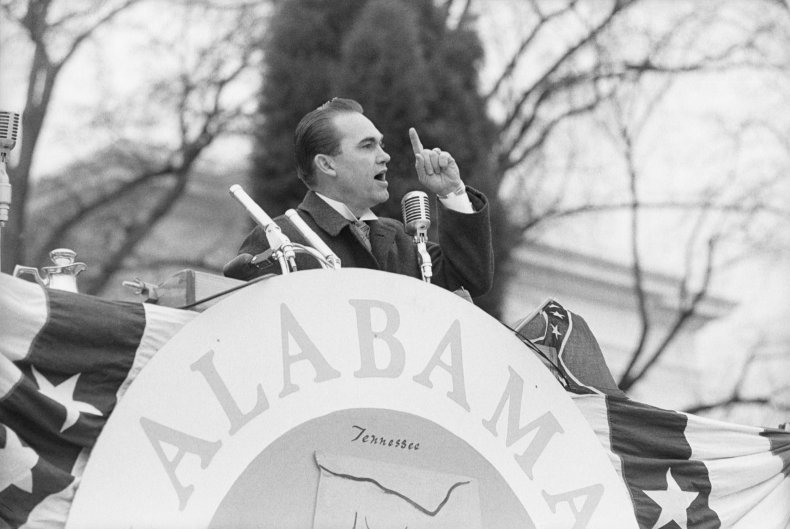 Most recently, the president has made Representative Elijah Cummings, a black Democrat, and his congressional district of Baltimore the subject of his Twitter rants. He's accused the chairman of the House Oversight Committee, which has vigorously investigated Trump's finances, his family members and the conditions of migrant detention centers along the southern border, and has secured legal victories against the administration, of being "racist." Trump has also called the Maryland Democrat's Baltimore district a "disgusting, rat and rodent infested mess" and a "very dangerous & filthy place" where "no human being would want to live."
Earlier this month, the House formally condemned Trump for a racist tweet about four minority congresswomen, in which he told them to "go back" to the "crime infested places" they "came from." The freshmen, outspoken progressives — Alexandria Ocasio-Cortez of New York, Rashida Tlaib of Michigan, Ayanna Pressley of Massachusetts and Ilhan Omar of Minnesota — are all U.S. citizens. Only Omar was born in a different country.
Wallace, too, invoked race as a major campaign pillar as a presidential candidate in the 1960s and 1970s, a divided time in America's history for the rights of minorities as landmark legislation, such as the Civil Rights Act of 1964, had just been passed. He's well-known for trying to prevent the integration of schools by standing in the doorway of the University of Alabama in 1963. Roughly two decades later, Wallace's opinion on race changed to believe that his prior views were wrong.
"The two greatest motivators at (Dad's) rallies were fear and hate," Wallace Kennedy said. "There was no policy solution, just white middle-class anger."
Trump has denied that his long history of racially-charged remarks have anything to do with race or that there was any racist intent.
"I'm the least racist person there is anywhere in the world," he told reporters at the White House on Tuesday.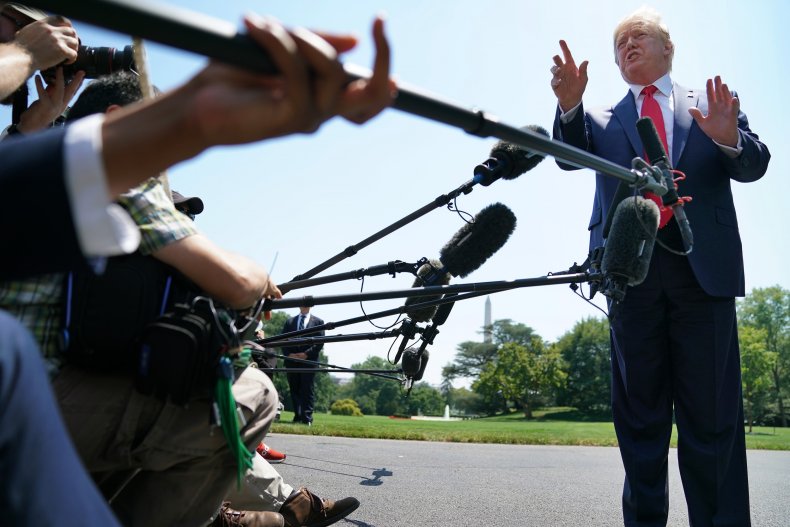 Trump has, however, made questionable comments on race, riling up supporters at rallies across the country, which led them to chant "send her back" at a recent rally, a reference to Omar. Trump did not try to quell the chant, as he waited for supporters to quiet down before continuing his speech. He later disavowed the chants.
In the past, he's also made reference to Haiti and African nations as "sh--hole countries," said there were "very fine people, on both sides" of the deadly white nationalist rally in Charlottesville, Virginia, touted the "birtherism" conspiracy theory that President Barack Obama was born in Kenya and is not a U.S. citizen and labeled Mexican immigrants as "rapists" who are "bringing crime" and "bringing drugs."
In a statement to Newsweek regarding Wallace Kennedy's comparison of the president to her father, Trump campaign spokeswoman Kayleigh McEnany denied the notion of Trump and Wallace having parallels.
"This comparison is absurd on its face and a desperate attempt from the fake news to distract from President Trump's record of accomplishments for black Americans," McEnany said. As evidence, she pointed to decreased African American unemployment and poverty rates during the administration, an increase in funding for historically black higher education institutions and a new criminal justice reform package.
"Though the media continually smears President Trump, Americans see through this ridiculous attempt to malign the President," McEnany added.
She levied criticism at former Vice President Joe Biden, who is a current presidential candidate, pointing to past remarks where he said that Wallace once "praised him as one of the outstanding young politicians of America."
Still, Democratic lawmakers have accused Trump of being "worse than a racist" and "very similar" to Wallace, as New Jersey Senator Cory Booker did on CNN, and that Trump is "more George Wallace than George Washington," as Biden did at a recent campaign stop. Booker is also running for president.
"We cannot go backward," Wallace Kennedy said. "We have to go forward."