A memorial erected in Los Angeles to Daunte Wright has reportedly been vandalized after a march calling for justice in the wake of the latest fatal police shooting was met by a small group of counter-protesters.
The 20-year-old Black man died after being shot by a police officer during a traffic stop in a Minneapolis suburb on Sunday.
Protesters walked through Hollywood on Thursday chanting "Black Lives Matter" and Wright's name, earlier holding a vigil at the intersection of Sunset Boulevard and Vine Street.
Video shared on social media appeared to show the demonstrators walking peacefully through the streets surrounded by dozens of police officers wearing riot gear.
The demonstration was one of many organized across the U.S. over the last week after Wright's death on Sunday.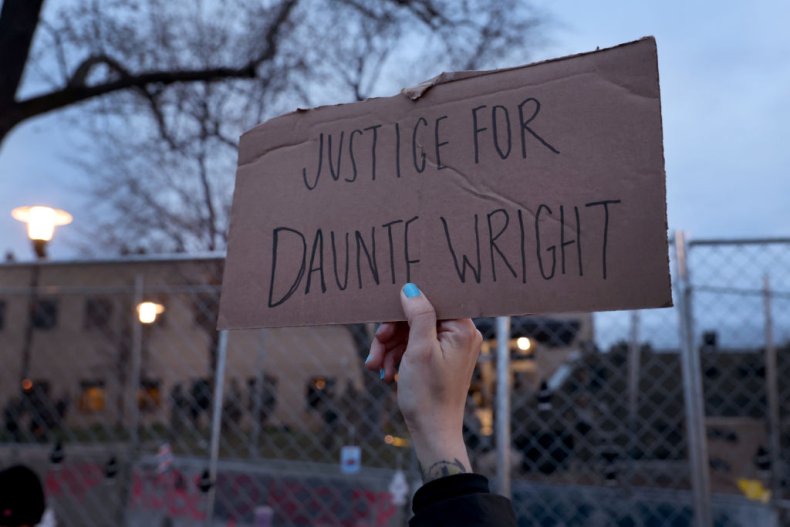 Brooklyn Center Police Chief Tim Gannon, who has since resigned, said officers had pulled Wright over for a traffic violation related to expired license tags.
Officers subsequently realized he had an outstanding warrant, Gannon said.
Body camera footage of the shooting showed an officer yelling "Taser" repeatedly, then firing a gun at Wright. His car traveled several blocks before hitting another vehicle, police said, and he died at the scene.
Earlier in the week, protesters gathered in front of the Los Angeles Police Department's downtown headquarters.
Separate unverified video, said to also have been filmed on Thursday night, showed several people pulling down cardboard posters and removing flowers.
One individual filmed dismantling the vigil was heard saying: "We could have done worse, you're lucky I'm just blowing out the candles."
The person recording the clip responds: "Oh we're lucky? You have no respect for anybody," to which the person blowing out the vigil candles replies: "Did Daunte have respect for the cop?"
A second clip showed someone clothed in black running their hand along a ledge, knocking over more candles.
Several Twitter accounts identified the individuals by name and alleged they were Trump supporters, some of whom had been involved in the January 6 Capitol riot. Newsweek was unable to confirm their identities.
They claimed the actions followed a declaration of unlawful assembly against the protest march by the L.A.P.D.
Vishal P. Singh tweeted: "Trump supporters destroyed the #DaunteWright candlelight vigil in Hollywood after LAPD declared unlawful assembly. I have video to confirm the incident from witnesses on the scene."
He posted another clip showing people gathered at the memorial rearranging candles, saying: "Activists rushed to the scene after hearing about the destruction. They started cleaning up broken glass and rebuilding their #DaunteWright vigil."
Chad Loder tweeted: "They knocked over the candles and ripped down the photographs of #DaunteWright."
Newsweek contacted the L.A.P.D. for comment.