Shooting Breaks Out at Daunte Wright Protest as National Guard Deployed to Brooklyn Center
Social media videos reveal that multiple shots were fired close to the Brooklyn Center Police Department on Monday night, where protesters have been since Daunte Wright, a 20-year-old black man, died after he was shot by a police officer in the Minneapolis suburb.
Social media videos early on Tuesday show large jeeps and troops from the National Guard being deployed to the site.
In another, gunshots can be heard nearby the Brooklyn Center.
Wright, 20, was shot by police in Brooklyn Center, a suburb of Minneapolis on Sunday afternoon at around 1:50 p.m. after being pulled over for a traffic stop. He then re-entered his car and drove a short distance before crashing the vehicle several blocks away, according to The Star Tribune.
Wright's family have spoken about the incident, with his mother saying on a Facebook live video that her son was stopped by officers for having "air fresheners hanging from his rearview mirror."
But police allege that Wright had an outstanding arrest warrant and had refused arrest. Brooklyn Center Police said that both police body cameras and dash cameras were activated during the shooting. The force released body camera footage of the shooting on Monday.
The Bureau of Criminal Apprehensions (BCA) is conducting an independent investigation into the incident.
On Tuesday morning, the woman who shot Wright was identified as Kimberly Potter. A statement from the BCA said that Potter had been put on administrative leave. She has been a member of the Brooklyn Center Police Department for 26 years, joining the force in 1995.
The protests started off peacefully, but unease has grown since Sunday night, when a large crowd of activists gathered around Brooklyn Center Police Department and were met by officers in riot gear. Later that evening, there were clashes between activists and police officers, who were seen firing gas and chemical agent at the protesters. The Minnesota National Guard later arrived to assist police.
President Joe Biden has condemned the violence, but he said that peaceful protest was "understandable".
Mike Elliott, the Mayor of Brooklyn Center, Minnesota, said on Monday that his city council has passed a motion to give his office police department command in the wake of growing unrest.
"Moments ago the council passed a motion 3-2 to give command authority over our Police Department to my office," Elliott wrote in a tweet on Monday.
"At such a tough time, this will streamline things and establish a chain of command and leadership," he added.
The news of Wright's death comes against the backdrop of the trial of Derek Chauvin, the former police officer charged with the killing of George Floyd, a Black man, in Minneapolis last May. Chauvin was caught on video kneeling on Floyd's neck for nearly nine minutes, actions Minneapolis Police Chief Medaria Arradondo said "absolutely" violated the department's policies during an arrest.
The Floyd-Chauvin trial is taking place around 10 miles away from the site of the protests at the Brooklyn Center police station.
The killing sent shockwaves around the world, and triggered global Black Lives Protests, rallying against institutional police racism and brutality.
A 64 percent majority of Americans approve of the murder charges that prosecutors filed against Chauvin, with most agreeing that he should be convicted of murdering Floyd, according to a poll released on April 9.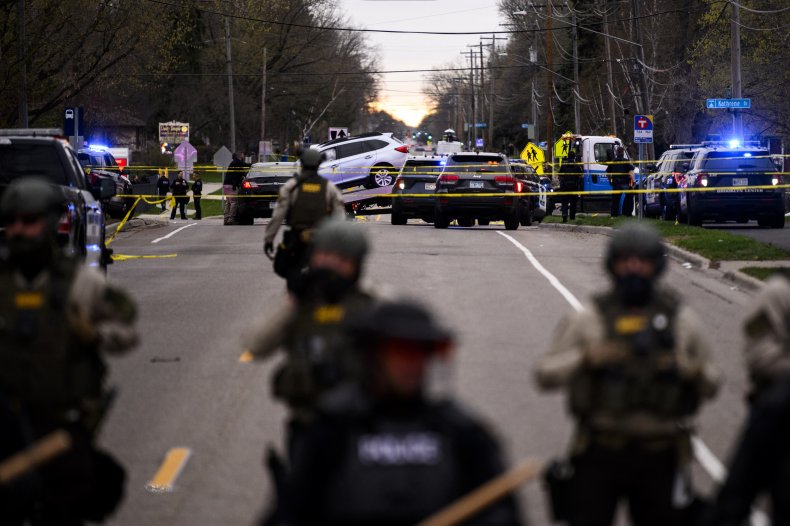 04/14/21, 2:13 p.m.: The eighth graf of this story has been edited to correct Kim Potter's name. She was originally identified as Kim Wright.