Dave Bautista is furious about the reversal of Roe v. Wade and has urged his fellow men to stand up for women's rights.
The former WWE champion, 53, did not mince words when called on "every f***ing man' to speak out" following the Supreme Court's decision last week to repeal the landmark ruling protecting abortion rights.
Best known for his time as a WWE wrestler, Bautista, who is also a Hollywood star well known for his role in the Guardians of the Galaxy franchise, addressed the rollback of Roe v. Wade and insisted that men show solidarity with women at this turbulent time.
"I think every f****** man needs to be louder about the rights of women," Bautista told TMZ Sport in Los Angeles this week.
The actor was asked if he feels it is important that men who "look like him" speak up for women. He insisted that it has nothing to do with what he looks like and that all men should be vocal about women's rights.
"[They should be] speaking out," he added. "Be f****** loud."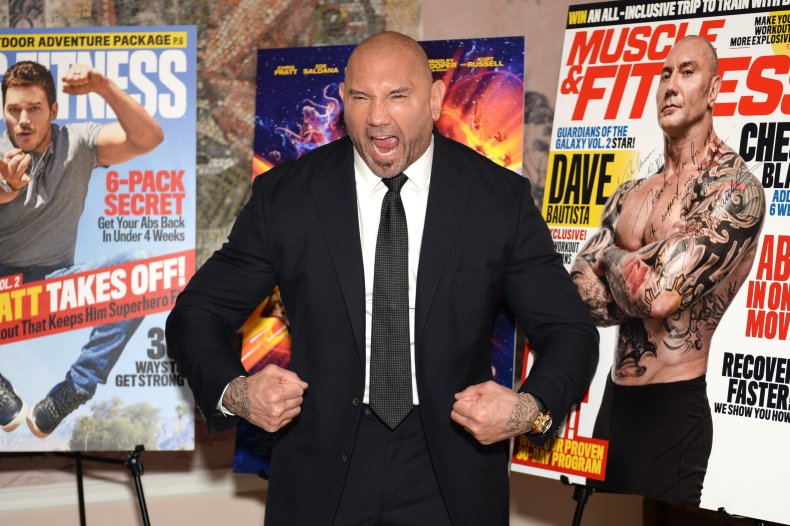 Bautista was asked if he thought other WWE legends like The Rock and John Cena should be speaking about the Roe v. Wade decision. He kept it diplomatic by saying that all men should be speaking out.
The wrestler's comments come amid a number of strong reactions by celebrities to the Supreme Court overturning Roe v. Wade.
The decision could see abortion bans in roughly half of the states in the U.S. Thirteen states, mainly in the South and Midwest, already have laws on the books that ban abortion if Roe was overturned.
In other states, there will be battles over dormant abortion bans that were enacted before Roe was decided in 1973 or new laws that strictly limit when abortions can be performed.
Dune star Bautista has been vocal about his support for abortion rights in the past. In 2021 he tweeted a photo of himself wearing a "Her Body Her Choice" T-shirt with the caption: "There are very few things in this world that I'm not open to discussion about. This is one of them. If you disagree, I don't give AF #HerBodyHerChoice #WomensRights."
Bautista regularly uses his platform to speak out on social causes and he celebrated Pride month recently by posting a photo wearing a rainbow T-shirt with the slogan "Be You" in tribute to his mother Donna Raye, an openly gay woman.
"I was always proud of who my mom was because she was always proud of who she was. In your face,fuck you if you don't like it, unapologetically loud and proud. And her son paid attention. BE LOUD, BE PROUD, BE YOU," he said.