David Arquette Reveals He's Taking Lessons to Become a Clown
David Arquette has revealed that he's studying to become a clown, declaring that it "takes a lot of training."
The Scream star, 50, made the comments during an appearance on Live with Kelly and Ryan on Wednesday, after an Instagram photo was shared onscreen of the actor sporting a bright red clown nose while posing with his family.
"I love clowns," he told hosts Kelly Ripa and Ryan Seacrest. "I've been in sort of a clown period of my life. I'm studying to be a clown."
He added: "I'm working with an amazing organization called Healthy Humor. They go into hospitals and entertain people that are going through a tough time and make them smile and bring some joy and love and laughter into their lives."
When Ripa asked how labor intensive the process of becoming a clown was, he said: "I'm a huge fan of Bozo, by the way. And I'm personally studying to be a clown myself. I have been taking lessons. It takes a lot of training.
"You know, I've never been able to juggle, but my father taught me a nose flute, and this is what I can do as my clown thing."
Arquette, who sat down for the interview remotely because of the spike in COVID-19 infections, then whipped out a blue nose flute and played it.
In an interview with Variety, published on December 24, Arquette revealed that he had bought the rights to the story of Bozo the Clown and plans to make a film on the children's favorite, who was created by Capitol Records executive Alan W. Livingston in 1946.
"I've loved Bozo the Clown since I was a kid," he told the publication. "In fact, it took me 15 years but I've secured the rights to his story. Clowns are sort of a reflection of society. And especially in America right now, there's such a focus on the scary clown, which isn't really a clown.
"Clowns are designed to sort of make us laugh at ourselves and allow you to laugh at them. So, I don't consider scary clowns really clowns. We're trying to sort of bring back the kind clown. And, Bozo's the perfect sort of ambassador for a mission like that."
However, he stopped short of confirming that he would take on the role of Bozo in the film, responding: "I'm not sure. We'll see. Those are big shoes to fill."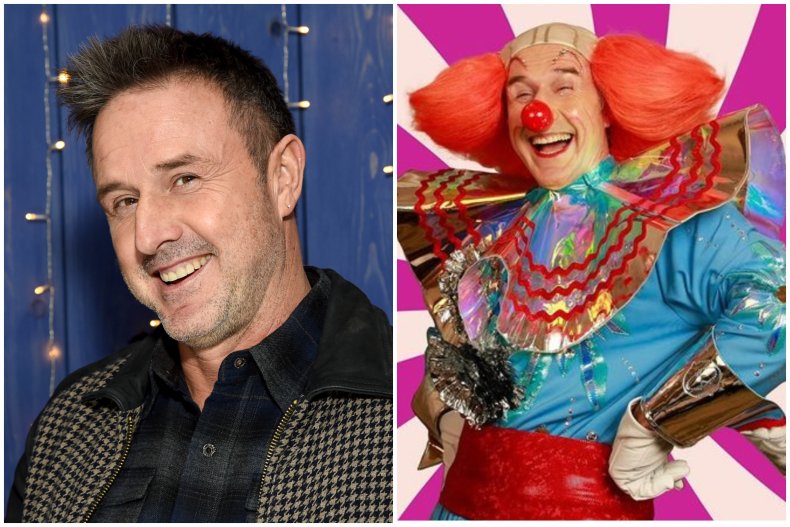 Arquette, whose eclectic career has also included wrestling, told The New York Times in another December interview that he wanted to "help rehabilitate the image of a clown."
He added: "I want to change the discourse. You know, help people understand that being silly is cool. There's a lot of negative history. There was Poltergeist. There was Stephen King and It. That was a real problem. And then the Joker and Krusty the Clown.
"Clowns are a reflection of society. And right now the scary clown is sort of where we are."
The actor, who is promoting the latest Scream movie, has shared many photos of himself in clown regalia on social media in recent months.
In November, he posted a snapshot of himself wearing a red nose and a Bozo the Clown cap as he read the book The Invisible Clown by Misha Usov, founder of the Professional Clown Institute and a Cirque du Soleil star.
Captioning the image, Arquette wrote: "Learning from the master @usovmikhail reading his precious book #invisibleclown former @cirquedusoleil #clown for #bozotheclown #tips."

Later that month, he posted a photo of himself in a clown suit, alongside fellow performer Gabe Dell, adding the caption: "I'm having so much fun working with my #clown #brother @gabemdell."
The star marked the new year by sharing an image of himself in full Bozo costume on Instagram.
The family photo seen on Live with Kelly and Ryan shows Arquette posing with his wife, Christina McLarty Arquette, and children—who also wore red noses.
The star explained during his Wednesday appearance on the talk show that his wife had refused to wear a red nose for the snap, posted to mark his birthday in September.
He has two sons—Charlie, 7, and Gus, 4—with his wife Christina, as well as a 17-year-old daughter, Coco, with ex-wife Courteney Cox.