70 David Bowie Deep Cuts to Listen to on What Would Have Been Thin White Duke's 70th Birthday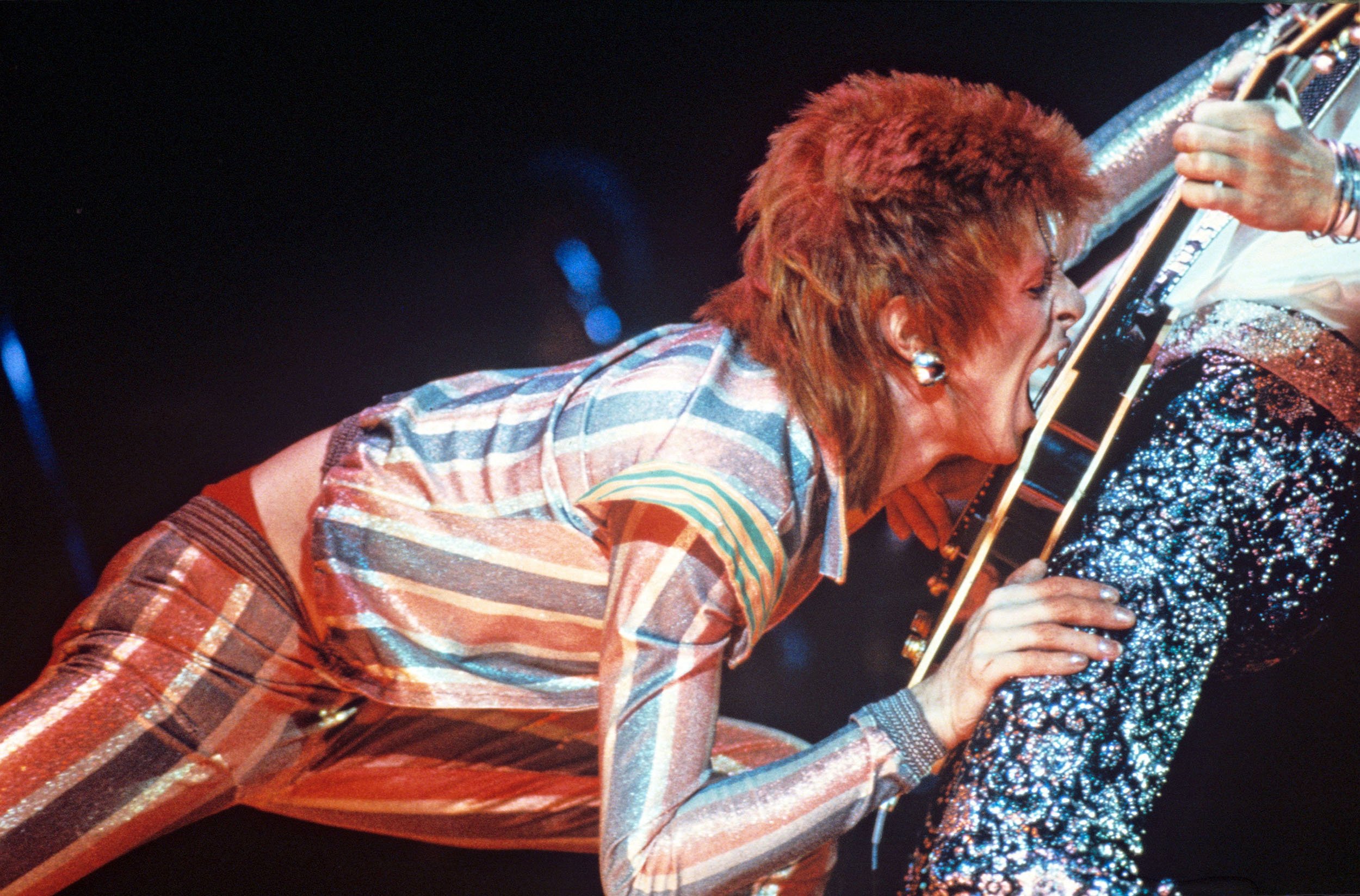 Seventy years ago, a pop icon was born. One year ago, a pop icon died. The world remains a little quieter and a little uglier without David Bowie.
We're celebrating what would have been the Thin White Duke's 70th birthday with a playlist of 70 great Bowie (and Tin Machine!) songs for you to listen to. Since you're probably sick of "Starman" or "Changes" by now, we tried to focus on lesser-known cuts.
Quick note: By "deep cut," we mean any album track that wasn't a hit and wouldn't likely be familiar to a non-fan. It's not an exercise to find the most obscure possible songs. Happy listening.
Related: David Bowie, Leonard Cohen and the art of the farewell album
"THE GOSPEL ACCORDING TO TONY DAY" (from "The Laughing Gnome" single)
Bowie's scratchy voice is about the only thing recognizable about this groovy early single.
"COME AND BUY MY TOYS" (from David Bowie)
"Monkeys made of gingerbread." "Sugar horses painted red." "You've watched your father plough the field with a ram's horn." Hmm, on second thought, don't buy these toys.
"PLEASE MR. GRAVEDIGGER" (from David Bowie)
Bowie was bizarre from the beginning. Here is the only song where you can hear him sneeze in the studio.
"LETTER TO HERMIONE" (from David Bowie/Space Oddity)
A rejected theme song from the first Harry Potter movie. Just kidding. It's about Hermione Farthingale, Bowie's ex-girlfriend.
"UNWASHED AND SOMEWHAT SLIGHTLY DAZED" (from David Bowie/Space Oddity)
This is the first song Bowie made with his longtime producer Tony Visconti and is believed to have been inspired by the death of his father in 1969.
"BLACK COUNTRY ROCK" (from The Man Who Sold the World)
In an alternate universe, Bowie spent the '70s fronting a blues-rock bar band in semi-obscurity.
"ALL THE MADMEN" (from The Man Who Sold the World)
Heavy, in music as well as subject matter. Bowie sings of insanity and lobotomies, perhaps in tribute to his schizophrenic half-brother Terry.
"ANDY WARHOL" (from Hunky Dory)
God bless whoever was responsible for keeping the bit of studio chatter where you hear Bowie correcting his producer's pronunciation of "Warhol."
"QUICKSAND" (from Hunky Dory)
Bowie at his most reflective, spiritual and majestic.
"SOUL LOVE" (from The Rise and Fall of Ziggy Stardust and the Spiders From Mars)
A great song in a strange time signature, "Soul Love" contains one of Bowie's best one-liners: "All I have is my love of love / And love is not loving."
"CRACKED ACTOR" (from Aladdin Sane)
During the Diamond Dogs era, Bowie would perform this song while holding, serenading and occasionally making out with an actual skull.
"ALADDIN SANE (1913-1938-197?)" (from Aladdin Sane)
Any idiot can play "Life on Mars?" on piano, but you'd have to be truly unhinged to play this piano solo.
"PANIC IN DETROIT" (from Aladdin Sane)
Pour one out for Mick Ronson, whose "Panic in Detroit" riff rivals "Rebel Rebel" as the dirtiest, glammiest guitar riff of Bowie's career.
"SEE EMILY PLAY" (from Pin Ups)
Pin Ups is tepid at best, but it is strange and entertaining to hear Bowie mimic the whimsical psychedelia of Syd Barrett-era Pink Floyd.
"I CAN'T EXPLAIN" (from Pin Ups)
The Who, slowed way the hell down.
"SWEET THING" (from Diamond Dogs)
Bowie's bizarre, growly delivery at the beginning of this song encapsulates the Diamond Dogs vibe: strung out, coked out, paranoid.
"1984" (from Diamond Dogs)
The rocker's Orwell obsession comes to a head on this paranoid, string-heavy climax.
"WE ARE THE DEAD" (from Diamond Dogs)
Bowie at his most starry-eyed romantic: "You're just an ally of the leecher / Locator for the virgin king / But I love you in your fuck-me pumps!"
"RIGHT" (from Young Americans)
Why does Young Americans have a bad rep? Because critics treat it as a stylistic goof rather than a vehicle for great songs? This is a great song, with some sweet sax solos too.
"FASCINATION" (from Young Americans)
Bowie once described his Young Americans album as "the squashed remains of ethnic music as it survives in the age of Muzak rock, written and sung by a white limey." Probably the best self-own in classic-rock history.
"SOMEBODY UP THERE LIKES ME" (from Young Americans)
The final three minutes of this groove, a maelstrom of squealing sax and vocal wails, take Bowie's "plastic soul" to another dimension.
"TVC 15" (from Station to Station)
What the hell is this song about? Apparently it was inspired by the time a drugged out Iggy Pop hallucinated that his girlfriend was being devoured by a sinister TV set. Don't do drugs.
"STAY" (from Station to Station)
The penultimate track on Station to Station is Bowie's meanest funk groove. Like much of that album, it was "recorded very much in our cocaine frenzy," according to guitarist Carlos Alomar.
"GOLDEN YEARS" (from Station to Station)
I can understand why people try cocaine, seeing as how Bowie made Station to Station while dangerously dependent on the drug, but you will never write a song as good as "Golden Years" whether coked out or not.
"ALWAYS CRASHING IN THE SAME CAR" (from Low)
High on coke, Bowie crashed his car into a drug dealer's car and instead of going to jail he wound up with one of his greatest songs.
"WHAT IN THE WORLD" (from Low)
OK, who's playing Pac-Man in the studio?
"WEEPING WALL" (from Low)
Arguably the very best of the Bowie/Eno ambient pieces.
"BREAKING GLASS" (from Low)
The distorted snare drum sound that changed the world.
"SUBTERRANEANS" (from Low)
The only vocal on side two of Low is not repeating the name "Caroline," as it sounds, but repeating the phrase: "Care-line / Care-line / Care-line." (The music is meant to invoke the despair of "people who got caught in East Berlin after the separation.")
"JOE THE LION" (from "Heroes")
Check out the big-beat remix of this track from the early '90s Rykodisc reissue.
"BLACKOUT" (from "Heroes")
This thrilling "Heroes" cut invokes some mysterious whirlwind emergency or collapse, with lyrics like "Get me to the doctor / Get me off the streets."
"DJ" (from Lodger)
This song makes so much more sense when you realize it was Bowie's attempt to sing like David Byrne.
"MOVE ON" (from Lodger)
Check the backwards vocals when this song hits the chorus. Apparently, that is "All the Young Dudes," Bowie's gift to Mott the Hoople, played bcakwards.
"AFRICAN NIGHT FLIGHT" (from Lodger)
One can only imagine the reaction had Bowie released this delirious, Kenya-inspired number during the Twitter era.
"RED MONEY" (from Lodger)
If it sounds like the guitarist has never heard the song before and doesn't even know the key, that is because the guitarist had never heard the song before and didn't even know the key.
"TEENAGE WILDLIFE" (from Scary Monsters [And Super Creeps])
Bowie takes aim at New Wave posers: "One of the new wave boys / Same old thing in brand new drag / Comes sweeping into view / As ugly as a teenage millionaire." The song sounds suspiciously similar to "Heroes," but who's complaining.
"KINGDOM COME" (from Scary Monsters [And Super Creeps])
One of Bowie's greatest gifts was his role in introducing lesser-known acts to a wide audience. He did this in 2005 when he became an early fan of the Arcade Fire, and he did it in 1980 when he included this great Tom Verlaine cut on Scary Monsters. Somehow, Verlaine's solo albums haven't sold as many copies as Funeral.
"BECAUSE YOU'RE YOUNG" (from Scary Monsters [And Super Creeps])
The Who's Pete Townshend contributed some of those bombastic guitar flourishes.
"CAT PEOPLE (PUTTING OUT FIRE)" (from Let's Dance)
Arguably it's not a deep cut. I just wanted an excuse to link to this Inglourious Basterds scene.
"CRIMINAL WORLD" (from Let's Dance)
Bowie worked with lots of different guitarists: In just a decade, he went from Mick Ronson's glam riffs to Robert Fripp and Adrian Belew's experimental textures to Stevie Ray Vaughan's blues licks on this 1983 cover song.
"AS THE WORLD FALLS DOWN" (from Labyrinth)
It's pure '80s cheese, but it does have a lovely chorus.
"MAGIC DANCE" (from Labyrinth)
Hardly a great song, but admit it: You do like watching Bowie sing and dance with a chortling chorus of goblins.
"UNDERGROUND" (from Labyrinth)
The best track from the Labyrinth soundtrack contains a whole chorus of vocalists, including Chaka Khan and Luther Vandross in the mix.
"NEVER LET ME DOWN" (from Never Let Me Down)
The fact that Never Let Me Down is often regarded as the creative low point of Bowie's career won't change the fact that this song's got a good video and an even better groove.
"SHINING STAR" (from Never Let Me Down)
If you make it to the bridge of this bouncy '80s cut, you get to hear Bowie rap. Not a bad deal!
"BANG BANG" (from Never Let Me Down)
Catchy and dumb—a descriptor rarely applied to Bowie's music.
"UNDER THE GOD" (from Tin Machine)
Bowie rediscovered hard rock with this late '80s project. This song is a good example of what he was trying to accomplish—a heavy metal Scary Monsters, you might say.
"AMAZING" (from Tin Machine)
A thrilling, powerful message of love.
"AMLAPURA" (from Tin Machine II)
Did this track foreshadow Bowie's supposed wish to be cremated in Bali in a Buddhist tradition? Even if not, the song transports listeners to that alluring, mysterious Southeast Asian island.
"PALLAS ATHENA" (from Black Tie White Noise)
On a Nile Rodgers-produced album of rather peppy songs, most apparently inspired by his recent wedding to supermodel Iman Abdulmajid, Bowie found menace and mystery with this dance track. It's filled with chanting, Lester Bowie's trumpet playing and only these snarling lines from Bowie: "God is on top of it all / That's all / We are we are we are."
"JUMP THEY SAY" (from Black Tie White Noise)
Like "All the Madmen" two decades prior, this song addresses Bowie's schizophrenic half-brother, who committed suicide in 1985.
"THE WEDDING SONG" (from Black Tie White Noise)
A straightforward love song for Bowie's then-new wife Abdulmajid: "Heaven is smiling down / Heaven's girl in a wedding gown."
"BUDDHA OF SUBURBIA" (from The Buddha of Suburbia)
Barely noticed, this was arguably Bowie's best album of the '90s. In the second version of the title track, Lenny Kravitz guests on lead guitar; there's as much energy in the collaboration as there was between Bowie and Queen on "Under Pressure."
"BATTLE FOR BRITAIN (THE LETTER)" (from Earthling)
Bowie goes techno!
"TELLING LIES" (from Earthling)
More frenetic drum 'n bass production work. "Telling Lies," in several different versions, was released on Bowie's site in 1996, making it one of the first ever internet-only downloads.
"THURSDAY'S CHILD" (from 'hours...')
Easily the best track on one of Bowie's very worst albums.
"SEVEN" (from 'hours...')
Some unusual parallels between Bowie and Prince: They both subverted pop star masculinity, they both hit their commercial peak in 1983–'84, they both died prematurely in 2016... and they both put out long-forgotten '90s singles called "Seven" (or "7").
"EVERYONE SAYS 'HI'" (from Heathen)
At first listen this track comes over as poppy, Absolute Beginners-style Bowie but after a few more plays it becomes as moving as any of his more obviously emotional work. It's a father/son song. Is it a dad's note to his son, filmmaker Duncan Jones—then a young man beginning to build his own career—telling him he can always come home if the wide world treats him harshly? Apparently not. In an interview, Bowie said the song was about the death of his own father in 1969 and how "for years" he wished his father would just miraculously show up back at the family home.
"CACTUS" (from Heathen)
It's a cover (we know). What other classic rocker was cool enough to be covering Surfer Rosa deep cuts in his 50s?
"HEATHEN (THE RAYS)" (from Heathen)
According to Bowie, this dark song is "about knowing you're dying." Hey, that sounds like another album that Bowie made in his later years...
"BRING ME THE DISCO KING" (from Reality)
The brutal, eight-minute climax to Bowie's Reality album. He'd been trying to get this song right for as long as 30 years.
"FALL DOG BOMBS THE MOON" (from Reality)
Great song title, and the subject matter does not disappoint: The song was inspired after Bowie read an article about a subsidiary of Halliburton assigned to do contract work for the U.S. government in Iraq.
"VALENTINE'S DAY" (from The Next Day)
A wonderfully creepy Next Day cut, with lyrics that seem to inhabit the mind of a school shooter. (It's about "people who go postal, about people who acquire a gun and do awful things with it," producer Tony Visconti told an interviewer.)
"LOVE IS LOST" (from The Next Day)
At 66, Bowie injects some urgency—and jagged guitar—back into his music.
"HOW DOES THE GRASS GROW?" (from The Next Day)
The Next Day is long, with 14 tracks total, but worth hearing in its entirety, with gems like this thumping rocker and "(You Will) Set the World on Fire" hiding at the end.
"HEAT" (from The Next Day)
Even during his Eno years, Bowie never managed a closing track as spooky and cryptic as this one.
"'TIS A PITY SHE WAS A WHORE" (from Blackstar)
Squawking horns and the sharpest snare sound on a Bowie album since Low.
"GIRL LOVES ME" (from Blackstar)
This song's eerie, profanity-laden refrain—"Where the fuck did Monday go?"—became downright prophetic when news of Bowie's death shocked the world early on a Monday morning.
"I CAN'T GIVE EVERYTHING AWAY" (from Blackstar)
The final song on the final album: breathtaking.
"WHEN I MET YOU" (from the Lazarus cast album)
One of Bowie's final recordings, this unsettling song surfaced in October thanks to the Lazarus cast album.