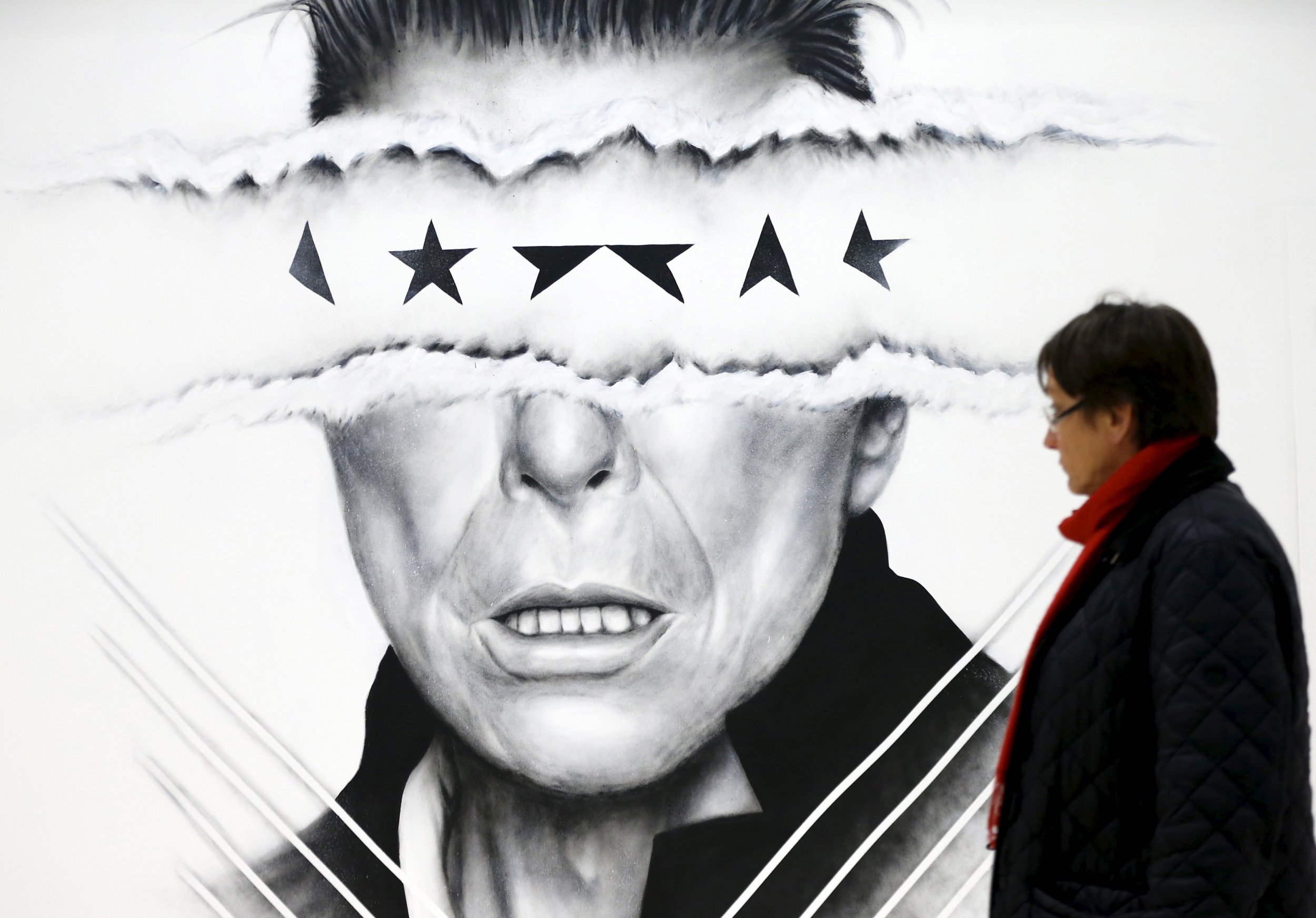 David Bowie's death from cancer has come as a shock to fans and admirers, in part because few outside Bowie's inner circle were aware of the artist's illness.
But the clues were there—left by the artist himself. Bowie knew he was dying, and his final album, Blackstar, released just two days before his death, has taken on a poignant new meaning in light of his passing.
"Look up here, I'm in heaven," the artist sings over clanging guitars at the start of "Lazarus," the final single released in his lifetime. The following line, "I've got scars that can't be seen," seems to describe the illness he suffered in private. Later in the track, Bowie hints at coming death: "Oh, I'll be free / Just like that bluebird / Oh, I'll be free / Ain't that just like me?"
The song, along with its video, which shows Bowie confined to a bed, has taken on eerie overtones in the immediate aftermath of his death. Blackstar was said to have been inspired by Kendrick Lamar's To Pimp a Butterfly, which suggests it was recorded in the past year. Bowie battled cancer for 18 months, according to a statement from his family.
He knew, in other words, what was coming when he crafted the work.
Writing mere days before Bowie succumbed to the cancer, critics were quick to note Blackstar's death-obsessed imagery and praise its acid-jazz experimentation, which has widely been embraced as Bowie's most compelling work in years. (The record "is filled with songs about death and doom," a Billboard review proclaimed.) What they couldn't have realized is that it was a farewell statement.
Other tracks on the record carry similar hints. "Blackstar," the lengthy and immeasurably strange title track, depicts a man's death in the third person: "Something happened on the day he died / Spirit rose a metre and stepped aside/ Somebody else took his place, and bravely cried." "Dollar Days" returns to the refrain "I'm dying to" (as in, "I'm dying to / Push their backs against the grain") so forcefully and repetitively that one can't help but hear it as "I'm dying too."
In a Facebook tribute, Blackstar producer and longtime Bowie collaborator Tony Visconti confirms the obvious: Bowie's final work was a knowing farewell, a "parting gift."
"He always did what he wanted to do," Visconti wrote. "And he wanted to do it his way and he wanted to do it the best way. His death was no different from his life—a work of Art. He made Blackstar for us, his parting gift."
On Monday, fans realized Bowie's death gives Blackstar a sad and eerie resonance.
The artist could not have timed it like this: His death came just two days after the release date, which was also his 69th birthday.
But nor could he have exited in a more Bowie-like fashion. For more than four decades, Bowie's life was inseparable from his art. Of course his death would be as well.