In the seven weeks since the Parkland, Florida school shooting, a group of passionate teenage survivors have emerged as the public faces of a national movement to increase gun control. In the process, the students have also unwittingly become fodder for conspiracy theorists, whose viral rumors have traveled from the underbelly of the internet to the newsfeeds and timelines of millions.
Viral conspiracy theories are common following shootings, but there's something about two specific teenagers—Emma Gonzalez and David Hogg—that has right-wing pockets of the internet putting on their tinfoil hats, expending considerable resources to tank the teens' reputations.
Below, Newsweek has rounded up the most pervasive conspiracy theories floating around about students Hogg and Gonzalez, debunking them in the process. When possible, information has been added about the conspiracy's creation date and origin.
The entire Hogg family is connected to the CIA, FBI and CNN
YouTube is teeming with vloggers who claim David Hogg is somehow a spy or a pawn for the CIA or FBI. According to them, the teen was strategically planted to boost support for gun control and disarm the populace. Other theories promoted by far-right corners of the internet claim Hogg is working with his FBI agent father to curb constitutional rights. Like many conspiracy theories, these likely started with a tiny kernel of truth: Hogg's father is a retired FBI agent-information that the teen volunteered offhand during a television interview.
Yet another conspiracy theory claims that Hogg or his mother is a CNN VIP who is "pimping" her son. This developed after a photo surfaced of Hogg and his sister, Lauren, touring the studios as children. According to Snopes, the family was actually on a $35 VIP tour. Rebecca Boldrick, the mother of the Hogg siblings, also told Newsweek she works as a school teacher, which the Broward County School confirmed.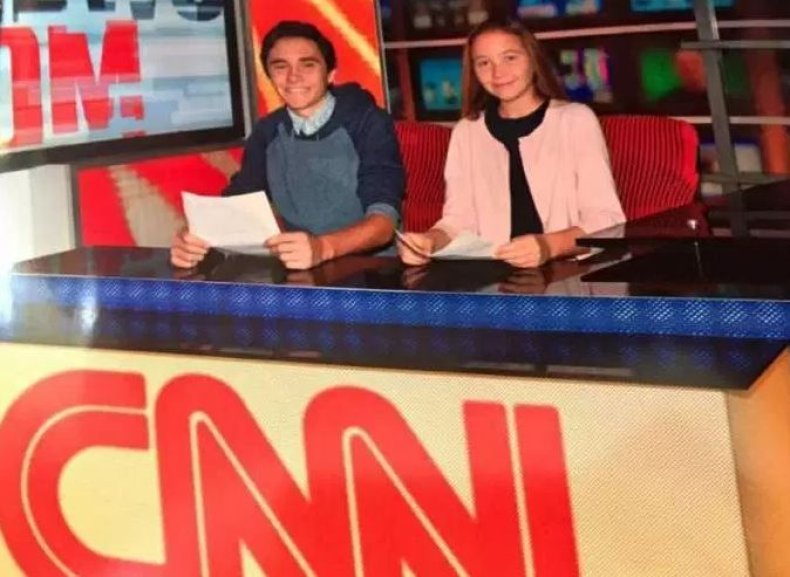 Hogg didn't attend Marjory Stoneman Douglas High School
The dark recesses of the web also have been promoting the idea that Hogg is older than 17 and that he didn't really attend the school where the shooting took place. In some versions of the conspiracy theory, a picture from a different yearbook with another student named David Hogg is used, while others circulate a mugshot from a 26-year-old California man named David Hogg as proof. The two don't have same eye color or look alike.
UC Santa Barbara Professor Miriam Metzgerf, who studies media, technology and trust, said information that is easily proven false often escapes scrutiny in a digital age, especially when shared by users who share close relationships or world views.
"It boils down to what we can call confirmation biases," Metzgerf told Newsweek. "If it sits with your own world view, something that appeals to you in some way, that's a very strong factor in determining what people believe...if it comes from a good friend, as well."
David Hogg and HoggWatch
There's an entire website, HoggWatch, dedicated to monitoring Hogg's public remarks, featuring headlines such as "Florida shooting survivor David Hogg exposed as son of FBI deep-state agent, caught reciting scripted talking points to trash Trump."
NBC News reported on Monday that the site was eight days old, although at least one article on the site is dated to February 19. According to the site biography, it was created by Mike Adams, who also runs a website peddling dubious and dangerous healthcare news. Instead of pushing one conspiracy theory, Hoggwatch is seemingly devoted to all of them.
Hogg wasn't at the school when the shooting took place
Conservative blog Red State, which boasts about 700,000 combined followers on Facebook and Twitter, wrote an article that falsely claimed Hogg wasn't on the Marjory Stoneman Douglas High School campus during the February 14 shooting. As evidence, the article pointed to an interview in which Hogg said he arrived on campus at 6 p.m. on the day of the shooting, which was hours after the suspected shooter was captured by police occurred.
Hogg actually spoke about returning to the campus at 6 p.m. As Newsweek previously reported, Hogg actually documented hiding with other students while the school was on lockdown.
The author of the Red State article apologized and issued a correction after she learned of her mistake, but several right wing blogs picked it up and failed to issue corrections. Like many on this list, it's a theory that is easily proven false but is still bouncing around Twitter and and Second Amendment forums.
Gonzalez ripped up the Constitution
On March 24, the same day more than a million people marched for gun control in cities across the U.S., a doctored image and gif began floating around of Gonzalez. It appeared to show the 18-year-old ripping up the Constitution. It was shared widely among conservative social media users with large followings, including conservative actor and Firefly star Adam Baldwin.
In fact, the picture was a doctored image of from a photoshoot Gonzalez and a few other students did for Teen Vogue.
"The fact that we even have to clarify this is proof of how democracy continues to be fractured by people who manipulate and fabricate the truth," Teen Vogue's Chief Content Officer Phillip Picardi wrote on Twitter.
Gonzalez admitted to bullying suspected shooter Nikolas Cruz
As Newsweek previously reported, this theory claimed that Gonzalez admitted to bullying suspected shooter Nikolas Cruz, driving him to shoot and kill 14 classmates and three teachers.
The disparaging rumor has been percolating in the dark recesses of the web since at least early March, and it resurged after the March for Our Lives protest. It uses an out-of-context snippet from a speech Gonzalez gave in Florida on February 17, in which she responded to President Donald Trump's suggestion that the shooting could have been prevented with adequate mental health care.
Her full remarks are as follows:
"There is one tweet I would like to call attention to. 'So many signs that the Florida shooter was mentally disturbed, even expelled for bad and erratic behavior. Neighbors and classmates knew he was a big problem. Must always report such instances to authorities again and again.' We did, time and time again. Since he was in middle school, it was no surprise to anyone who knew him to hear that he was the shooter.
Those talking about how we should not have ostracized him, you didn't know this kid! OK, we did. We know that they are claiming mental health issues, and I am not a psychologist, but we need to pay attention to the fact that this was not just a mental health issue. He would not have harmed that many students with a knife."
18-year-old Gonzalez attacked a Second Amendment supporter's truck at a March for Our Lives rally
C'mon. It's literally Britney, b*tch.
This meme was most assuredly created to mock conspiracy theorists, particularly ones born before 1981. Some commenters clearly didn't understand that.
Whether jokes or not, the conspiracy theories have serious consequences—from harassment to stalking to physical violence. Erica Lafferty, whose mother, Dawn Lafferty Hochsprung was shot and killed at Sandy Hook, said conspiracy theories are part of a "new normal" for victims caught in the crosshairs of politically charged debates.
"I cannot count the number of times that I've been called a 'crisis actor," Lafferty, who now works for Everytown For Gun Safety, told Newsweek. "Unfortunately, this is the new normal for survivors of national tragedies—we're told that our loved ones never existed and that our grief is just pretend."