Who Is David Jakubonis? Lee Zeldin Attack Suspect Is Reported Iraq War Vet
The man accused of attacking New York gubernatorial candidate Rep. Lee Zeldin at a campaign event has been named by police as David Jakubonis, 43.
Zeldin—the Republican standing against the state's Democratic governor, Kathy Hochul, in November—was delivering a speech in the upstate town of Fairport on Thursday evening when a man allegedly tried to stab him. Zeldin was unharmed, police said in a statement.
"A male from the crowd climbed up on the stage and approached Zeldin. The male
had a weapon in his hand, swung it towards Zeldin's neck, and told him, 'You're done,'" said Monroe County Sheriff's Office.
"Members of the audience and Rep. Zeldin's campaign restrained the male until deputies arrived and took him into custody. There were no injuries."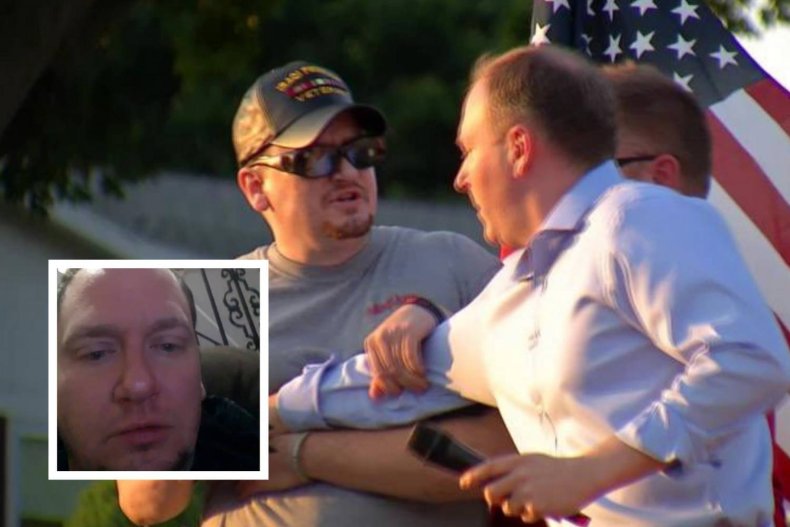 Police added that Jakubonis, who is from Fairport, had been charged with attempted assault in the second degree and "arraigned in Perinton Town Court and released on his own recognizance."
Newsweek has reached out for further comment.
Video of the incident shows a man rushing Zeldin, before audience members and campaign staff disarmed him and restrained him with zip ties.
Local broadcaster WROC reported that Jakubonis was an Iraq war veteran who was inebriated at the time of the incident. A LinkedIn profile in the name of "David Jakubonis, Fairport, New York" states that he is currently unemployed and looking for a new job.
According to the profile, he studied clinical laboratory sciences at George Washington University and criminal justice at Rochester Institute of Technology, then worked for five years as a lab technician in the U.S. Army.
New York GOP Chair Nick Langworthy said in a statement: "Thanks to the swift action of several brave eventgoers, the perpetrator was subdued."
He added that Zeldin had "just a little scrape," what no one would consider an injury.
Langworthy said Zeldin's running mate, former New York Police Department officer Alison Esposito, was one of the people who helped subdue the suspect. WROC reported that AMVETS national director Joe Chenelly also helped to tackle him.
Zeldin, who represents the 1st congressional district in New York and is an ally of former President Donald Trump, won a four-way Republican primary to determine who will stand against Hochul in November's election.
He defeated Andrew Giuliani, the 36-year-old son of the former New York mayor and Trump lawyer Rudy Giuliani, as well as Rob Astorino and Harry Wilson, in June.
Governor Hochul took over the role after Andrew Cuomo resigned last August.