Lee Zeldin Attack Video Shows Moment He Was Nearly Stabbed: 'You're Done'
Video shows the moment that a man apparently attempted to stab New York gubernatorial candidate Lee Zeldin on Thursday as the Republican delivered a speech.
Zeldin, who is currently a member of the U.S. House of Representatives, was not seriously injured after a man in a black baseball cap jumped on stage. The man has reportedly been taken into custody.
Footage shared to social media shows the man approaching Zeldin from the side of the stage where he was standing. The man appeared to be holding a sharp implement of some kind.
The man can be heard shouting "You're done" at Zeldin, who pushed him away before a number of other people got on to the stage in an apparent effort to stop the suspect.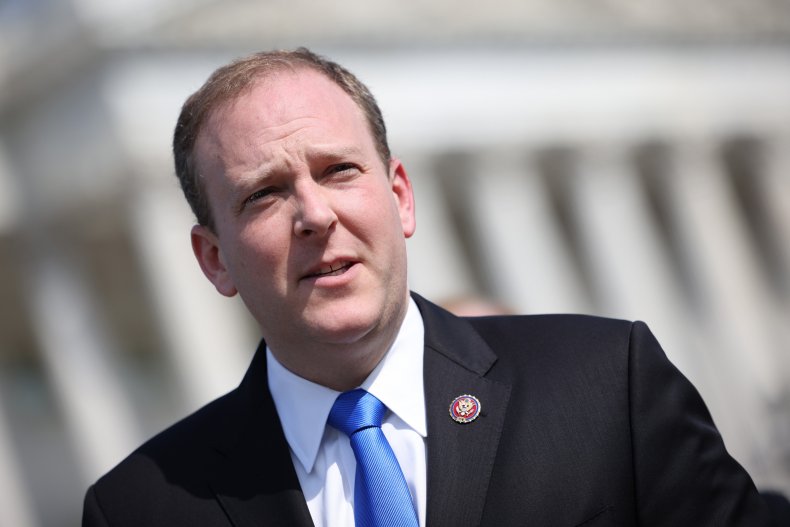 One video shared by Politico Congress reporter Olivia Beavers clearly shows the man walk toward Zeldin on stage and lay his hands on the congressman. Zeldin pushed him away as the man said: "You're done."
A man and a woman approached the suspect from behind as other people climbed on the stage from their positions in front of it. One of those people was Zeldin's running mate, former New York Police Department deputy inspector Alison Esposito.
"His words as he tried to stab me a few hours ago were 'you're done,' but several attendees, including @EspositoforNY, quickly jumped into action & tackled the guy," Zeldin tweeted. "Law enforcement was on the scene within minutes. The attacker will likely be instantly released under NY's laws."
Katie Vincentz, a Zeldin spokesperson, said on Twitter that "a man climbed on stage & attempted to stab @LeeZeldin during a rally speech in front of campaign supporters."
"Zeldin grabbed attacker's wrist to stop him until others assisted in taking the attacker to the ground. Law enforcement took the man into custody," Vincentz said, adding that Zeldin and his team were safe.
Vincentz added that following the incident, Zeldin "went back on stage to finish his remarks and thank the law enforcement officers who responded to the scene."
New York Republican party chair Nick Langworthy said that he'd spoken to Zeldin via text message after the incident
"He is fine. He's not seriously injured. It's just a chaotic scene there," Langworthy said.
The Republican said Zeldin had "just a little scrape."
The congressman was speaking in Fairport, New York as part of his gubernatorial campaign against Democratic Governor Kathy Hochul, who responded to the incident in a tweet.
"My team has informed me about the incident at Lee Zeldin's campaign event tonight," Hochul wrote. "Relieved to hear that Congressman Zeldin was not injured and that the suspect is in custody. I condemn this violent behavior in the strongest terms possible—it has no place in New York."
Zeldin will face Hochul in November as the governor hopes to win election to the office she assumed following the resignation of former Governor Andrew Cuomo.
Newsweek has asked Lee Zeldin's office for comment.