Republican Who Pushed 2020 Election Fraud Claims Accused of Election Fraud
Representative Lee Zeldin, the Republican nominee to be New York's governor, has been accused of ballot petition fraud and may not be able to have his name appear on the Independence Party line on the November ballot.
Following the 2020 election, Zeldin supported former President Donald Trump's claims that the 2020 election was fraudulent although no evidence has emerged corroborating the allegations. The GOP congressman voted against the certification of President Joe Biden's electoral votes in Arizona and Pennsylvania on January 6.
"This debate is necessary because rogue election officials, secretaries of state and courts circumvented state election laws," Zeldin argued at the time.
Now, the New York State Board of Elections has invalidated nearly 13,000 signatures on petitions for Zeldin to appear on the Independence Party line on the ballot, the Times Union reported. That decision came after it was alleged by Andrew Kolstee, secretary of the state's Libertarian Party, that some 11,000 of Zeldin's signatures were merely copies of other pages.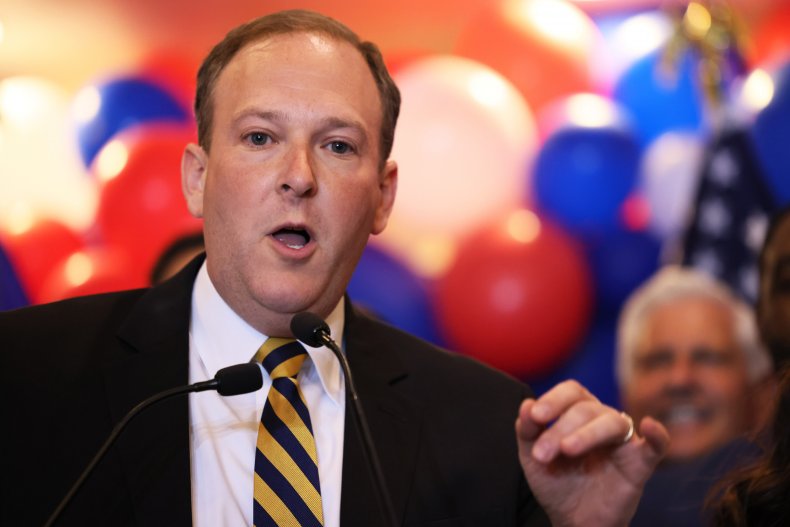 The Republican needed 45,000 signatures to appear on the third party ballot line. Although he submitted 52,000 signatures, with 13,000 ruled invalid by the Board of Elections, he will be unlikely to appear as an Independence Party candidate.
City & State reported that the Board of Elections would not comment on whether the signatures were deemed to be copied fraudulently, citing pending litigation. The magazine reported that its staff had reviewed the signatures and allegations by Kolstee, noting that "page after page" was "without a single valid signature."
While petition signature fraud is different than voter fraud, which Trump alleged had occurred in 2020, it is considered a form of election fraud according to the conservative Heritage Foundation. The right-wing organization describes "ballot petition fraud," which is defined as "forging the signatures of registered voters on the ballot petitions that must be filed with election officials in some states for a candidate or issue to be listed on the official ballot," as a "type" of election fraud.
"Republicans talk a lot about election integrity, but the Zeldin campaign attempted to fly under the radar and submit over 11,000 fraudulent signatures in an attempt to get a third line on the ballot," Kolstee said, the Times Union reported.
Newsweek reached out to Zeldin's campaign and congressional office for comment.
Katie Vincentz, a spokeswoman for the Zeldin's campaign, told the Times Union if an error had occurred, it was due to the heavy workload volunteers had.
"All five statewide candidates, scores of legislative and local candidates and a massive amount of each campaigns' volunteers collected tens of thousands of signatures from throughout New York," Vincentz said.
"Being nearly an entirely grassroots effort, we haven't reviewed all of the petitions nor the specific objections associated with them. In the final few days leading up to the filing deadline, tens of thousands of signatures from all over the state had to be immediately turned into the Board of Elections. While the Zeldin for New York campaign is not aware of photocopies, we certainly didn't make any photo copies," she added, according to the Times Union.
Jay Jacobs, the chair of the state Democratic Party, slammed Zeldin over the allegedly fraudulent signatures.
"Let's not forget: Lee Zeldin was one of the many far-right Republicans who voted to overturn the 2020 presidential election under the guise of election fraud," Jacobs told City & State.
Zeldin is already widely expected to lose the 2022 election to incumbent Democratic Governor Kathy Hochul. New York has been a Democrat-majority state for many years, and a June poll by WNYT-TV/SurveyUSA showed the Republican candidate trailing Hochul by 24 points.
Trump's claims of widespread election fraud have been consistently debunked, including by top officials from his own administration. Former Attorney General William Barr, who was widely viewed as one of Trump's most loyal Cabinet members, has said repeatedly that the allegations were "bulls**t."
"I thought, boy, if he really believes this stuff, he has lost contact with—he's become detached from reality if he really believes this stuff," Barr testified before the House select committee investigating the January 6, 2021, attack on the U.S. Capitol.