David Perdue and Brian Kemp's Brutal GOP Brawl Is Good News for Stacey Abrams in Georgia
Democrats welcomed the fierce contest between Donald Trump ally David Perdue and Republican incumbent Brian Kemp in the Georgia governor primary, seeing the GOP infighting as good news for Democratic challenger Stacey Abrams.
Several reports on Sunday revealed that Perdue, a 71-year-old wealthy businessman and former senator from Georgia, would be joining the race for Georgia governor next year.
Perdue lost his Senate seat in a runoff against Democrat Jon Ossoff in January. Many of Perdue's supporters say he can beat former senator and voting rights activist Abrams in the gubernatorial race in 2022, while Kemp can't. Abrams lost to Kemp in a previous gubernatorial contest in Georgia in 2018 by 55,000 votes.
The former Georgia senator's announcement, first reported on Sunday by Politico, drew both scorn and compliments from Republicans. Several reports said that Perdue was rounded up by former president Donald Trump to run against Abrams, after Kemp refused to help block the 2020 election results in the state, which helped Democrat Joe Biden beat Trump to win the presidency.
Democrat-turned-Republican and former state representative Vernon Jones, who is also a primary candidate for governor, attacked Perdue's entry to the race by pointing out the latter had introduced Kemp at the Georgia GOP convention this past summer and said in November that "Georgia already has a governor."
"Are we sure this is not a veil attempt to cover Kemp's flank?" he said in a statement. "In addition to introducing Gov. Kemp at the 2021 Georgia GOP convention, Perdue recently proclaimed we already have a Republican Governor The Brunswick News. These are two peas in a pod! I'm the only candidate for Governor who has called for the elimination of state income taxes, a forensic audit of all 159 counties, didn't abandon President Trump or his America/Georgia first agenda, and can defeat the socialist Stacey Abrams."
Cody Hall, Kemp's director of communications and senior adviser, issued a statement criticizing Purdue.
"Perdue's only reason for running is to soothe his own bruised ego, because his campaign for U.S. Senate failed to inspire voters at the ballot box—twice," Hall said. "Governor Kemp has a proven track record of fighting the radical left to put hard-working Georgians first, while Perdue is best known for ducking debates, padding his stock portfolio during a pandemic and losing winnable races."
But some Republicans are rooting for Perdue, including Trump. On December 1, the former president taunted Abrams in a statement and criticized Kemp for certifying the November 2020 presidential election results.
On November 12, Republican former Speaker of the House Newt Gingrich called Perdue "the one figure who could unify Georgia and the one person who could beat Stacey Abrams."
Lauren Groh-Wargo, a top Abrams aide, welcomed the skirmish between the two Republicans.
"While David Perdue and Brian Kemp fight each other," she said, "Stacey Abrams will be fighting for the people of Georgia."
Democratic political strategist Atima Omara also appeared to revel in Perdue's intention to enter the gubernatorial race.
"Ahhhhahah. David Perdue is running against GA Governor Brian Kemp in a primary because Trump doesn't like Kemp," she tweeted.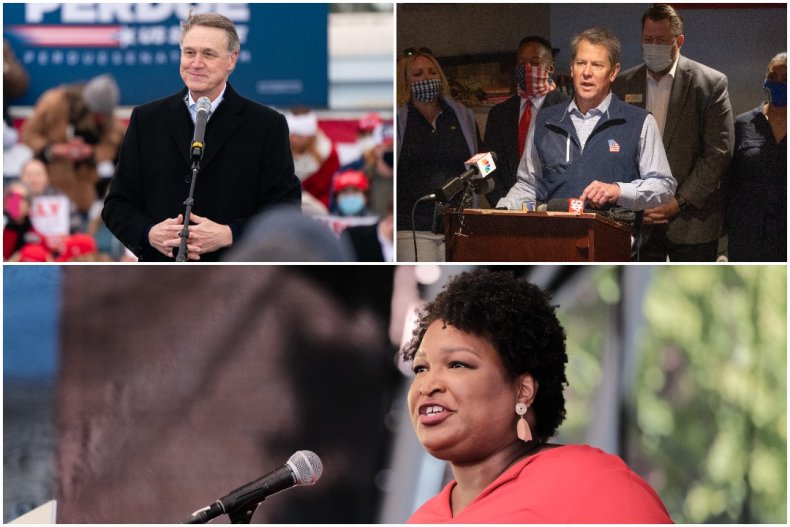 UPDATE 12/06/21 7:38 a.m. ET: This article was updated to include additional pictures.