Dawn Richard got her break as a member of the girl group Danity Kane, which briefly ruled airwaves in the mid-2000s. But Richard's solo material, under the name DAWN (previously styled as D∆WN), eschews Top 40 hooks for inventive R&B grooves. Her latest album, new breed, signifies a fresh start after the artist completed a heady trilogy of albums. "It's my personal journey as a black woman from New Orleans," Richard, 35, says. The singer's Louisiana upbringing "really dictated how I went through life, with music, men, love, loss—everything."
She was raised by a funk singer dad and a dancer mom in the 9th Ward, and new breed teems with references to the New Orleans neighborhood, with its radiant musical heritage of street parades and brass bands. Her grandfather jammed with Fats Domino before she was born. When Hurricane Katrina hit, "we lost everything," she says. Her family was homeless for six months, eventually resettling in Baltimore. The family finally returned to New Orleans a decade later. In 2005—the same year as Katrina—Richard landed a spot on Diddy's MTV reality show Making the Band, which resulted in the formation of Danity Kane. (The group disbanded in 2009, but embarked on a tumultuous reunion in 2013 and again in 2018.)
Her considerable vocal swagger can power both erotic anthems and diss tracks, like "New Breed," which extends a middle finger to sleazy industry men who doubted her confidence. "When I stepped into board rooms and meetings, they had a problem with the fact that I saw myself as as much of a king as they saw themselves," Richard says. This frustration dates back to the Danity Kane days. "It was the producer that told us we were too dark. Or we were too skinny or too thick or our voices were too soulful for the pop records we were trying to sell."
Richard recently collaborated with the experimental indie group Dirty Projectors, voicing the swooning hook on 2017's "Cool Your Heart." And new breed spans a range of futuristic R&B textures: glittery electro-funk ("Shades"), dub-inflected pop ("Jealousy"), even an a cappella overture.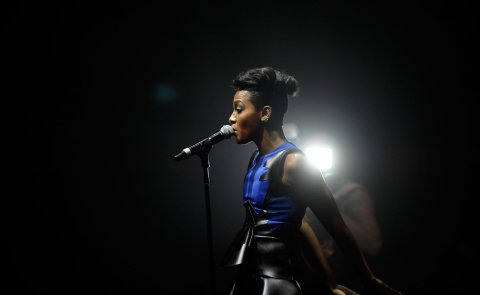 Many artists sing about their exes. With the thrillingly petty "Jealousy," Richard flips the cliché, writing a love song in the form of an Instagram message to her boyfriend's ex. ("I know you feel you have a right to call him," she sings. "You don't.")
It was inspired by a real situation. Richard was dating an older man, who'd been with a range of impressive partners—"they all had incredible journeys and PhDs, really incredible women." She noticed he was still communicating, on a platonic level, with one particular woman. "I wrote an entire letter to the ex just speaking my personal feelings," she says. "I had to laugh because I didn't realize how petty I was being. I was already nine pages in and I'm realizing: Oh, wait." Did Richard send it? "I still have it in my inbox. I'm gonna save it, just in case petty me needs to live again."
The song's video prominently features images of the Washitaw Nation, a tribe associated with the black Mardi Gras Indians of New Orleans. Richard also wears the tribe's traditional headdress on the album cover. "I'm introducing the Mardi Gras indians to the forefront on this album," she says.
Richard's "all-time" inspiration is Prince. Richard's last album, 2016's Redemption, contained a nonconventional salute to the late pop star: a feminist inversion of Prince's "Darling Nikki" examining Nikki's perspective, called "Hey Nikki." She's a fan, too, of D'Angelo, particularly his slow-jam stunner "Untitled (How Does It Feel?)." Both artists inspired a frank treatment of sexuality and desire in her own work; on "Sauce," a bedroom-ready highlight from new breed, she entices a lover with lines like "I'm ready to ride you like I'm about to win a prize at the Kentucky Derby."
"The level of comfort I have in my sexuality—'Sauce' speaks to that on a huge level: unapologetic, no fucks given," Richard says. "Women have the same ability to speak on how we feel as men do. I have no shame."