'Specific Items' Found in Cabin Where Police Are Searching for Escaped Prisoners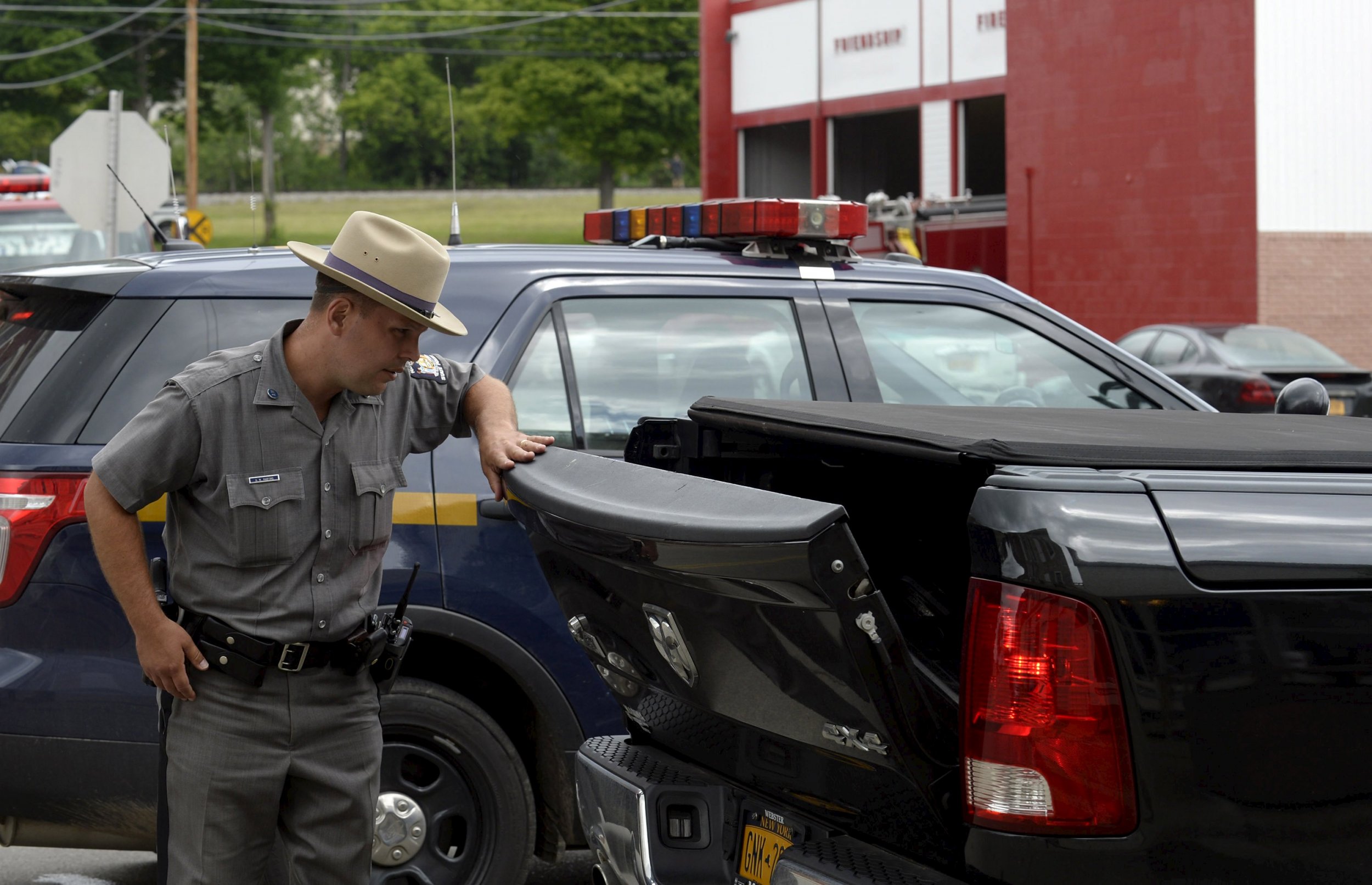 Updated | Authorities now believe two escaped New York prisoners could have spent time in a remote hunting cabin about 30 miles west of the maximum-security prison where they escaped from more than two weeks ago.
On Monday morning, various media outlets reported that DNA belonging to the escaped prisoners, Richard Matt and David Sweat, was found in the cabin. New York State Police Troop B Commander Major Charles Guest later told reporters that authorities have recovered specific items from the cabin, but he wouldn't confirm nor deny the details of the evidence.
"We cannot get into specifics of the evidence we have uncovered," he said at an afternoon press conference in Cadyville, New York. "I don't want to put information out into the public that could jeopardize [the search]."
The owner of the cabin reportedly saw an individual fleeing into a forest in the Adirondack Mountains, and then reported a possible sighting.
Guest urged residents returning to their summer camps for the season to be on alert and report any suspicious activity. He added: "No lead is too small for us to investigate."
The manhunt for Matt and Sweat entered its 17th day on Monday, and it's now centered on Owls Head, New York, a mountainous area about 30 miles west of the Clinton Correctional Facility in Dannemora, New York, Guest said. The convicted murderers were last seen at the prison on June 5.
Guest declined to comment on the cost of the manhunt. Authorities are still investigating leads closer to the prison.
Over the weekend, the search had shifted to the New York and Pennsylvania border after a possible sighting of the two fugitives, who last week were placed on the U.S. Marshals Service's 15 Most Wanted fugitives list. That search in Allegany County had ended as of Monday morning.
For the past two weeks, hundreds of law enforcement authorities have followed possible leads in multiple states and countries, but have come up empty-handed. They have gone door-to-door to check houses surrounding the prison, and have searched wooded areas and campgrounds.
Officials still are concentrating part of their search to the area around the prison. Over the weekend, they promised to search "under every rock" and "behind every tree" until that area near is deemed safe.
A tactical support unit from the Vermont State Police is now in New York helping local officials with their search. At one point over the past two weeks, the manhunt had switched to Vermont after possible sightings were reported there.
Police have arrested and charged at least one person, Joyce Mitchell, for allegedly plotting with Matt and Sweat and aiding in their escape. She remains in custody and has pleaded not guilty to a felony charge of promoting prison contraband and a misdemeanor count of criminal facilitation. Several prison guards are also reportedly under investigation. At least one correction officer has been placed on administrative leave as part of the investigation.
The U.S. Marshals Service is offering a maximum reward of $25,000 for information leading directly to the capture of either prisoner.