Batman Poster Accused of Supporting Hong Kong Protests, Chinese Fans Threaten DC Comics Boycott
DC Comics is under fire from Chinese fans over a Batman comic book poster that they perceive to be supportive of the ongoing Hong Kong protests.
DC shared artwork this week depicting Batman throwing a Molotov cocktail. This stark imagery is superimposed over bright pink text that reads: "The future is young."
The poster is being used to promote the December 11 release of DC Black Label comic book Dark Knight Returns: The Golden Child, written by popular comic scribe Frank Miller. Black Label is a DC Comics imprint featuring titles for more mature audiences.
However, after sharing the image on its Instagram page, @dccomics, and Twitter page, @DCBatman, DC was inundated with criticism from Chinese social media users. They claimed the artwork was tacit support for Hong Kong citizens protesting for greater democratic freedom from mainland China.
The social media posts have subsequently been removed.
According to China's Global Times, the poster attracted fervent backlash on Chinese social media site Weibo, which has 400 million active users per month.
"Is Hong Kong really becoming Gotham City? But Hong Kong rioters are not Batman. Instead, they are the criminals of Gotham City," wrote one Weibo user, said the Global Times.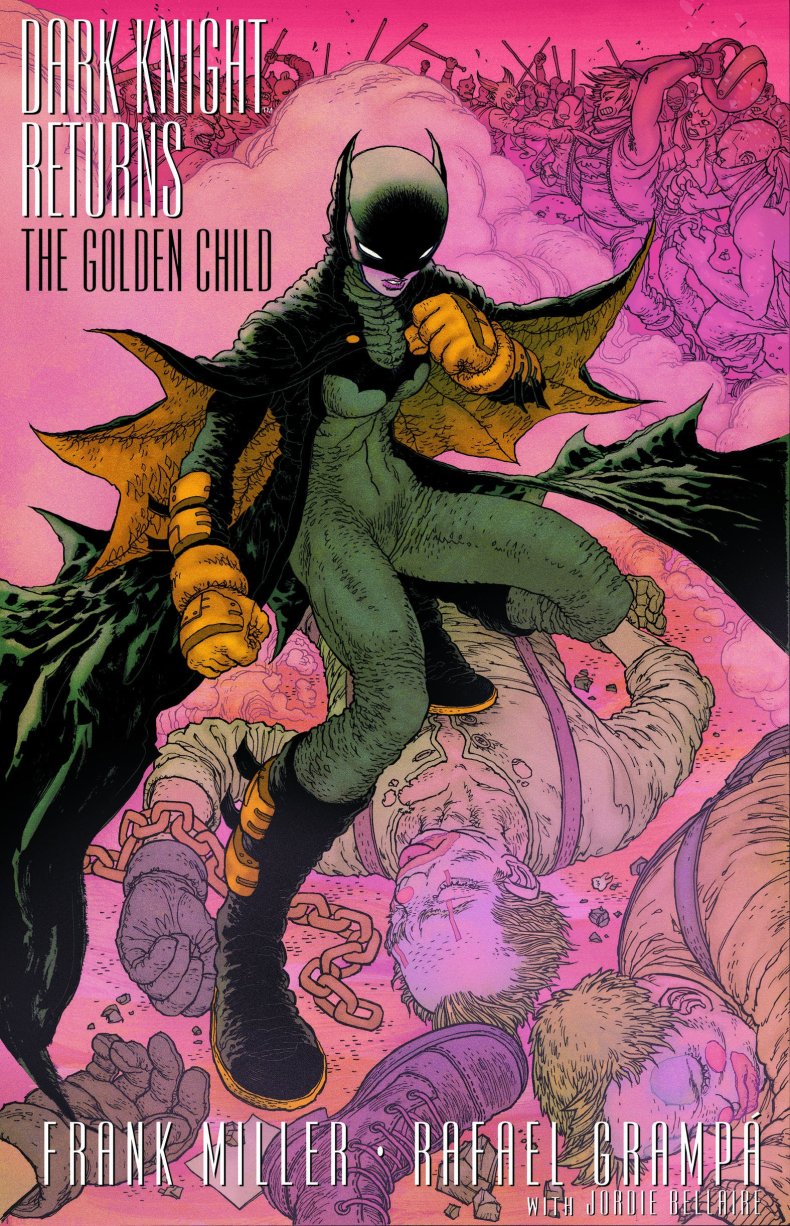 "That was not batman! Batman would not do that," said another.
Fans also threatened to boycott DC Comics over its perceived support of Hong Kong protesters.
But DC is also being criticized for appearing to censor itself by deleting the artwork from its Twitter and Instagram pages.
"I just don't understand why a Chilean Batman with a Molotov cocktail has to be something with Hong Kong Independence...like excuse me are we on the same page?" wrote one Twitter user.
"Really disappointed on@DCComics Just because of China citizen comment few word of Hong Kong democracy, DC choice to del the post on IG.... China is affecting US freedom," another tweet said.
Dark Knight Returns: The Golden Child was announced by DC in September and based on initial descriptions it does not appear to make reference to the dissent in Hong Kong.
According to The Hollywood Reporter, the 48-page one-shot book follows a new Batwoman, Carrie Kelley, who teams with Lara Kent, the daughter of Superman and Wonder Woman, to tackle the latest imminent threat in Gotham City. The protagonists discover that Lara's little brother, Jonathan Kent, might have the most formidable superpowers on Earth, hence The Golden Child subtitle.
The new comic book comes four years after The Dark Knight III: The Master Race.