De Blasio Wants Cuomo to Leave Office if 'Horrible' Harassment Allegations Corroborated
New York City Mayor Bill de Blasio has suggested that New York Governor Andrew Cuomo should offer his resignation if the "horrible" sexual harassment allegations against him are true.
De Blasio said that the allegations, from two former aides of Cuomo, should be fully investigated during a press briefing on Monday. The mayor suggested that Cuomo should step down if the investigations result in the allegations being corroborated.
"If someone works for you, they're in a position of some vulnerability," de Blasio said. "They worry for their job and their future. And when anybody, particularly an older man trying to take advantage of a younger woman, does something that makes that woman feel if she doesn't consent, she may not keep her job—these are horrible, horrible things that are unacceptable in our society. "
"So again, full investigation. We've got to understand what happened here," he added. "If someone purposely tried to use their power to force a woman to have sex with them, of course that's someone who should no longer be in public service."
Former Cuomo aide Lindsey Boylan alleged last Wednesday that the governor had repeatedly harassed her, including making the suggestion that they should play "strip poker" and allegedly kissing her on the lips without consent. Caitlin Girouard, Cuomo's press secretary, issued a statement a short time later insisting that "Ms. Boylan's claims of inappropriate behavior are quite simply false."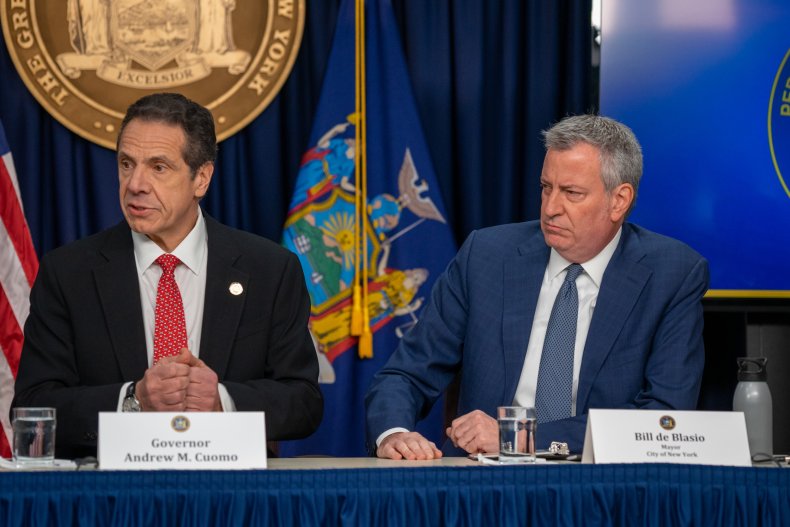 A second set of harassment allegations came on Saturday from Charlotte Bennett, a 25-year-old who served as a health policy adviser for Cuomo during the early months of the COVID-19 pandemic. Bennett told The New York Times that Cuomo questioned her about past sexual experiences with older men and suggested that he would be open to a sexual relationship with her.
"Questions have been raised about some of my past interactions with people in the office," Cuomo said in a statement on Sunday. "At work sometimes I think I am being playful and make jokes that I think are funny... I now understand that my interactions may have been insensitive or too personal and that some of my comments, given my position, made others feel in ways I never intended."
"I acknowledge some of the things I have said have been misinterpreted as an unwanted flirtation," added Cuomo. "To the extent anyone felt that way, I am truly sorry about that."
Bennett blasted Cuomo's comments on Monday, saying in a statement that the governor had "refused to acknowledge or take responsibility for his predatory behavior." De Blasio also denounced the Cuomo's remarks.
"That's not an apology," de Blasio said. "He seemed to be saying, oh, I was just kidding around. You know, sexual harassment is not funny. It's serious."
Cuomo's office called for an "independent review" of the allegations on Sunday. New York Attorney General Letitia James announced Monday that she had been granted the authority to launch an independent investigation, with results of the inquiry set to be released publicly.
Newsweek reached out to Cuomo's office for comment.