Dead, Beached 32ft White Whale Is Not Migaloo, the Famous Albino Humpback
The dead body of a white humpback whale on a beach is not that of the famous albino Migaloo, as was initially feared.
The whale carcass was discovered on a beach in Mallacoota, on the east coast of Victoria, Australia, by local Peter Coles.
"It was beautiful even though it was dead," Coles told Sky News. "It was pretty spectacular. It was pure white and marble looking. I thought it looked like a sculpture, it almost didn't look real.
"I paced it out and it was 10 m [32 ft] long. I didn't touch it and it was a bit smelly. There weren't any signs of decomposition but it did look very, very dead."
Migaloo was first spotted in 1991 off Byron Bay, Australia, and is infamous for being one of the only confirmed genetically albino humpback whales in the world.
Named by elders of a local aboriginal collective in Hervey Bay, Migaloo means "white fella." However, he has not been spotted in over two years, leading to speculation that he may be dead.
Cade Mooney, a friend of whom also came across the whale, shared some pictures on social media, which garnered reactions fearing that it may be Migaloo.
"Just had a call from a Dr at the white whale research center and they are stoked on the discovery and want to know about why she's passed and how etc," said Mooney in a comment under the post. "They don't want to officially say Migaloo but they are thinking it is. It's an hour boat ride from any town!"
Humpbacks in the south Pacific migrate north along Australia's east coast between June to August each year to the Great Barrier Reef where the mating and birthing grounds are. They then swim back south from September to November.
The dead whale would match Migaloo's approximate location if he was following these usual patterns.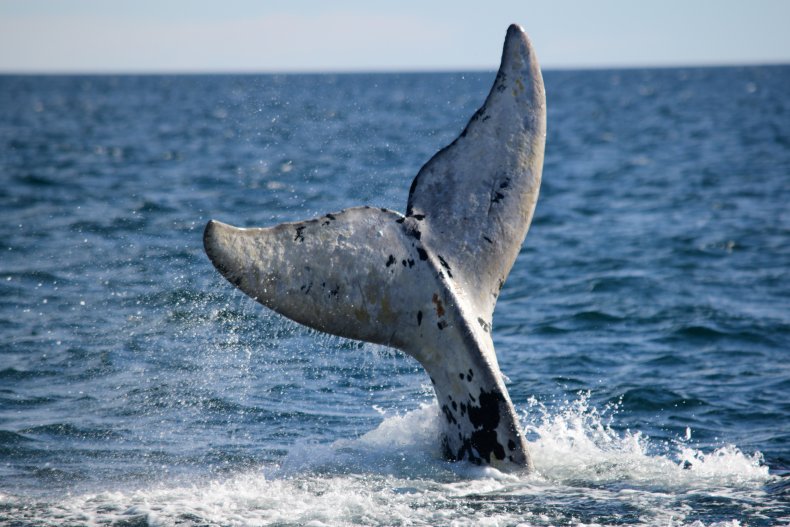 However, officials have now confirmed that this unfortunate white whale is not Migaloo.
Peter Brick, of Victoria's Department of Environment, Land, Water and Planning (DELWP), told the Australian Associated Press: "DELWP officers have examined images of the dead humpback whale at Mallacoota and have confirmed it is a sub-adult female. Migaloo is a male."
This whale may not even be a true albino like Migaloo, according to scientists.
"It seems to be most likely a white whale, or at least a whale that has been a darker pigmentation that has passed out at sea and washed ashore and been weathered over time," Vanessa Pirotta, a Postdoctoral Researcher and Wildlife Scientist at Macquarie University, told ABC TV News.
"What is going to go on now is that they are now going to try and assess whether this is a white whale or not. The mystery continues ... because now the question is, well, where is Migaloo, who is this? What has happened to this whale?" she said.
Migaloo's lack of appearance for a few years may not be as concerning as first thought, however, as humpbacks don't always follow the same path on their migration, and sometimes don't go at all.
"It's not that unusual when monitoring the returning humpback whales that visit the southwest of Ireland, to find that regular returnees simply aren't recorded every year," Pádraig Whooley, Sightings Officer at the Irish Whale & Dolphin Group, previously told Newsweek.
DELWP has warned that anyone attempting to take teeth or any other pieces of the whale as a souvenir will face significant penalties.