Death Penalty Case Divides Trump Supreme Court Justices
A death penalty case from Arizona has divided Trump-appointed Justices on the Supreme Court of the United States.
The court ruled that a man on death row in Arizona should be resentenced because his due process rights were violated when the jury in his initial case was not totally informed about his sentencing options.
In a truly life or death case, the Supreme Court broke with its political divides to deliver its decision in Cruz v. Arizona.
The Supreme Court is currently split 5-4 among conservative and liberal Justices, largely due to the three appointments made by former President Donald Trump.
Liberal Justice Sonia Sotomayor wrote the majority opinion. She was joined by her fellow liberal Justices Elena Kagan and Katanji Brown Jackson, as well as conservative Chief Justice John Roberts and Trump-appointed conservative Justice Brett Kavanaugh.
Justice Amy Coney Barrett, another Trump appointee, wrote the dissent that was joined by the remaining conservative Justices Clarence Thomas, Samuel Alito and Trump appointee Neil Gorsuch.
Neal Katyal, one of the lawyers representing Cruz who argued before the court, called this decision "a win."
"We are so gratified by the U.S. Supreme Court's decision, and its recognition of the unconstitutionality of what Arizona has been doing," he told Newsweek.
In 2005, John Montenegro Cruz was convicted of first-degree murder for killing a police officer and was sentenced to death in a jury trial.
During his trial, Cruz asked that the jury be told that he would be ineligible for parole if he was given a life sentence. Knowing that Cruz could never be released from prison may have made the jury less inclined to impose the death penalty. But the judge denied Cruz's request.
Cruz argued that the Supreme Court's decision in Simmons v. South Carolina applied to his case. In Simmons v. South Carolina, the Supreme Court held that defendants have a constitutional right to inform the jury that they will be ineligible for parole if they serve a life sentence instead of being executed.
In her opinion, Justice Sotomayor said the Supreme Court has "repeatedly reaffirmed Simmons' holding" and said the Arizona Supreme Court repeatedly made mistakes in a series of cases regarding this issue.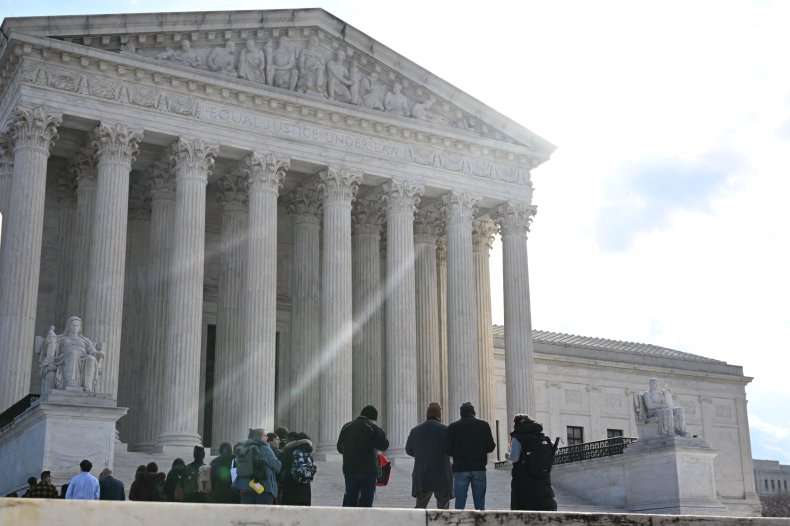 Even after Simmons, Arizona still declined to inform juries of a defendant's ineligibility for parole. The state argued that even though state law prohibited the defendant's release on parole, there was still the possibility that the defendant could be released if the law changed or if the defendant is granted executive clemency.
But after the Supreme Court reaffirmed Simmons in the 2016 case Lynch v. Arizona, Cruz filed a petition to the court for postconviction relief under Arizona Rule of Criminal Procedure 32.1(g), which allows petitioners to challenge their conviction or sentence, "if there has been a significant change in the law that, if applicable to the defendant's case, would probably overturn the defendant's judgment or sentence."
Cruz argued that Lynch was a significant change in the law because it "had transformative effects on previously binding Arizona law."
But the Arizona State Supreme Court disagreed. The court held that Lynch was not a significant change to the law and Rule 32.1 (g) was not applicable because it requires "a significant change in the law, whether state or federal—not a significant change in the application of the law," according to the court documents.
Sotomayor said, "straightforward application of these principles should have led to the conclusion that Lynch was a 'significant change in the law' under Rule 32.1(g)."
"Lynch overruled binding Arizona precedent," she wrote. "Before Lynch, Arizona courts held that capital defendants were not entitled to inform the jury of their parole ineligibility. After Lynch, Arizona courts recognize that capital defendants have a due process right to provide the jury with that information when future dangerousness is at issue. It is hard to imagine a clearer break from the past."
The court vacated the judgment of the Supreme Court of Arizona and remanded the case "for further proceedings not inconsistent with this opinion."
This decision will have a significant impact on other death row cases.
According to SCOTUS Blog, there are 30 people in Arizona sentenced to death by juries that were not informed about parole-ineligibility. Of the 30, the Arizona Supreme Court denied the review of six petitioners who raised an identical argument in their post-conviction appeals to the state high court.
Update 2/22/23, 5:18 p.m. ET: This story was updated with comment from Neal Katyal.