Debate Rages as Customer Refuses to Tip Pizza Delivery Driver on $95 Order
The internet is divided over whether or not to tip delivery drivers after a Domino's customer asked if they were being unreasonable for not wanting to tip.
In a post shared on Mumsnet on Thursday, the Domino's customer, under the username JamesBondOO7, explained that while doing calculations for their £85 ($95.10) pizza order, they weren't sure whether or not to pay a tip, because they were already paying for a delivery.
"A quid is not right but then I'm thinking why should I? as I pay 2 quid (1.99) in delivery and the employer should be paying a proper wage," they wrote.
"It will be easier not to tip as paying online but I don't want the delivery person giving me faces etc though that would make it easier for me later ie not giving a tip."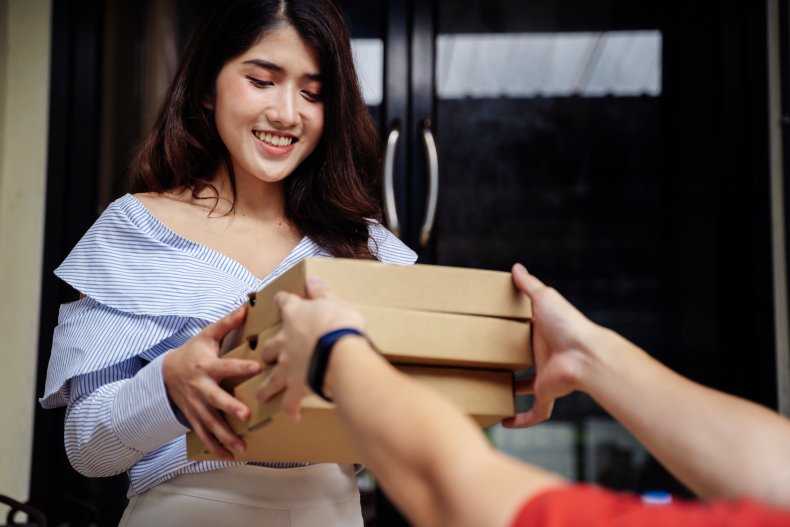 A survey by FinanceBuzz found that almost two-thirds, 64 percent, of respondents, tip their delivery drivers a percentage of the food cost rather than a flat amount, and the average percentage they're tipping is around 15.7 percent.
People are pretty evenly divided on how they tip. About 52 percent of respondents say they tip in cash, while 46 percent tip using the app they ordered with.
Among the 160 comments in the thread, opinions were divided, and while some thought the poster should tip because they can afford it, others thought it was not the case.
One user, JMKid commented: "I never tip delivery drivers, seems odd too." And MessyBunPersonified said: "I only tip if I pay cash."
Another user, andy2 said: "If you can afford £85 on pizza then you must be extremely tight to balk at a £2 tip for the driver. This is a wind up surely?"
And DillDanding said: "Absolutely tip. We have never not tipped a food delivery. We don't tip as much as in a restaurant, but I'd be giving them at least a fiver."
Luredbyapomegranate added: "It's a badly paid job and it's tough - give them a tip woman!"
ByTheGrace wrote: "Dominos are now hassling you for tips, sending an email reminder, guilting you by naming the driver. I replied in feedback, that if you value your staff so much, then pay them a better wage.
"Dominos [isn't] cheap by any stretch, they now charge for delivery too.
I've never tipped delivery drivers and places I've worked didn't allow drivers (or anyone) to accept tips. Really, why is everyone so keen to enable these big businesses to exploit their staff and us."
And ShandaLear said: "It wouldn't cross my mind to tip. I don't tip the Tesco delivery person, or the Amazon delivery person, or the postman, so how is this different? Is it like a pity tip?"
Further down in the comments the poster shared an update, saying they won't be tipping their delivery driver as they are already paying 1.99 for delivery.
"Decision - no way am I giving a fiver - pound is [too] low and finally, the 1-99p I'm paying for delivery has tipped me into not to tip the person. I'll ask my son if he can open the door as he is not shy and does not tip. If not I will do it and [InMyOpinion] the principle that Domions should pay a proper wage."
A spokesperson for Domino's, said: "We've always said, no one delivers like Domino's. Our drivers always aim to delight and surprise our customers with amazing service. As such, many of our franchisees offer an online tipping service for their drivers.
"Customers are invited by email to tip their driver following their order, and any tips paid go directly to them. Alternatively, drivers can receive cash tips at the point of delivery."
Newsweek was not able to verify the details of the case.
If you have a similar dilemma, let us know via life@newsweek.com. We can ask experts for advice, and your story could be featured on Newsweek.