Decorated Ukraine Major on Front Lines of War With Russia Killed in Battle
A decorated Ukrainian major and commander in the 72nd Mechanized Brigade was killed in battle Thursday while fighting against Russia in the ongoing war.
The 72nd Mechanized Brigade confirmed the death of Major Andrii Verkhohliad in a Facebook post, an announcement it made "with sadness and regret," according to an English translation.
"Nobility and determination, courage and boundless, incredible cheerfulness," the post read. "One of the best commanders, the pride of the brigade. It is impossible to imagine [Andrii] behind the curtain of earthly life. Our family's hearts are full of grief and rage."
The news of Verkhohliad's death came the day before Russia's war in Ukraine, which began on February 24, was set to hit the four-month mark. After initially concentrating its assault around the Ukrainian capital of Kyiv, Russia shifted its focus in April to eastern Ukraine.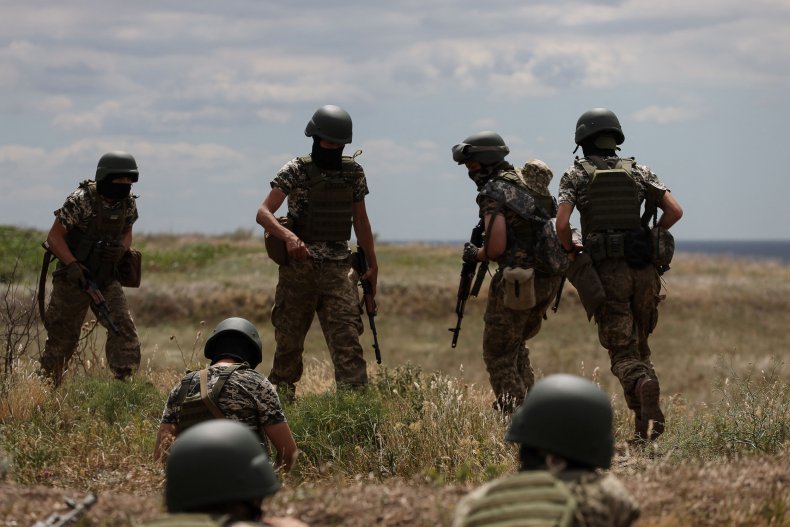 But as the war continues to rage and neither side appears poised to secure a decisive victory, Russia has warned that the only way Ukraine can put a stop to the drawn-out fighting is by accepting all of its demands.
Verkhohliad was reportedly fighting for Ukraine long before the Russian invasion.
He fought in the war in Ukraine's eastern Donbas region, which has long housed pro-Russia separatists, including in a battle for the city of Adviika in January of 2017, the Kyiv Independent reported. For that battle, he was awarded the Order of Bohdan Khmelnytsky, a Ukrainian military award.
He was also promoted to the role of company leader and oversaw more than 100 soldiers, the Independent reported, though it was not immediately clear if that promotion was to the same leadership role he held in the 72nd Mechanized Brigade. The brigade did not specify exactly where Verkhohliad was fighting in Ukraine when he was killed or provide more details on the circumstances of his death.
Ukrainian journalist Volodymyr Runets, who indicated he was a friend of Verkhohliad, grieved the loss in a Facebook post on Thursday.
"I believe you're near me - smiling, calm and collected as always," the post read, according to an English translation. "I don't believe that we are now separated by a universe, and that I won't hear your voice on the phone. All this scary night, I re-read our correspondences and looked at the pictures, somehow we're always funny and silly even when things are bad.
"I know all your deeds, I know how you took care of people, I know how to bring Ukraine closer to victory every day. You are the future that unwashed scum is trying to take away from us."
Newsweek reached out to Ukraine's Defense Ministry for comment.