Putin Prolonging War Could Put Ukraine in Vulnerable Position
Russian President Vladimir Putin has given no indication that he will soon ease his attacks on Ukraine, and his resolve to keep the war going could give him the advantage.
Many analysts initially predicted Russia would quickly achieve victory when it began its attacks on Ukraine in late February. But, those forecasts proved inaccurate as Putin's troops faced months of setbacks before recently gaining ground by prioritizing regions in eastern Ukraine.
Mykhailo Podoliak, Ukrainian President Volodymyr Zelensky's top adviser, said in late March that Russia was forced to fight a war of attrition due to its failures. However, Russian Foreign Minister Sergey Lavrov has said there was never a deadline attached to his country's military campaign. Despite the reasons behind how the war is currently being fought, the focus now is on which side will ultimately benefit from a prolonged conflict.
Even with numerous cracks in his armor showing, Putin could have the upper hand in a war of attrition, according to some experts. Though reports have claimed Russia is running low on some of its advanced weapons, Russia is still believed to have more in its arsenal than Ukraine has, plus a larger amount of troops. Moreover, Putin has the financial resources to keep funding his war—even with sanctions in place—thanks to substantial profits from selling fossil fuels.
"Zelensky now says they can't win the war under current conditions," Northwestern University political science professor William Reno told Newsweek. Meanwhile, the Russians showed "they can learn how to fight better, and have shifted their strategy from the initial objective of overthrowing Ukraine's government and dominating its armed forces to more limited territorial objectives."
"They grind away at Ukrainian forces, though manpower and materiel limitations prevent them from extensive breakout and maneuvers," Reno added. "The Ukrainians are in a similar situation, with less manpower and a slimmer buffer of weapons, ammunition and people."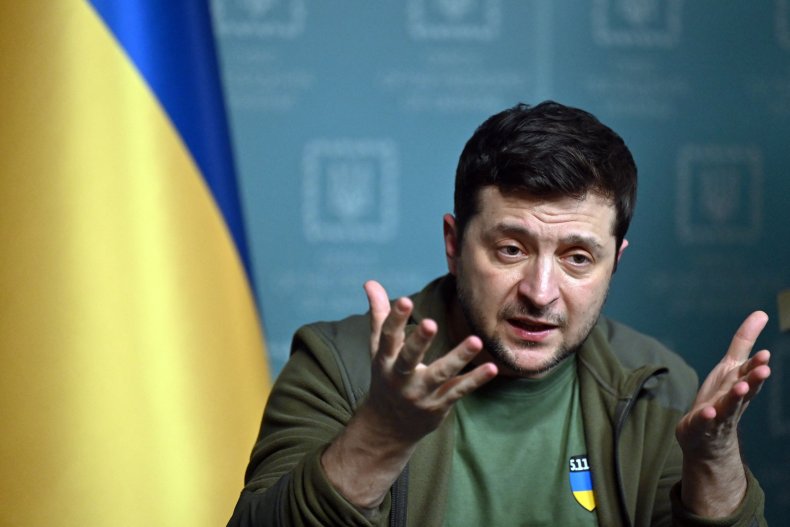 Reno noted this doesn't necessarily mean all hope is lost for Ukraine, and he said the war will likely be decided by economic and political factors rather than by what happens on the battlefield. A factor working against Ukraine, he said, is that Zelensky has to rely somewhat on decisions made by the "diverse and often conflicting interests" of the 30 countries in NATO, whereas Putin answers to no one.
Dmitri Alperovitch, the founder of the Silverado Policy Accelerator and the former chief technology officer of the cybersecurity firm CrowdStrike, speculated on Twitter that Putin may be extending the war until winter to give himself time to secretly mobilize forces in occupied regions. Putin may also be dragging the war out to impart on Europe the deleterious effects of having access to Russian gas restricted. Plus, according to Alperovitch, the food crisis caused by Ukraine not being able to export grain will cause famine in some regions and increase global inflation.
There have been indications that Putin is already prepared to extend his campaign until at least October. A June 11 assessment from the Institute for the Study of War reported that Deputy Head of the Ukrainian Main Intelligence Directorate Vadym Skibitsky said Ukraine received information that Russian forces had continued their war planning for the next 120 days, going into October.
Reno said Ukrainian troops have had to spend time learning to use new, technologically advanced weapons sent by the West, a problem the more highly-trained Russian military doesn't encounter. Ukraine's defense has been reliant on support from the West, and Zelensky may not be able to count on Western supplies—including financial aid—for much longer.
In a May Pew Research Center survey, 12 percent of U.S. adults said they believe the country is providing too much support to Ukraine. That's up from 7 percent in March, when Congress approved a $13.6 billion aid package. The poll also found fewer respondents now believe the U.S. isn't doing enough.
Meanwhile, other polls show issues related to the economy being more pressing to the U.S. public than Ukraine, which is likely to influence politicians to prioritize domestic issues over sending future packages for Zelensky. Unlike Russia, Ukraine isn't able to reap large profits from exports during the war.
"If the financing isn't turned into some kind of sustainable, institutionalized approach to address the needs of the budget, then we'll be facing a fiscal crisis," Tymofiy Mylovanov, an adviser to Zelensky and head of the Kyiv School of Economics, told Politico last week.
The international community also wants a quick end to the war. Last week, a poll of 10 European countries released by the European Council on Foreign Relations (ECFR) found 35 percent of respondents wanted peace as soon as possible, even if it meant Ukraine had to make concessions, while 22 percent said they favored a goal of punishing Russia for its invasion.
Michael Kimmage, a history professor at The Catholic University of America and former member of the secretary's policy planning staff at the State Department, told Newsweek that Putin also has the advantage of not having to worry about political fallout in Russia.
"Western leaders have to deal with public opinion and with elections. This introduces contingency and uncertainty into Western policy, possibly shortening the attention span of Western leaders," Kimmage said. "In both the Vietnam and Afghanistan wars, it was political impatience or frustration on the part of the U.S. that led to the losing of these wars. Putin does not have to deal with elections and public opinion is not (so far) a problem for him."
Given the setbacks Russia has had and Ukraine's backing in the international community, "victory" is unlikely to come in the form Putin initially had in mind, and there may not be one clear winner.
"Most likely...this war will just go on and on, and neither side will explicitly win or lose," Kimmage said.