'Don't Be Delusional,' Taiwan Warns China Amid Afghanistan Comparisons
A senior cabinet official in Taiwan warned would-be invaders not to be "delusional" on Tuesday, in an indirect message to China amid a flurry of speculation about what the U.S. withdrawal from Afghanistan could mean for the self-ruled island nation.
News outlets and commentators in Beijing have seized on the U.S. withdrawal and the Afghan government's surrender to the Taliban as evidence suggesting Washington's security commitments can't be trusted. Similar sentiments have emerged in local media in Taipei, where the current administration's loyalties are being questioned.
Much of the doubt is being sown by pro-China news organizations, but media personalities who lean toward the opposition Chinese Nationalist Party (KMT) were equally skeptical about the ruling Democratic Progressive Party's (DPP) commitment to Taiwan's defense.
Asked whether President Tsai Ing-wen and her cabinet would flee the island in the event of an imminent attack, Su Tseng-chang, Taiwan's 74-year-old premier, offered a resolute response.
"When the Chinese Nationalist Party installed authoritarian rule and 38 years of martial law in Taiwan, we lived through martial law without fear of death or imprisonment. We opened the door of democracy for Taiwan," he told reporters.
"Today, a powerful country wants to annex Taiwan through the use of force. Likewise, we fear neither death nor imprisonment. We will safeguard this country and this land," he added.
Su, who practiced law during the period known locally as the "White Terror," was critical of those who sought to undermine Taiwan's will to fight. He also appeared to dismiss suggestions that Taiwan would rely solely on U.S. forces for its defense if China were to launch an attack—American assistance is not guaranteed.
"Certain people like to talk up the enemy's power while questioning our own resolve," he said.
"Furthermore, the real and bloody lessons of Afghanistan show us that internal chaos renders any external assistance ineffective. Only those who help themselves will be helped by others," he added.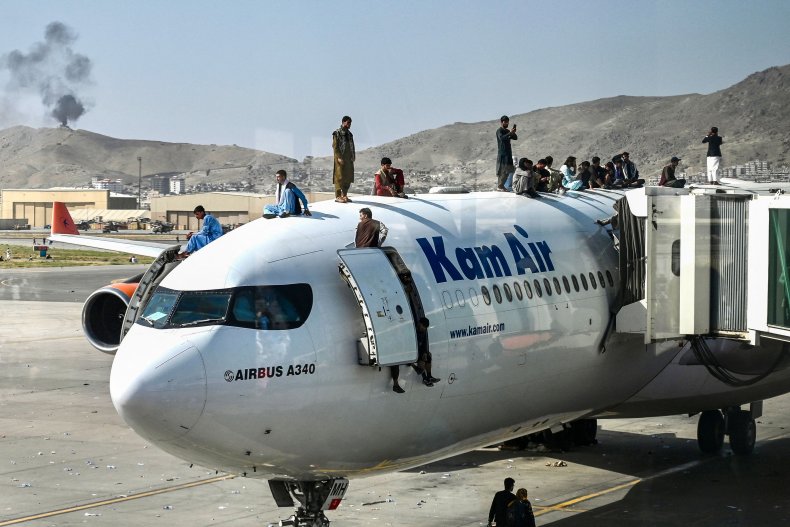 Su called on the Taiwanese people to have conviction in their country, "and believe that only by defending this piece of land can we stop others from invading and annexing it."
"Only by helping ourselves will willing friends have the opportunity and time to help," the official said. "That is why since assuming office, President Tsai has placed special emphasis on Taiwan's relationships with like-minded countries."
Taiwan's neighbors and partners in the European Union have voiced concern about peace and stability in the Taiwan Strait, he said. "Virtue is not alone. It will have neighbors," Su said, using a Chinese idiom that encourages the upholding of morals and values.
Su said Taiwan needed to avoid "internal chaos" and refrain from the belief that it would be "easily swallowed by others."
"To the foreign forces that seek to invade Taiwan, we say this: Don't be delusional," he concluded.
Su, who was one of the founding members of the DPP in 1986, belongs to a party that is often described as "pro-independence."
Today, the phrase has been co-opted to mean independence from the People's Republic of China, which has never governed the island of Taiwan since Mao Zedong founded the PRC in 1949.
Maintaining the Status Quo
At its core, however, the Taiwan independence movement seeks freedom from the Republic of China government—and its affiliated, long-ruling KMT party—which moved its capital to Taipei following defeat in the Chinese Civil War more than 70 years ago.
Tsai is often wrongly portrayed as being pro-independence, despite being elected twice on a mandate of maintaining the "status quo." While interpretations of the status quo may vary, it entails the indefinite postponement of Taiwan's formally declaring itself a republic under the name "Taiwan."
Her administration has begun long-overdue military reforms, especially to Taiwan's army reserves, and increased the island's defense budget for the procurement and production of arms and modern military equipment.
China's military spending is some 15 times larger than Taiwan's—and the gap is only growing. Beijing considers the island part of its territory and has refused to renounce the use of force to capture it.