Demi Lovato's '29' Stirs Talk of Wilmer Valderrama's Past Young Partners
Demi Lovato released a single on Wednesday that fans speculate is about her ex-boyfriend Wilmer Valderrama.
The song—entitled "29"—seemingly addresses an age gap in an old romance, and it has led some people to discuss how Valderrama has been involved with other younger women over the years.
The age disparity mentioned in the lyrics from the chorus for "29" matches the one between the singer and the former That '70s Show star. Lovato sings, "Finally 29/Funny, just like you were at the time/Thought it was a teenage dream, just a fantasy/But was it yours or was it mine?/17/29."
Lovato, who goes by she/her/they/them pronouns, is currently 29 years old, though she turns 30 on Friday. In the 2017 documentary Simply Complicated, Lovato spoke of meeting Valderrama when she was 17, which would have put him at around 29 at the time since he is currently 42.
Lovato also said in Simply Complicated that she did not begin dating Valderrama until she turned 18, but that hasn't stopped some fans from criticizing the actor for what they see is a pattern of dating other younger women. (Lovato has stated Valderrama remains a friend.)
"Can we thank Demi Lovato for canceling Wilmer Valderrama. He has been serial dating young actress for as long as i can remember...," read one tweet in part.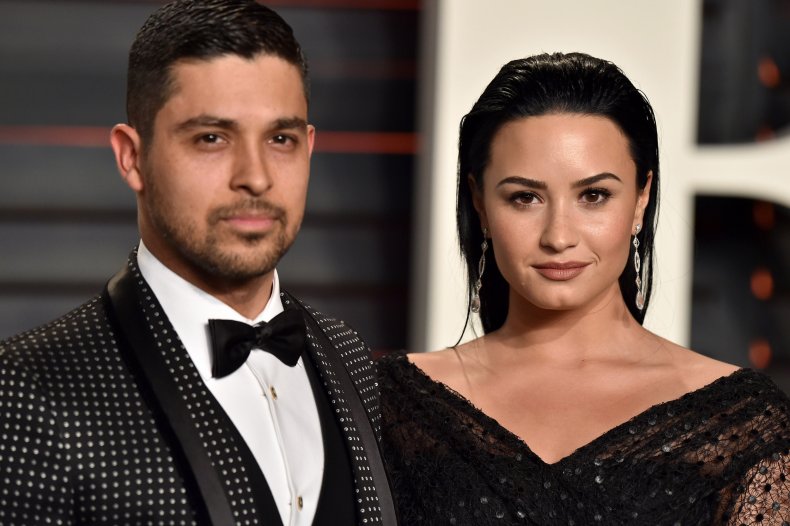 Lovato fans first began guessing "29" was about Valderrama when the singer posted a snippet of the track on TikTok this month. In the comments section, many fans who theorized Valderrama was the song's subject also pointed out how he similarly dated actresses Mandy Moore and Lindsay Lohan when they were both teenagers and he was in his 20s.
A Lovato fan account on TikTok, @demisculture, even created a video that featured audio of "29" playing over a slideshow that details the age gaps during Valderrama's relationships with Lovato, Moore and Lohan.
The video points out that he was 20 when he dated a 16-year-old Moore and 24 when he was in a relationship with Lohan. The TikTok stated Lohan was 17 when she was with Valderrama, but she was 18 when the couple went public.
People reported in November 2004 Lohan and Valderrama were spotted out together months before the actress turned 18. However, it's never been confirmed they were a couple before Lohan was 18, and he's never been accused of having an improper relationship with her while she was a minor.
During a 2018 interview with Howard Stern, Moore confirmed she dated Valderrama when she was 16 and 17, but she denied they slept together. The discussion came after Valderrama told Stern in 2006 that they had been intimate. (Moore also noted she and Valderrama were still friends and that he told her that he misspoke to Stern while being caught up in the moment.)
Nonetheless, many comments on the "29" post on the @demisculture TikTok called out Valderrama.
"Their relationship always irked me and I'm so glad she's finally healed enough to talk about it," one person wrote.
"He's ALWAYS been a [three red flag emojis]. It was Mandy Moore for me. They were always too young," said another.
Lovato has not confirmed "29" is about Valderrama, who became engaged to Amanda Pacheco in 2020.
Newsweek reached out to Lovato and Valderrama for comment.