'Nobody's Perfect': Demi Lovato Says She Is Again Using She/Her Pronouns
Pop star Demi Lovato on Monday revealed she has once again been using "she/her" pronouns in addition to "they/them" after announcing last year that she identified as nonbinary.
The news was revealed during an appearance on the Spout Podcast hosted by Tamara Dhia. When Dhia asked Lovato to explain her use of the nonbinary pronouns, the singer said she had decided "they/them" were no longer solely appropriate for her.
"I've actually adopted the pronouns of 'she/her' again," Lovato said.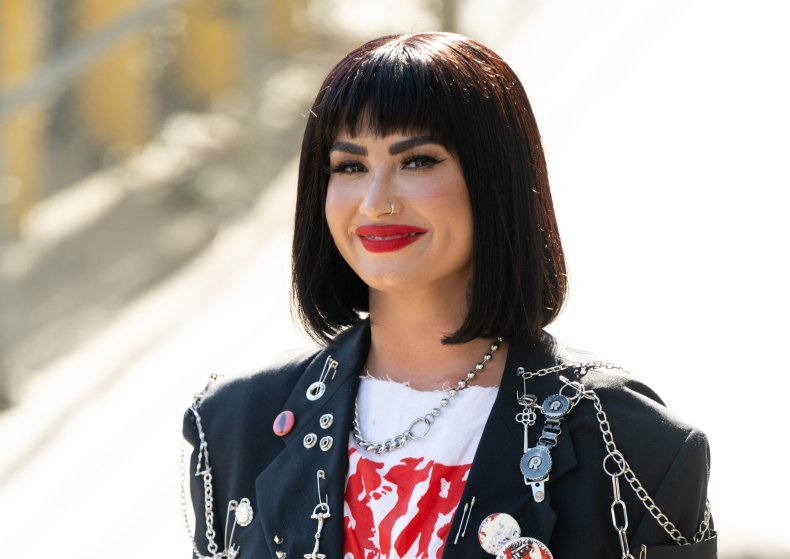 Lovato publicly announced her nonbinary status in May 2021 during her podcast 4D With Demi Lovato. She also announced the change in a video posted on Twitter, in which she said nonbinary pronouns "best represents the fluidity I feel in my gender expression and allows me to feel most authentic and true to the person I both know I am and still am discovering."
Out had previously reported in April that Lovato had updated her Instagram bio pronouns to "they/them/she/her," and Dhia noted on Tuesday that Lovato will still be using "they/them" in addition to "she/her."
"For the record: Demi Lovato did NOT say she is abandoning they/them as her pronouns, she simply said she is adding she/her. Please listen to the entire clip. Media friends, it's important to get this right," Dhia tweeted.
On Spout Podcast, Lovato explained why she had decided to return to using feminine pronouns.
"For me, I'm such a fluid person that I don't really—I don't find that I am—I felt like, especially last year, my energy was balanced in my masculine and feminine energy so that when I was faced with the choice of walking into a bathroom and it said 'women' and 'men,' I didn't feel like there was a bathroom for me because I didn't feel necessarily like a woman," she said. "I didn't feel like a man. I just felt like a human. And that's what 'they/them' is about. For me, it's just about like feeling human at your core."
She continued, "Recently, I've been feeling more feminine, and so I've adopted 'she/her' again. But I think what's important is, like, nobody's perfect. Everyone messes up pronouns at some point, and especially when people are learning, it's just all about respect."
The singer—whose new album Holy Fvck will be released August 19—has had many hit songs, including "Confident," "Sorry Not Sorry" and "Cool for the Summer," but she's also well-known for her life offstage. Lovato has been recognized for her LGBTQ+ rights work by GLAAD, and she is involved in mental health activism and anti-bullying campaigns.
Lovato has also been open about her struggles with drug and alcohol addiction. Much criticism was leveled at her after she stated in March 2021 that she was not completely sober following a 2018 drug overdose that caused multiple health complications, including multiple strokes, a heart attack and brain damage. In December 2021, she announced she was completely sober and no longer drinking alcohol and smoking marijuana in moderation.
Newsweek reached out to Lovato for comment.