Democrats Could Offer Trump $5 Billion for Border Security—but No Wall—Once Government Reopens
House Democrats have a new proposal they're willing to offer President Donald Trump on border security—once the government is reopened.
Democrats are prepared to "meet or exceed" the president's demands for $5.7 billion if Trump allows the government to reopen first. However, the money could be used only for border security measures other than a wall, such as technology, more agents, fortifying ports of entry and new judges, according to Democratic Representative Bennie Thompson of Mississippi, who chairs the Homeland Security Committee.
"At this point, the amount of money will meet or exceed what the president is asking for," Thompson said Wednesday morning.
The new proposal, which will be presented in the form of a letter to Trump, far exceeds Democrats' past offers for border security funding, which have ranged from $1.3 billion to $1.6 billion.
In a series of bills lined up for a House vote Wednesday and Thursday, Democrats are pushing continuing resolutions to fund the government through February 28. Should the government reopen, negotiations would then take place, and at least $5.7 billion would be offered by Democrats, Thompson said. The plan would be to reach a deal on border security with Trump before the temporary funding runs out. The Senate will vote on a continuing resolution Thursday that would fund the government through February 8.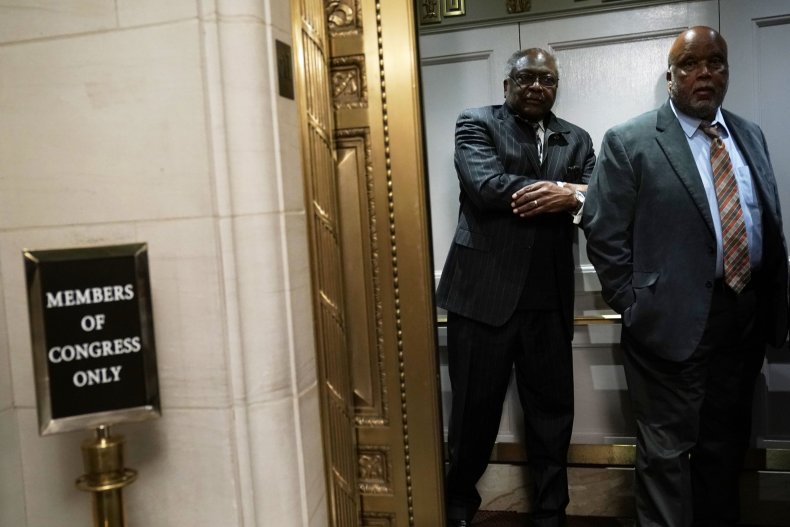 House Majority Leader Steny Hoyer, a representative of Maryland, said the offer would include a "substantial sum," but that the letter was not yet finished. That may explain why some Democratic colleagues, including Thompson's press office, seemed to be unaware of the proposal in the works when asked by Newsweek.
"[Thompson]'s yet to brief the entirety of the House Democratic Caucus on that proposal," said Representative Hakeem Jeffries of New York, chairman of the caucus. "Our focus right now is on making sure that we pass these bipartisan appropriations bills that will be on the floor later this afternoon."
Representative Mary Gay Scanlon of Pennsylvania said the "only thing I've heard about it is questions from reporters so far."
"What I can tell you about that is 'Stay tuned,'" Representative Katherine Clark of Massachusetts, vice chair of the caucus, told reporters. "We're hoping to roll that out this week."
The Senate plans to vote on advancing opposing spending bills Thursday, but neither measure is expected to pass a 60-vote threshold. And Democrats have since rejected Trump's offer over the weekend to provide temporary protections for recipients of Deferred Action for Childhood Arrivals and other immigrants with Temporary Protected Status.