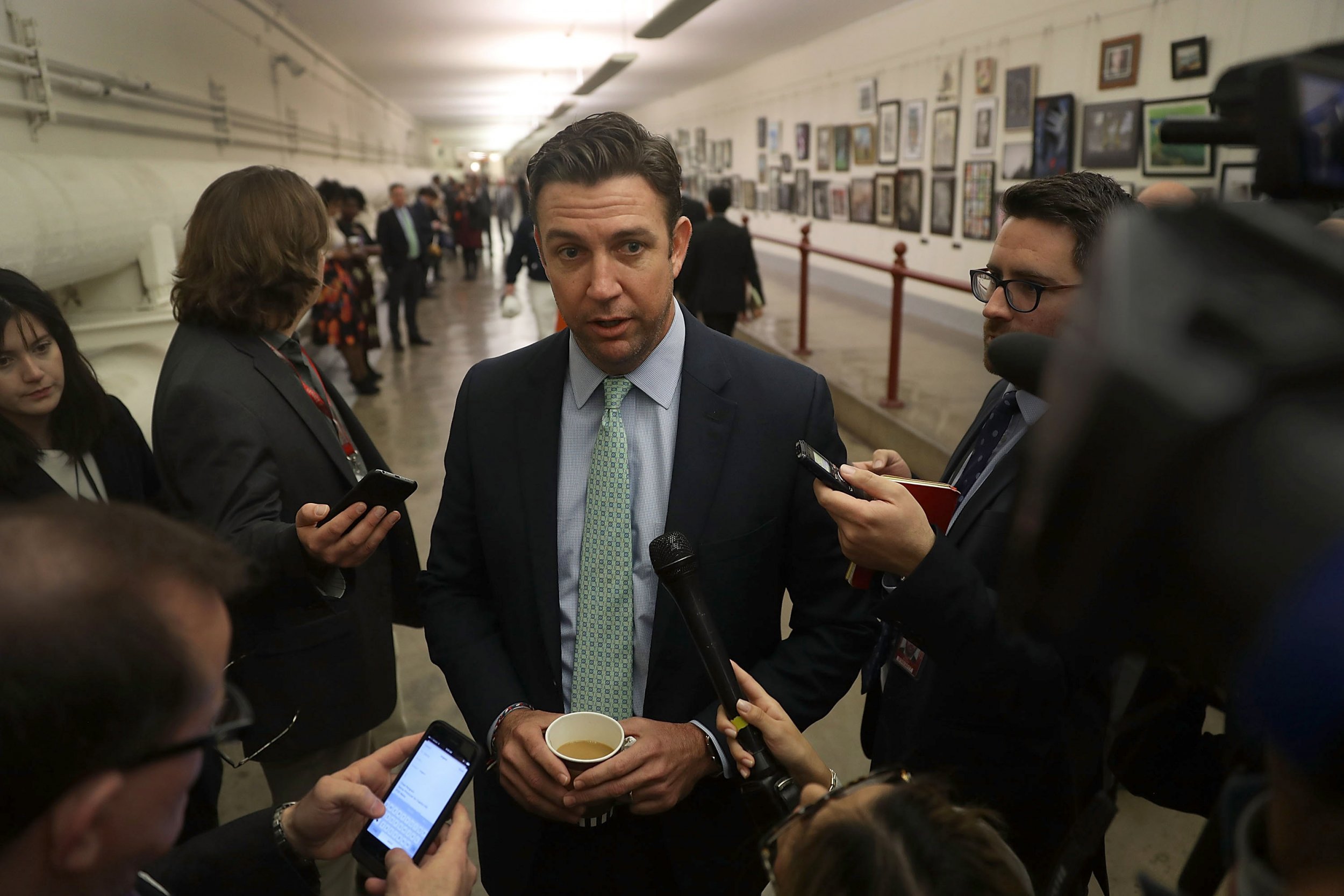 Republican Representative Duncan Hunter of California and his re-election campaign were thrust into the national spotlight after he and his wife, Margaret Hunter, were indicted in August on 60 counts of misusing campaign funds.
His Democratic opponent, a 29-year-old Palestinian Mexican American named Ammar Campa-Najjar,has been a lesser known figure. That is, until Hunter released an attack ad against Campa-Najjar earlier this week, falsely accusing his opponent of being a Muslim, receiving support from the Muslim Brotherhood and being a national security risk.
In a phone call Saturday, Campa-Najjar told Newsweek the accusations levied in the ad were a "continuation of [Hunter's] ongoing meltdown." He added it would be funny, if the ad wasn't "so sad and dishonest."
Hunter did not immediately respond to Newsweek's request for comment about the ad.
The 30-second ad, paid for by Hunter's re-election campaign and posted online earlier this week, starts by saying Campa-Najjar is working to "infiltrate Congress." It goes on to highlight Campa-Najjar's name changes to "hide his family's ties to terrorism." The ad uses quotes and soundbites from the far right One American News Network, which is based in the San Diego area where Campa-Najjar is running, to claim he is "supported by the Muslim Brotherhood." The ad ends by saying Campa-Najjar is a "risk we can't ignore" with big red capitalized letters on the screen that read "SECURITY RISK."
But the claims in the attack ad are not true, and Campa-Najjar released evidence to prove so.
Speaking to a women's group on the campaign trail earlier this week that the Times of San Diego recorded audio of, Hunter can be heard saying Campa-Najjar changed his name from Ammar Yasser Najjar to Ammar Campa-Najjar "so he sounds Hispanic."
"That is how hard, by the way, that the radical Muslims are trying to infiltrate the U.S. government," Hunter said. "You had more Islamists run for office this year at the federal level than ever before in U.S. history."
Hunter's campaign spokesman, Mike Harrison, later told the Los Angeles Times that Hunter was not calling Campa-Najjar a Muslim.
"He never made the claim that his opponent is Muslim. That's for his opponent to answer," Harrison said. "What we have heard is he's claimed to be a Christian, and again, that's for Ammar's campaign to discuss."
Campa-Najjar explained his mother's maiden name was Campa, which he added to pay homage to his heritage and has used for years. He provided Newsweek with a picture of a certificate awarded to him from President Barack Obama's administration for his time spent working for the U.S. Department of Labor, which bears the name Ammar Campa-Najjar.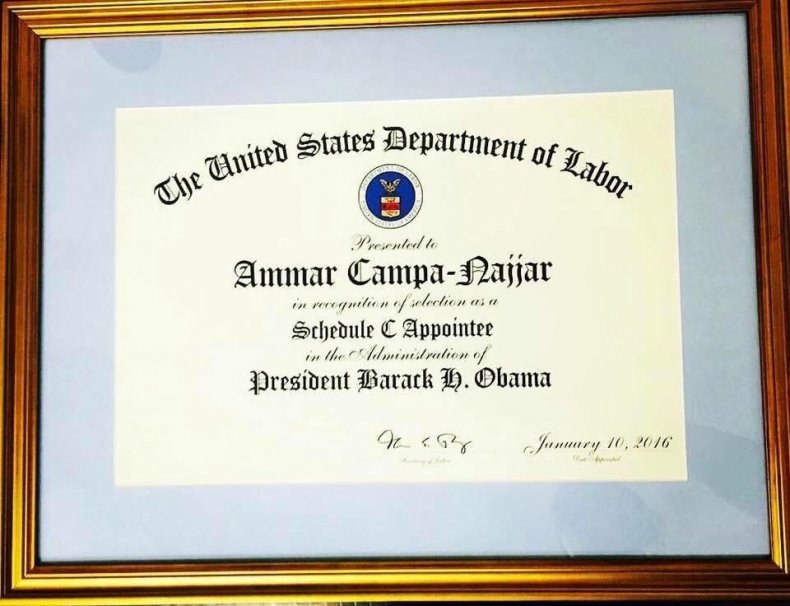 Campa-Najjar said his time working for the Obama White House also proves Hunter's claim that he's a security risk is completely false. It's also ironic, he said.
"The irony is that due to his criminal indictment, financial instabilities and excessive drinking, Congressman Hunter would be denied a security clearance today if he were to apply for the same one I got," Campa-Najjar said. "That's why the Republican Speaker of the House, Paul Ryan, stripped him of his committee assignments."
Immediately after his August indictment, Ryan removed Hunter from the three House committees he sat on, calling the charges "deeply serious."
The allegations laid out in Hunter's indictment by the Department of Justice showed a repeated history of campaign finance violations, with him and his wife spending $250,000 in campaign funds for personal use. The DOJ alleged Hunter and his wife conspired "to enrich themselves…by converting campaign funds for their own personal benefit and enjoyment, and for the benefit of others with whom the Hunters had personal relationships."
Over a seven-year period from December 2009 to the end of 2016, the couple spent the money on personal vacations, video games, alcohol, flights, the dentist, golf outings, racetrack outings, theater tickets, family groceries, fast food, clothing consumer electronics and more.
Shortly after the indictment, Hunter falsely accused the DOJ of being the "Democrats' arm of law enforcement." In court, the couple pleaded not guilty to wire fraud, falsifying records and campaign finance violations. Both Hunter and his wife are free on bond while they wait for their next court appearance, set for December 3.
Campa-Najjar said the Republican congressman's latest attack ad is "clearly a sign of somebody who is distraught and has lost their grip on reality."
Campa-Najjar also provided a picture to Newsweek that shows him standing next to President Donald Trump during a visit to Wasington, D.C., as an extra level of evidence that he was clearly not a security risk.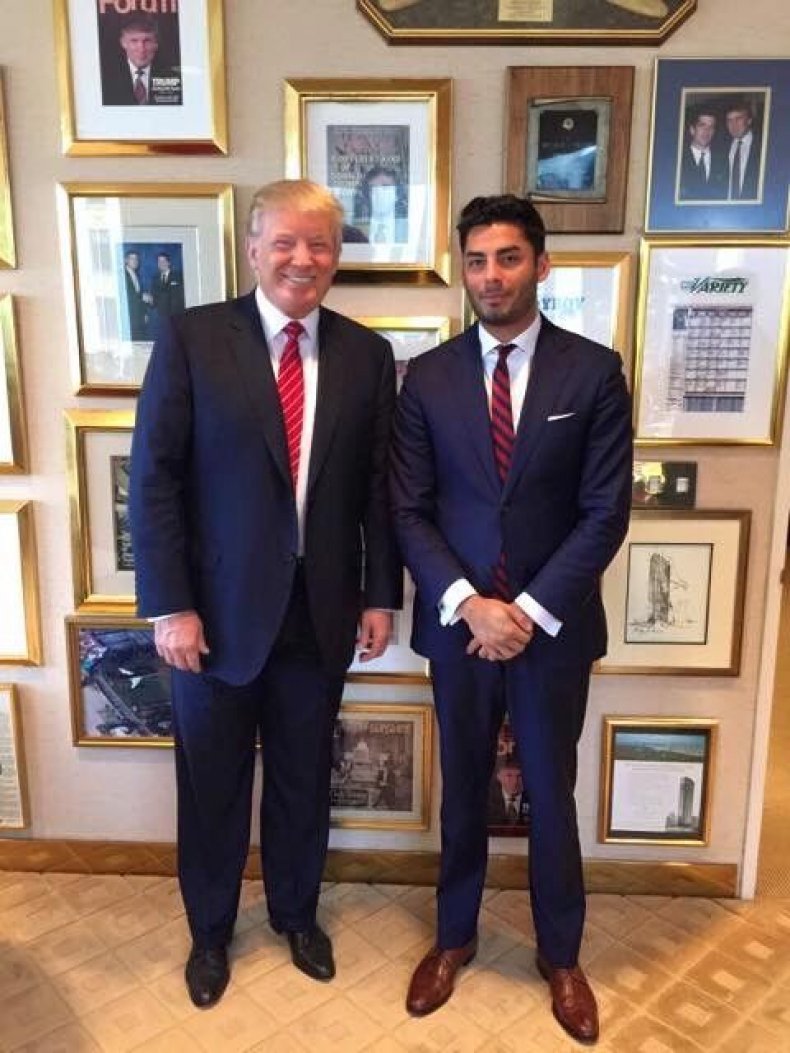 Hunter's ad also falsely insinuated that Campa-Najjar is a Muslim and is supported by the Muslim Brotherhood.
"I'm Christian," Campa-Najjar said. "Not that that should matter because our freedom in this country is [based on] the constitution, which gives you freedom of and from religion to practice whatever faith you want."
In regards to the ad's claim that Campa-Najjar had close ties to his Palestinian grandfather, Muhammad Youssef al-Najjar, who was behind the terrorist attack at the 1972 Munich Olympics that resulted in 11 Israeli deaths, Campa-Najjar said it's not true. His gradfather was killed in 1973, 16 years before Campa-Najjar was born.
"What is a fact is our opponent has changed his name; that's not in dispute," said Mike Harrison, Hunter's campaign spokesman, to the Los Angeles Times. "He does have family ties to terrorists; that's not in dispute."
Campa-Najjar's communications director, Nick Singer, told Newsweek that, as someone who is Jewish, he believed the insinuations made around Campa-Najjar's namechange were "frankly absurd and classless."
The ad also mention's Campa-Najjar's campaign donations, which has seen some money come from groups like the Arab American Leadership PAC. Federal Election Commission records show Campa-Najjar's campaign has outraised Hunter by about $200,000.
Washington Post reporter Dave Weigel also pointed out on Twitter that Hunter's picture of himself in military uniform lacks the required on-screen disclaimer that ads must display if candidates appear in uniforms. The disclaimer is meant to inform the public that while a candidate appears in uniform from prior service, the Department of Defense or other military agencies do not endorse the candidate.
Hunter was once considered a virtual certainty for re-election in his Republican district, but his recent indictment has put that assurance in severe jeopardy.
"Rule number one of an incumbent," Campa-Najjar said. "You never say the name of your opponent. Unless you feel threatened by them."
Correction: This article misstated Campa-Najjar's grandfather as "Mohammad Daoud Oudeh." His correct name is "Muhammad Youssef al-Najjar." This has been corrected.