Democratic Rep Responds to Devin Nunes' Threat of Defamation Lawsuit: 'Take Your Letter and Shove It'
In December, California Democratic Representative Ted Lieu accused Representative Devin Nunes of being in league with Rudy Giuliani's former business associate Lev Parnas. In turn, Nunes threatened to sue Lieu for defamation of character.
Lieu responded with a letter to Nunes' lawyer which read in part, "You can take your letter and shove it."
After Parnas alleged that Nunes "wanted to help out" with the Ukraine-based investigation into the Bidens during an interview with MSNBC's Rachel Maddow Wednesday, Lieu brought his situation with Nunes to light on Twitter.
"Amazing Lev Parnas interview on #Maddow," Lieu tweeted Wednesday. "Also, I'm disclosing that the lawyer for @DevinNunes wrote a letter saying Rep Nunes will sue me if I didn't apologize for saying last month that Nunes conspired with Parnas. Devin, I'm adding to my statement: 'Your pants are on fire.'"
Friday, Lieu posted a photo of a portion of the letter he received from Nunes' lawyer, along with his written response on Twitter.
"Attached is the first page of a five page letter in which the lawyer for @DevinNunes threatens that Rep Nunes will sue me," read Lieu's tweet. "Attached is my response."
"As I am sure you are aware," the letter from Nunes' lawyer began, "the United States Constitution and the common law faithfully protect a person's 'absolute' right to an unimpaired reputation."
"I received your letter dated December 31, 2019 in which you state your client Congressman Devin Nunes will sue me if I don't, among other actions issue a public apology to Devin Nunes," Lieu responded. "It is true that I stated Congressman Nunes worked with Lev Parnas and conspired to undermine our own government."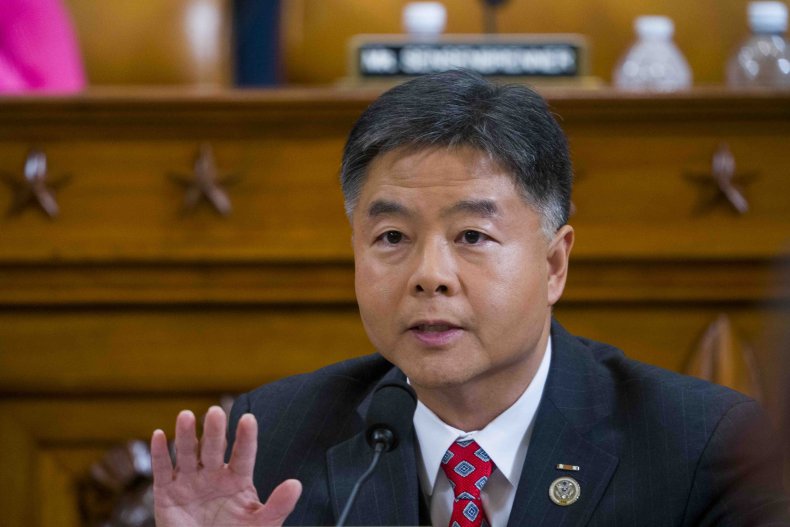 "As you know, truth is a defense," Lieu continued. "So go read the documents and text messages provided by Lev Parnas to the House of Representatives, and watch his interview on The Rachel Maddow Show, which aired on January 15, 2020, that directly implicates Rep. Nunes."
"I welcome any lawsuit from your client and look forward to taking discovery of Congressman Nunes," Lieu's letter concluded. "Or, you can take your letter and shove it."
Newsweek reached out to both Lieu and Nunes for comment but did not receive a response in time for publication.
Nunes has been known to turn to litigation, including a $250 million defamation suit against Twitter and two parody Twitter accounts, one purporting to be by a cow owned by Nunes and the other pretending to be tweets from Nunes' mother. Nunes said the parody accounts accused him of spying for the Russians.
When CNN claimed in November 2019 that Nunes had met with former Ukrainian prosecutor Viktor Shokin in Austria, Nunes filed a $435 million defamation suit against the news network, denying that he had ever met Shokin.
"CNN is the mother of fake news," the lawsuit read. "It is the least trusted name. CNN is eroding the fabric of America, proselytizing, sowing distrust and harmony. It must be held accountable."
Nunes has also filed suit in April 2019 against the McClatchy newspaper chain for an article in The Fresno Bee about a lawsuit filed against Alpha Omega Winery, which Nunes has an ownership stake in.