Democrats Aren't Letting Trump Entirely Walk Back His Doral G7 Decision
President Donald Trump's ditched effort to host next year's G7 Summit at his Miami golf resort bolstered congressional Democrats' argument that he was attempting to illegally profit from his presidency, they said, adding that they planned to use the news in an on going federal lawsuit that alleges he is violating the constitution by making money from foreign governments.
Democrats planned to file a brief arguing those constitutional violations in the U.S. Court of Appeals for the D.C. Circuit Tuesday. They planned to reference Trump's recent effort to hold the international event at Trump National Doral Miami because they believe that he continues to violate the Foreign Emoluments Clause.
"The fact that he even thought about it underscores once again that he has zero regard for the Foreign Emoluments Clause," Sen. Richard Blumenthal (D-CT) said in a statement. "My colleagues and I are about to file a brief in our case, and as we note there, the President's attempt to award the G7 summit to his Doral resort shows how increasingly brazen he's becoming."
News of the impending filing, which was first reported by McClatchy, comes in the wake of the White House nixing its plans to host the 2020 G7 at Doral and amid ongoing litigation in federal court. Led by Blumenthal, more than 200 Democratic lawmakers sued Trump in June 2017 over allegations of violations of the Emoluments Clauses. Trump's bid to have the case thrown out was rejected and subsequently appealed, leading to Tuesday's filing that's due from Democrats.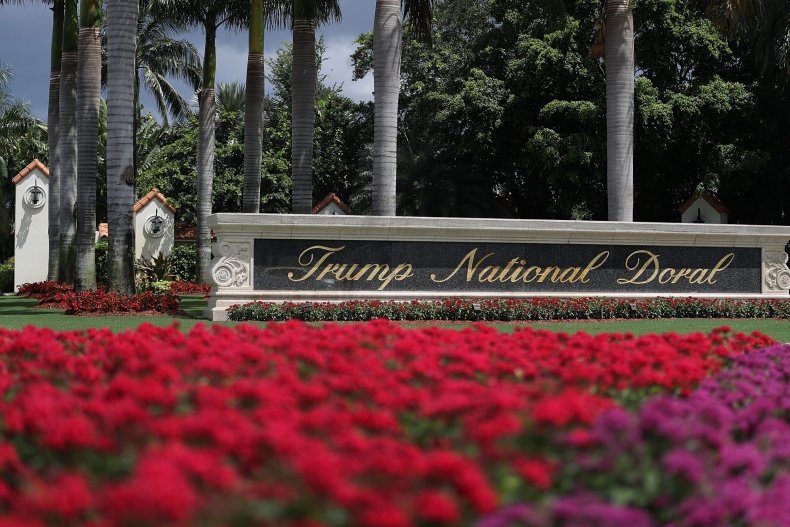 The lawsuit seeks to bar Trump from accepting any future payments from foreign governments at his various Trump properties. The brief is intended to support the claims in that suit.
The announcement from acting Chief of Staff Mick Mulvaney last week that Trump would be hosting the large event at one of his own properties was met with swift condemnation, some of it even coming from Republicans. Democrats argued the move was unconstitutional because of the Foreign and Domestic Emoluments Clauses, which prohibits a sitting president from profiting from foreign and domestic governments without Congress' approval to prevent corruption and conflicts of interest, while GOP lawmakers conceded it was poor optics.
The White House reversed its course over the weekend, with Trump tweeting "based on both Media & Democrat Crazed and Irrational Hostility," they'd be hosting the G7 at a different and yet-to-be-determined location. The New York Times later reported it was due to Republican backlash.
On Monday, Trump touted how well-suited Doral would have been for such an event but indicated he remained unsure what the new venue would be. He's suggested that they may have the event return to Camp David.
Trump, as has Mulvaney, said there would not have been constitutional violations because he was going to host the event "at cost" and would thus not make a profit.
"Doral was a very simple situation. I own a property in Florida," Trump told reporters Monday. "I was going to do it at no cost or give it for free if I got a ruling — because there's a question about whether or not you're allowed to give it because it's like a contribution to a country. I'd have to get a ruling, but I would have given it for nothing. It's a lot of money."