House Democrats Can't Agree on How Much of the Mueller Report Should Be Released to Congress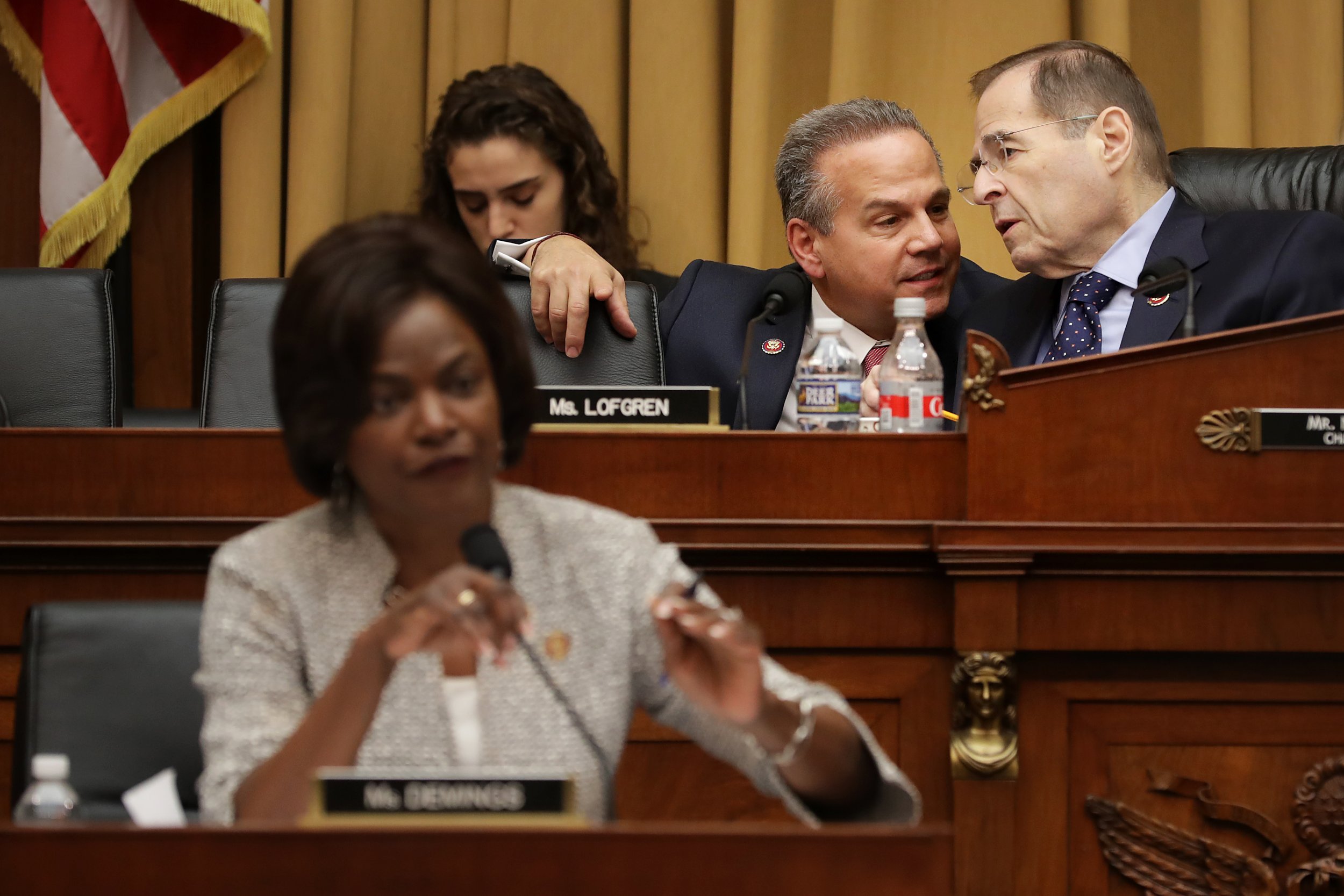 As they prepare to authorize subpoenas for special counsel Robert Mueller's full report, House Democrats are offering conflicting messages when it comes to what—if any—of the report should be redacted for members of Congress.
Democrats on the House Judiciary Committee tell Newsweek they want the complete, unredacted report, along with the investigation's underlying evidence, while leadership says it would be appropriate—and expected—for there to be certain redactions related to intelligence and grand jury matters.
If party members continue to make out of sync demands, it could prove to be an easy division for the president and Republicans to seize on, both of which have celebrated Attorney General William Barr's summary of Mueller's conclusions and hammered some Democrats for continuing to allege there was collusion between the Trump campaign and Russia.
"We're committed to seeing the complete, entire, unedited report, as Congress has always received in past examples of independent counsels," Maryland Congressman Jamie Raskin, a member of the Judiciary Committee, told Newsweek.
The reason they need such a report and without delay, Rhode Island Congressman and fellow committee member David Cicilline said, is so they can "make judgments on how to proceed on our oversight responsibilities."
"Obviously, there has to be a redacted version for the public, but we have the ability to see classified information," he told Newsweek. "There's a lot of concern that this attorney general, who's an appointee of the president, seems to be behaving as if he's working for the president and not the American people. There's a lot of skepticism about waiting for the report."
Florida Representative Val Demings, a member of both the Judiciary and Intelligence Committees, told Newsweek that based on previous investigations into presidents, such as the Kenneth Starr report on President Bill Clinton in the 1990s and the Leon Jaworski report on President Richard Nixon in the 1970s, she believes there is already a precedent for providing Congress with an unredacted report.
"Why doesn't the attorney general recognize the precedent that's already been set and release the full report—not to the public—but to Congress? I think that's reasonable," Demings said.
Asked whether there were concerns of possible leaks that would ensue from members of Congress to the press, as often occurs on Capitol Hill, the congresswoman said precedent outweighs those concerns.
"I review sensitive, confidential documents every week, several times a week. So no, I don't believe that," Demings said. "The justification does not support the action that the attorney general wants to take."
House Judiciary Committee Chairman Jerry Nadler, along with five other Democratic committee leaders, demanded Barr provide the full, unredacted report to Congress by Tuesday.
But the attorney general has told Congress he will have the nearly 400-page long report ready to release, with the appropriate redactions he says are required by law, by "mid-April, if not sooner." Those redactions include four main criteria: classified sources and methods, grand jury material, "material that could affect other ongoing matters" and "information that would unduly infringe on personal privacy and reputational interests of peripheral third parties."
"Everyone will soon be able to read it on their own," Barr said in a letter to Nadler and Senate Judiciary Committee Chairman Lindsey Graham. "I do not believe that it would be in the public's interest for me to attempt to summarize the full report or to release it in serial or piecemeal fashion."
In response to the attorney general's letter, Nadler said his committee will vote Wednesday morning to authorize the future use of subpoenas for Mueller's report. Thus far, Barr has only released a four-page summary of Mueller's principal conclusions, which he said concluded there was no evidence of collusion between the Trump campaign and Russia. Mueller punted the issue of obstruction to Barr, who ultimately determined that the evidence was "not sufficient to establish that the President committed an obstruction-of-justice offense."
"We have an obligation to read the full report, and the Department of Justice has an obligation to provide it, in its entirely, without delay," Nadler wrote in a New York Times op-ed published Monday. "If the department is unwilling to produce the full report voluntarily, then we will do everything in our power to secure it for ourselves."
Contrary to what Nadler has said and what other Democratic members of the Judiciary Committee told Newsweek, House Democratic leadership said redactions will likely have to be made. But they denied the notion that the party was offering a conflicting message on the matter.
"I think it's appropriate for there to be redactions," House Majority Leader Steny Hoyer told Newsweek. "Obviously, grand jury testimony…there are obviously possible sources that need to be confidential, secret. There are methods that need to be confidential and secret. I think there is some justification for redactions."
Hoyer said that with so many congressional members, there is always the likelihood of a difference in opinions. He also noted that the House last month unanimously passed a nonbinding resolution calling on the Mueller report to be made public and that the number of redactions would be "hopefully minimal." Barr testified during his Senate confirmation hearing that he would release as much of the report that is allowed under the law and DOJ guidelines, but stopped short of making further promises.
New York Representative Hakeem Jeffries, chair of the Democratic Caucus, agreed there are grounds for redactions when it comes to sources and methods, but said that due to a "compelling public interest" and precedent, the grand jury material and information on any unindicted individuals should not be redacted for Congress.
"I don't think there are countermessages at all," Jeffries said after his party's weekly caucus meeting when pressed on the topic of conflicting messages. "I think we're all in agreement that any [redactions aside from the sources and methods] would be subterfuge put forth to try and shield the contents of the Mueller report from the American people."
Republicans and the White House have seized on Barr's summary of the special counsel's conclusions, including Trump falsely claiming it "was a complete and total exoneration," despite Barr explicitly stating otherwise.
As far as the Democrats' demands for the full report, Republicans have accused the party of trying to break DOJ guidelines and the law when it comes to redactions of sensitive and grand jury related information.
Georgia Representative Doug Collins, the top Republican on the House Judiciary Committee, said in statements that Nadler was "setting arbitrary deadlines" that amounted to "calling the attorney general to break the law by releasing the report without redactions."