'If Trump's Behavior Wasn't Criminal, Perhaps It Should Have Been,' Top Democrat Says of Mueller, Impeachment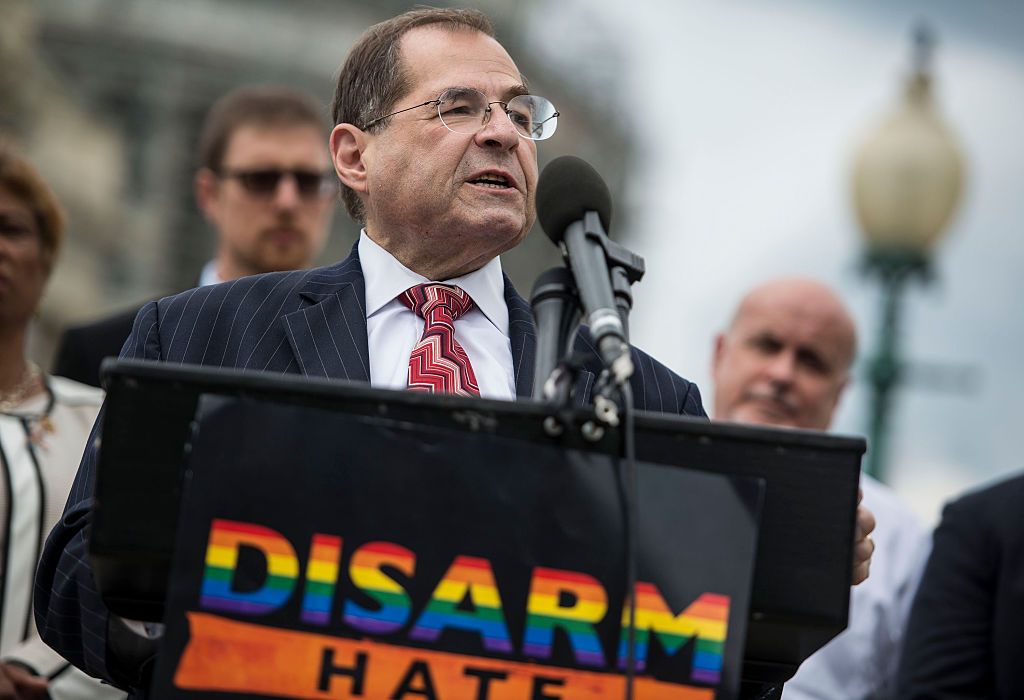 On the heels of special counsel Robert Mueller not concluding whether President Donald Trump's actions constituted obstruction of justice, a top House Democrat says Congress should draft new legislation to outlaw such behavior in the future.
"When the full scope of the president's misconduct has been revealed, when his lies are debunked and his abuses have been laid bare, I believe that members of Congress on both sides of the aisle will draft legislation to curb the worst of his offenses," said Congressman Jerry Nadler of New York, the Democratic chairman of the House Judiciary Committee, in a New York Times op-ed published Monday.
"Put another way," Nadler added, "if President Trump's behavior wasn't criminal, then perhaps it should have been."
Barr wrote in his four-page summary of Mueller's principal conclusions that, after consulting with Justice Department officials and reviewing the matter, he and Deputy Attorney General Rod Rosenstein concluded the evidence was "not sufficient to establish that the President committed an obstruction-of-justice offense."
The committee chairman has demanded that Barr provide Mueller's full, unredacted report to the Judiciary Committee by Tuesday, saying that it is ultimately the responsibility of Congress—specifically the House Judiciary Committee—to determine whether the president tried to illegally hinder the investigation.
Democrats have pointed to several events involving Trump as potential obstruction of justice, including pressuring then-FBI Director James Comey to cease investigating former national security adviser Michael Flynn (who pleaded guilty to lying to the FBI), the firing of Comey, reports that Trump nearly fired Mueller in an effort to end the Russia probe and the president's refusal to rule out pardons for those criminally charged, something Democrats said amounted to "dangling a pardon."
"Dangling a pardon in front of [former Trump campaign chairman Paul] Manafort, who is a witness in a serious investigation in which Trump is either a subject or a target, could be viewed as obstruction of justice," Nadler told Newsweek last year.
Nadler announced Monday morning that his committee will be voting Wednesday to authorize subpoenas for Mueller's full, unredacted report and its underlying evidence, in addition to relevant documents from several former White House officials. The vote will come the day after the deadline Nadler demandedf or Barr to provide such information to the committee.
If and when subpoenas would be issued to Barr, who said he plans to provide Congress and the American people with a redacted version of the nearly 400-page Mueller report by "mid-April, if not sooner," will be up to Nadler.
Nadler is "setting arbitrary deadlines," top Judiciary Committee Republican Doug Collins has said, adding that demanding the report's unredacted release amounted to "calling the attorney general to break the law by releasing the report without redactions."
But Nadler believes his committee has the authority to make such demands.
"We require the report, first, because Congress, not the attorney general, has a duty under the Constitution to determine whether wrongdoing has occurred," Nadler wrote in his op-ed. "We will not wait much longer… If the department is unwilling to produce the full report voluntarily, then we will do everything in our power to secure it for ourselves."
Nadler went on to say that he believed the unedited obstruction portion of Mueller's report will resemble that of the Watergate grand jury report that Congress recieved in 1974.
"That evidence showed that President Richard Nixon had attempted to obstruct justice," he said. "It did not recommend that the president should be prosecuted. It did not say the president should be impeached. It simply stated the evidence so that Congress could do its job."