Democrats' Chances of Beating Ron DeSantis in Midterm, According to Polls
Florida Governor Ron DeSantis has repeatedly drawn the ire of those on the left while being widely praised by those on right as he is viewed as a potential frontrunner for the GOP's presidential nomination in 2024—making the incumbent a target for Democrats to attempt to unseat in the November midterm election.
While Florida has been viewed as a swing state in recent elections, the state has been leaning Republican, with polling and news analysis site FiveThirtyEight assessing that it has a 7.6 percent partisan lean in favor of the GOP.
Recent polls show that DeSantis is largely popular, with a majority of Floridians approving of his leadership. At the same time, he has been viewed by many as polarizing, repeatedly drawing substantial backlash from Democrats in the state and on the national stage.
It's still undetermined which Democrat will face off against DeSantis on November 8. The two leading candidates are Representative Charlie Crist from the 13th District and Florida Agriculture Commissioner Nikki Fried. Recent polls have shown Crist as the Democratic frontrunner with the Florida primary scheduled for August 23.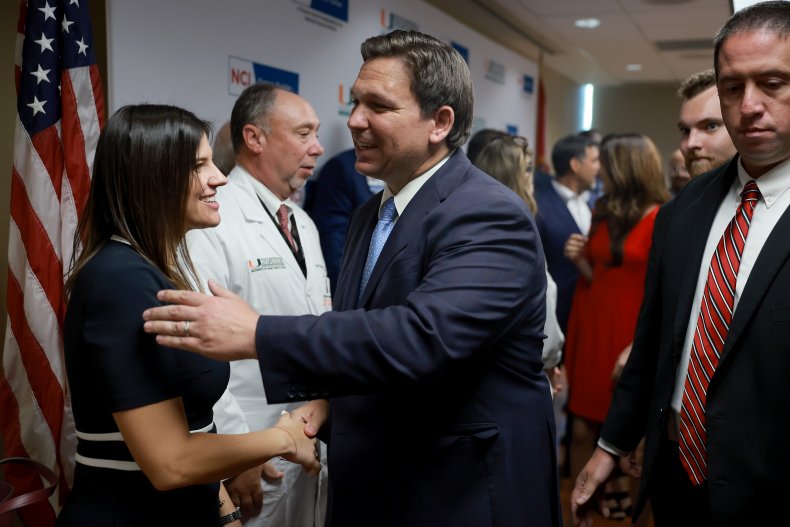 The current Real Clear Politics average of polls shows DeSantis leading Crist and Fried by substantial margins. When Floridians were surveyed about a potential contest between DeSantis and Crist, the incumbent governor leads by an average of nearly 9 percent. However, only a narrow majority of Floridians (50.4 percent) said they'd back DeSantis on average, compared to about 41.6 percent for the Democratic challenger.
When it comes to Fried, the incumbent governor fares even better. The average shows DeSantis ahead by nearly 13 percent. DeSantis is backed by about 52 percent of Floridians compared to 39.2 percent who support Fried. However, the most recent polls included in the Real Clear Politics average are from February.
A more recent poll conducted from May 7 to 9 by Phillips Academy and sponsored by Abbott Academy Fund showed Crist and DeSantis in a close race, with neither candidate enjoying close to a majority of support. DeSantis was backed by 36 percent of registered voters and Crist was supported by 35. Fried wasn't included in the polling.
Notably, the Real Clear Politics average presently puts Crist double digits ahead of Fried for the Democratic nomination. About 41 percent of Florida's Democratic voters back the congressman while only about 22 percent back the agriculture commissioner. An early-May survey conducted by St. Pete Polls showed Crist even further ahead with 52 percent support compared to Fried's 19 percent.
Meanwhile, multiple polls conducted earlier this year showed that a majority of Floridians approve of DeSantis.
Polling released in April by Morning Consult showed 56 percent of Floridians approving of the governor and just 38 percent disapproving. A late-February survey by Florida Politics/St. Pete Polls had similar results, with 54 percent of respondents saying they approved of DeSantis, with 38 percent saying they disapproved. Another February poll from Pulse Opinion Research for U.S. Term Limits put DeSantis' approval even higher, at 64 percent. Less than a quarter (24 percent) of respondents said they disapproved.
Florida has not been led by a Democratic governor since 1999. However, Crist, who identified as a Republican until 2010, served as the state's governor from 2007 to 2011. Crist has been a Democrat since 2012.
While former President Donald Trump, a Republican, narrowly won Florida in 2020 and 2016, the state previously went narrowly for former President Barack Obama, a Democrat, in 2008 and 2012. DeSantis won election by a slim margin in 2018, garnering the backing of just 49.6 percent of Florida voters compared to the 49.2 percent who supported Andrew Gillum.