Ron DeSantis Solidifies 2024 Stance as Republicans Follow Florida's Lead
Florida Governor Ron DeSantis appears to be cementing his stance as a prominent Republican leader ahead of 2024 as other red states mimic the Sunshine State's policies.
DeSantis has been leading the charge on several GOP priorities, including the coronavirus pandemic, critical race theory and LGBTQ issues.
"He's obviously the most high-profile Republican governor in the country," Brad Coker, the director at Mason-Dixon Polling and Strategy in Florida, told Newsweek. "No one else has his level of national coverage, and he's the center of attention in Florida."
The Florida leader was one of the first in the nation to begin reopening their economies, prompting other Republican officials to follow suit. Not only did DeSantis reopen his state earlier than other areas, but he also pushed back hard on mask mandates and vaccine passports. Last year, DeSantis ordered mask requirements in schools be banned—an action taken by Texas officials not long after.
Most recently, DeSantis has made headlines for signing a controversial bill dubbed by critics as "Don't Say Gay." The law prevents sexual orientation and gender identity from being taught to the state's youngest students.
Less than a month after being approved by DeSantis, the legislation is being replicated by other red states. Earlier this month, Alabama Governor Kay Ivey signed two anti-LGBTQ bills into law. Texas Lieutenant Governor Dan Patrick said he plans to make a bill similar to Florida's new law a top priority at the next session. Ohio lawmakers are also considering banning schools from teaching about sexual orientation or gender identity to students from kindergarten through 3rd grade.
"When a hot-button issue arises in the culture wars, DeSantis has often found a way to use his position as governor to show the public his values," Mark Weaver, an Ohio-based Republican strategist, told Newsweek.
DeSantis has consistently experienced approval ratings in the mid-50s, Coker noted. The governor is running for re-election in 2022, and strategists say he's likely to win another term as the state's top official.
"I see other governors in tougher races trying to position themselves as DeSantis has," Coker said.
While DeSantis has brushed off questions of a potential 2024 run for the White House, polls show him leading the Republican field so long as former President Donald Trump doesn't run for the nomination. Unlike nearly all other rumored 2024 hopefuls, the governor has not said he won't launch a campaign if Trump does decide to seek another shot at the presidency.
"DeSantis is being careful to put his re-election campaign before any presidential campaign," Weaver said. "But it's easy to see that if Trump were to bow out in 2024, then DeSantis would be the immediate frontrunner."
DeSantis's latest fundraising haul also showed his star power within the GOP. According to figures filed with the Florida secretary of state, DeSantis received a total of $109.869 million in donations last year.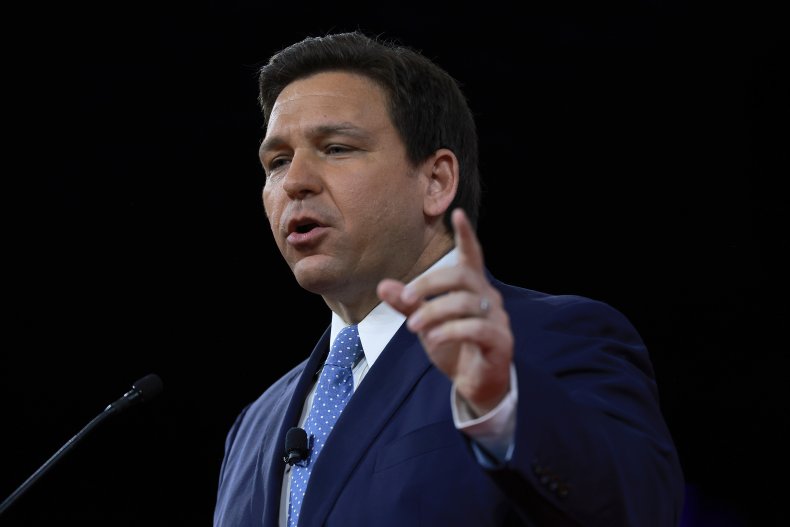 But not all those in the GOP think that DeSantis' policies should be emulated.
"Unfortunately for the Republican Party, he's also governing in a way that will hurt it in the long term," political strategist Susan Del Percio told Newsweek.
Del Percio called the so-called "Don't Say Gay" bills "bad governance and bad policy."
Maryland Governor Larry Hogan, also a Republican, was also recently critical of DeSantis's leadership. Hogan told CNN the Florida legislation was "absurd" and would not be something that would happen in his state.
"Clearly, other governors and state legislatures are only doing this with their political interests in mind," Del Percio said. "These are divisive, ugly pieces of legislation only meant to help politicians win primaries."