Democrats' Chances of Flipping North Carolina's GOP-Held Senate Seat: Polls
Democratic Senate candidate Cheri Beasley appears to be well-positioned to possibly flip North Carolina's Republican-held Senate seat blue in the upcoming November 8 midterm election, with multiple recent conservative polls showing her tied or narrowly ahead.
Beasley, a former chief justice of North Carolina's Supreme Court, will face off against GOP Representative Ted Budd, who represents North Carolina's 13th District. The candidates aim to win the seat being vacated by Senator Richard Burr.
While Budd was endorsed by former President Donald Trump, Burr was one of the seven GOP senators to vote to convict Trump at the conclusion of his second impeachment trial for inciting his supporters to attack the Capitol on January 6, 2021.
Recent polling data shows Beasley is narrowly favored to flip the GOP-held seat blue in the upcoming election. A new poll released Thursday by the conservative think tank The John Locke Foundation showed a tied race.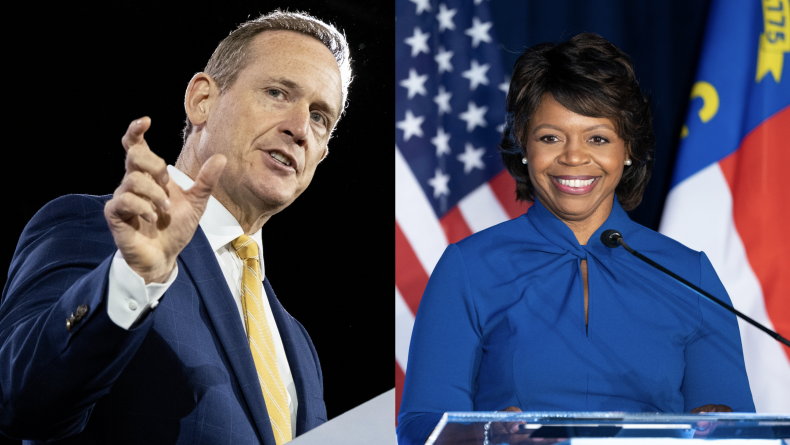 In the survey, which was conducted from August 13 to August 15 by Civitas Poll, Beasley and Budd were both backed by 43.2 percent of North Carolina's likely voters. However, 12.6 percent of respondents were undecided and 2.7 percent backed third-party candidates. The poll included 615 likely voters with a margin of error of plus or minus 3.9 percent.
The Lock Foundation poll showed a shift from a June survey by the conservative think tank, when Budd led Beasley by 5 points. In that survey, the Republican had the backing of 45 percent of likely voters compared to the Democrat's support from only 40 percent.
Previous polling by PEM Management Corporation for former Trump administration official John Bolton's super PAC showed Beasley in the lead. The survey was carried out from July 22 to July 24 and had the Democrat at 43 percent while Budd was at 40 percent. The survey included 300 likely voters in North Carolina.
An early-August survey by Blueprint Polling showed Beasley ahead by 4 points. The Democrat had the backing of 46 percent of likely voters compared to her opponent's 42 percent. The poll included 656 likely voters with a margin of error of plus or minus 3.83 points.
The current FiveThirtyEight average for the North Carolina Senate race shows the Democrat narrowly favored. The polling average has Beasley at 44 percent and Budd at 43.9 percent. It was last updated on August 18.
Currently, there are 50 members of the Senate's Democratic caucus and 50 Republicans. Although the chamber is evenly split, Vice President Kamala Harris can cast tiebreaking votes as Senate president.
Recent historical precedent suggests that Republicans are favored to gain seats in the midterm, but recent polling data and forecasts by analysts show Democrats could likely keep, and possibly even expand, their majority. However, they cannot lose one seat without forfeiting control of the Senate.