'About Time': Democrats Ready to Call Ivanka, Donald Trump Jr. to Testify as They Pursue Perjury, President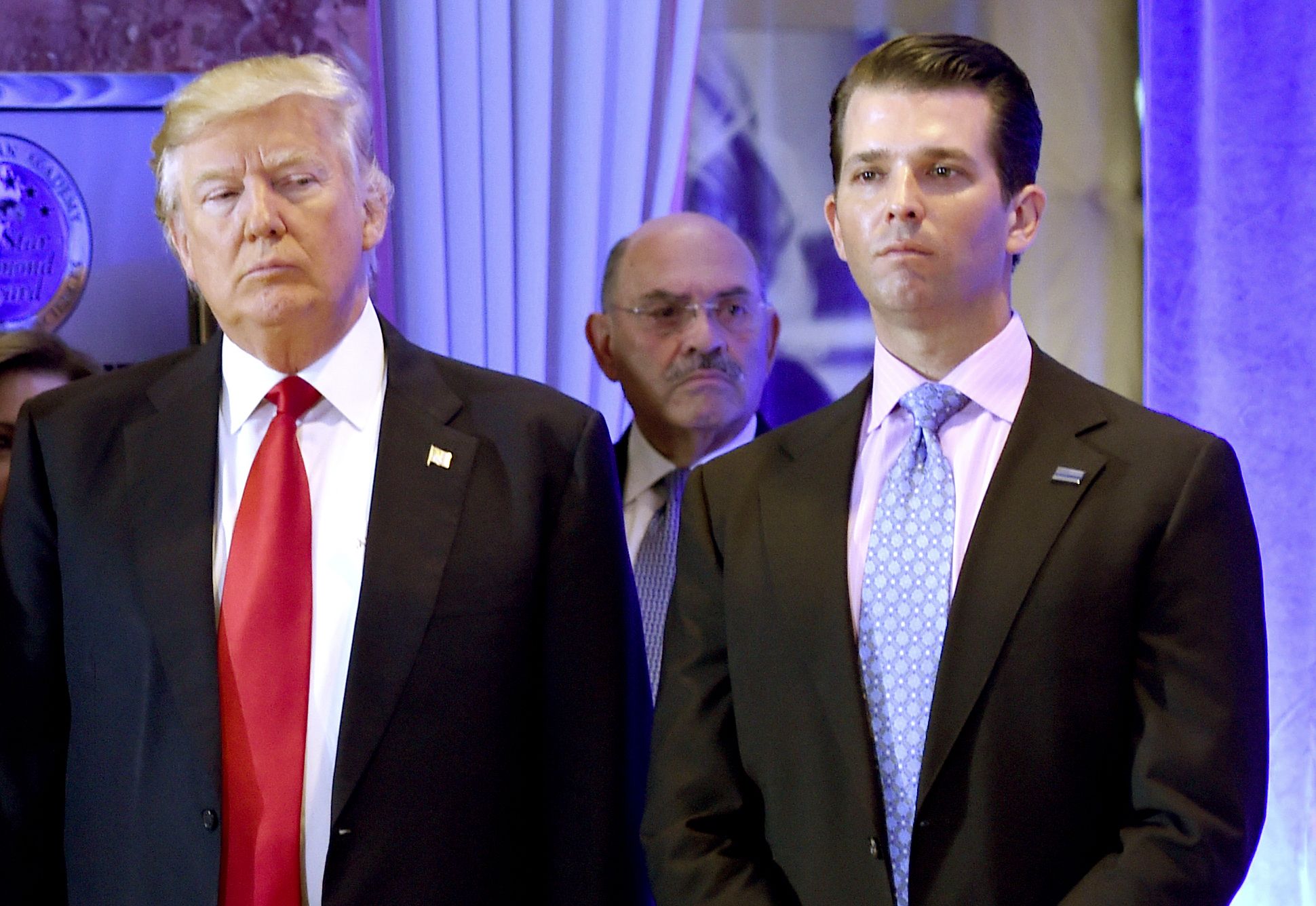 In the wake of Michael Cohen's congressional testimony, Democrats are eager to hear from some of the president's adult children and a Trump Organization executive who the former Trump attorney and "fixer" said could corroborate and provide additional information about his claims of the president's criminal wrongdoing.
In particular, those people include Trump's eldest son Donald Trump, Jr. and longtime Trump Organization Chief Financial Officer Allen Weisselberg, in addition to Trump's eldest daughter, Ivanka Trump, and Jared Kushner, her husband and fellow White House senior adviser.
House Oversight Committee Chairman Elijah Cummings, a Democrat, repeated his intentions Thursday to seek "at least an interview" with the Trump siblings, Weisselberg and Kushner.
"If there are names that were mentioned or records that were mentioned during the hearing, we want to take a look at all of that," Cummings told reporters. "They have a good chance of hearing from us—at least an interview. We'll go through it, we'll figure out who we want to talk to and we'll bring them in."
Democrats on the committee tell Newsweek they're especially eager to hear from Trump Jr. and Weisselberg, whose signatures appeared on Trump's personal reimbursement checks to Cohen that were provided to the committee as evidence. Cohen said the checks were two of 11 repayments for his fronting a $130,000 hush-money payment to adult film star Stormy Daniels over an alleged affair with Trump.
"I had asked Allen to use his money—I didn't want to use mine—and he said he couldn't," Cohen testified.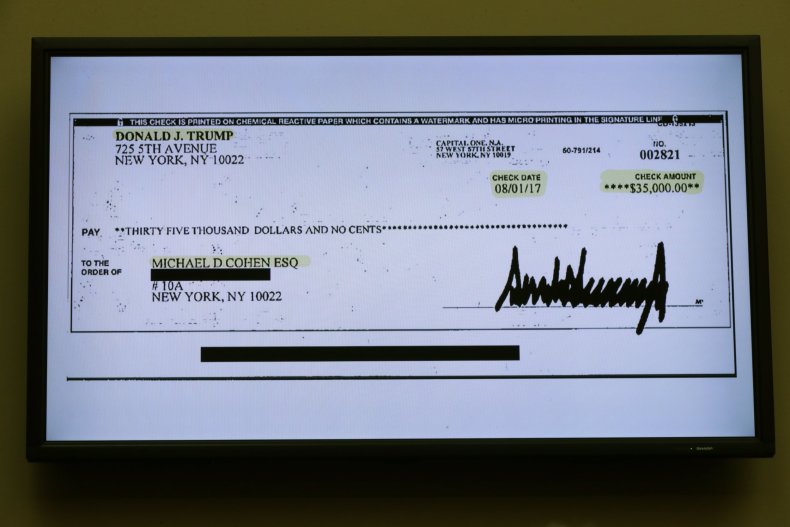 The Wall Street Journal reported that Cohen was incorrect when he identified "Executive-2" in the Southern District of New York's charging documents as Donald Trump Jr. The individual, according to the Journal's sources, is Trump Organization controller Jeffrey McConney.
Weisselberg received immunity to cooperate with prosecutors regarding Cohen's case, which resulted in the former lawyer pleading guilty to campaign finance violations, lying to Congress and tax and bank fraud. The evidence and testimony from Cohen on Wednesday was the first time publicly that the president's eldest son and the Trump executive were implicated in criminal wrongdoing. Through Cohen's criminal case, Trump had already been implicated. Cohen testified that the president was engaged in the "criminal scheme to violate campaign finance laws."
"[Weisselberg and Trump, Jr. were] implicated in approving those checks that are clearly campaign violations," Democratic Congressman Peter Welch, a House Oversight Committee member, told Newsweek. "There was pretty compelling evidence about a campaign finance violation the president participated in."
Asked by Democratic Congressman Ro Khanna if "the president directed transactions in conspiracy with Allen Weisselberg and his son Donald Trump Jr. as part of a criminal conspiracy of financial fraud," Cohen responded, "Yes."
The House Intelligence Committee earlier this month provided special counsel Robert Mueller with Trump Jr. and Kushner transcripts from private testimonies, allowing Mueller the ability to formally pursue perjury or obstruction charges against the men if it's determined either one lied to Congress.
Cohen also said Weisselberg was one of several Trump associates who could substantiate his allegations that Trump inflated his assets to Deutsche Bank in order to obtain a loan and bid on the Buffalo Bills. Copies of some of Trump's financial records were submitted as evidence by Cohen and which Cohen said showed Trump "inflated his total assets when it served his purposes."
"[Trump, Jr. and Weisselberg] keep coming up in all these interviews and hearings," Democratic Congressman Raja Krishnamoorthi, who also sits on the House Oversight Committee, told Newsweek. "It's about time we just heard from them and we saw those financial statements yesterday that looked so fishy to me."
In a 2013 financial statement detailing his assets and liabilities, Trump listed his "brand value" at $4 billion, a category absent from his 2011 and 2012 statements. "I would ask, 'How do you come up with these numbers?' They seem random," Krishnamoorthi said. "Some of the real estate values seem—based on [Cohen's] testimony yesterday—they just kind of pull things out of the air."
Republicans are zealously opposing the potential questioning of the president's eldest son and the Trump executive, saying Democrats on the committee only have one goal in mind: impeachment.
"From what I've seen and what we have investigated, it doesn't give me any pause whatsoever about this president," GOP House Minority Leader Kevin McCarthy told reporters of Cohen's testimony. "[Democrats] are doing exactly what they said before the election: Their whole goal is try and impeach the president."
With continued claims that Cohen is a "liar," "convicted perjurer" and "fake witness" who lacks credibility, bringing forward people who may be more familiar with Trump's actions and who Republicans trust—like Trump, Jr. and Weisselberg—could shed a different light on Cohen's allegations. Oversight Republican Congressmen Mark Meadows and Jim Jordan, Trump loyalists and members of the conservative House Freedom Caucus, sent a letter referring Cohen to the Justice Department Thursday accusing him of committing perjury and making false statements in his testimony.
But Democrats say Republicans' lack of desire to hear from Trump, Jr. and Weisselberg is because they fear Cohen's testimony could be true.
"I don't think [Republicans] want to call them in," Democrat and House Oversight Committee member Jimmy Gomez told Newsweek. "I think they know that if they call them in, not only do they open those potential witnesses to perjury, but they also open up the president."