Amid President Donald Trump's State of the Union address Tuesday night, in which he called for unity, stronger immigration policies and bashed the Russia probe, Democrats responded with approval for some of the initiatives he proposed. They're wary, however, saying that while Trump can "talk the talk," at the end of the day the "proof is in the pudding."
Unsurprisingly, they disapproved of the president's "mischaracterizations" when it came to the "crisis" at the southern border. Key Democrats on the House Intelligence Committee also vehemently denounced him calling special counsel Robert Mueller's ongoing probe and congressional inquiries as "ridiculous partisan investigations."
Still, there were topics Trump touched on that Democrats could agree with, including protecting preexisting conditions, lowering prescription drug prices, rebuilding the country's infrastructure and investing in cancer research. But they lacked detail, Democrats told Newsweek, and they do not believe Trump will begin pushing bipartisan legislation and focusing on policies other than the border wall.
"The president in the past has talked the talk, but he's never walked the walk," Democratic Congressman Hakeem Jeffries told Newsweek. "Stay tuned, we'll see what happens over the next few days, next few weeks, next few months as to whether he seriously wants to get things done working with Democrats."
Trump said his next budget will request Congress to set aside $500 million over the next 10 years to fund childhood cancer research.
Regarding "America's crumbling infrastructure," the president said it was something that "both parties should be able to unite for a great rebuilding."
"I know that the Congress is eager to pass an infrastructure bill," he continued. "And I am eager to work with you on legislation to deliver new and important infrastructure investment, including investments in the cutting-edge industries of the future."
Speaking on health care and drug prices, Trump's remarks were met with a standing ovation from both political parties. "The next major priority for me, and for all of us, should be to lower the cost of healthcare and prescription drugs—and to protect patients with pre-existing conditions," he said.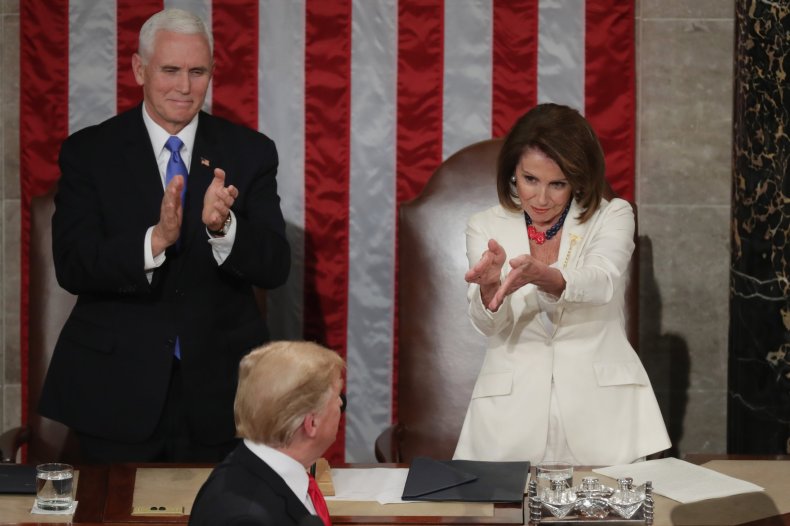 But Democrats aren't holding their breath for any of these proposals to come to fruition.
"The proof is in the pudding," Eliot Engel, Democratic Congressman from New York, told Newsweek. "It's better that he mentioned [those policies] than if he didn't mention it. But mentioning it is not enough. It's got to be action. Let's see, maybe there will be a change. If there is, I'll be the first one to stand up and applaud."
The speech lacked details, Congressman Joe Neguse, Democrat from Colorado, told Newsweek. "What I'd like to see over the coming weeks and months is actual legislation this administration intends to pursue with respect to those discrete items."
Democratic Congresswoman Val Demings of Florida told Newsweek she was happy to hear Trump talk about law enforcement, the military, cancer research for children and lowering the cost of prescription drugs. "He did a lot of talk about those things," she said. "But action is what matters of the American people. So we're all anxiously waiting to see what happens as a result of the president's speech."
Demings is also on the House Intelligence Committee, which will begin its work investigating Trump and Russia related matters as early as Wednesday morning. She and her fellow Democratic members of the panel did not take Trump's comments lightly when he said there cannot be "peace and legislation" so long as there is "war and investigation."
"An economic miracle is taking place in the United States," Trump said, "and the only thing that can stop it are foolish wars, politics or ridiculous partisan investigations."
Demings considered the State of the Union address a "sacred time" to bring the country together and connect with everyday Americans.
"When he turned that moment into talking about 'ridiculous investigations,' I was very disappointed and thought it was shameful for him to take that moment to talk about his own investigations that are swirling around him, his cabinet and his campaign," she said. "The President of the United States was trying to send a message and get any help he could to stop the investigations. But the investigations are not going to stop."
Democratic Congressman Raja Krishnamoorthi, also on the intelligence committee, told Newsweek the Russia and Mueller investigations were "obviously on his mind. We are going to hold the administration accountable at the same time we try to get things done with him."