During its first meeting Wednesday morning, the House Intelligence Committee will vote whether to provide special counsel Robert Mueller with potentially damning testimony transcripts from Trump associates and administration officials, which could include the president's eldest son and son-in-law.
The committee will vote on the "transmission of certain committee transcripts to the Department of Justice." The move would allow Mueller to proceed with perjury charges, should an investigation by the special counsel conclude that Donald Trump, Jr. and Jared Kushner lied to Congress in answers they previously provided to the committee regarding the Russia probe. It is not yet known which transcripts will be voted on, but Democrats in the past have suggested the president's son lied to the committee.
Two former Trump confidants–Michael Cohen, the president's former personal attorney, and Roger Stone, his longtime adviser–were charged with lying to Congress, among other things.
In 2017, Kushner provided private testimony to the House and Senate Intelligence Committees, in which he said he "did not collude" and had "hardly any" communications with Russians during the 2016 campaign.
Trump Jr. also met with investigators from the Senate Intelligence Committee in 2017 to explain why he took a meeting with a Kremlin-linked lawyer who promised dirt on Hillary Clinton during the 2016 campaign, which Kushner has said he briefly attended. In September testimony, according to The New York Times, Trump, Jr. claimed he sought to learn more about Clinton's "fitness, character or qualifications." In a previous statement, the president's son had a different story, saying he met with the Russian lawyer and other Trump associates to discuss adoption policy.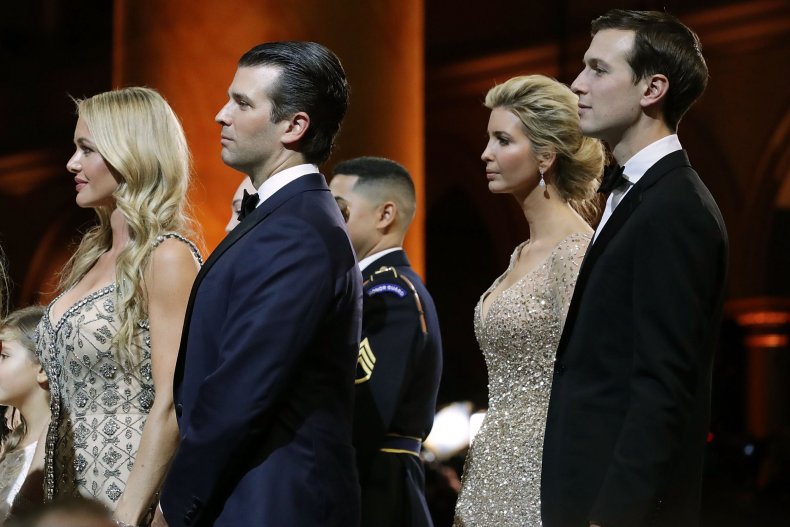 Until last week, Democrats on the intelligence committee were growing increasingly suspicious behind House Minority Leader Kevin McCarthy's delay in naming GOP members to the committee. Without a full committee, the panel could not conduct official business, such as providing Mueller's team with the transcripts. Lacking the committee's approval, Mueller would not be able to pursue perjury charges by using the transcripts, even if his team has already obtained them.
"If they bleed into next week with no committee members, we'll have to start thinking about what mechanism we can use so that they will not impact the investigation," Adam Schiff, the Democratic intelligence committee chairman, told Newsweek last week. "Whether this is directed at preventing us from providing transcripts to Mueller, you'd have to ask the majority. If it is, it's a very shortsighted tactic."
Following his charges, including for lying to Congress over contact with Russian officials about a Trump Tower project in Moscow during the campaign, Cohen quickly flipped on the president to cooperate with Mueller. He was sentenced to three years in prison and will start his sentence March 6.
Stone, on the other hand, has remained steadfast in his support for the president, embarking on a media blitz since being indicted last month. He was warned by a federal judge last week to end his "public relations campaign" that looks more "like a book tour" than a criminal proceeding.
Stone, in prepared remarks to lawmakers, said that allegations of collusion with Russia were "nothing more than conjecture, supposition, projection, allegation, and coincidence, none of it proven by evidence or fact. I deeply resent any allegation that I would collude with the oppressive Russian state to affect the outcome of the 2016 presidential election."
In the seven-count indictment, Mueller alleged "a senior Trump Campaign official was directed to contact Stone about any additional releases and what other damaging information [WikiLeaks] had regarding the Clinton Campaign." Stone allegedly had repeated contact with the group and relayed information to the Trump campaign.
This story has been updated to include it is not yet known which testimonies the committee will vote on.