Republicans Finally Name Members for Key Trump-Russia Probe Allowing Mueller to Proceed With Perjury Investigations
Two weeks after the new House Democratic leadership appointed members to the Intelligence Committee, Republican leaders finally followed suit on Wednesday. The delayed announcement, which was causing Democrats to grow increasingly suspicious, will officially allow the new committee to begin issuing subpoenas, conducting investigations and providing special counsel Robert Mueller with information.
Republicans Mike Conaway, Mike Turner, Brad Wenstrup, Chris Stewart, Rick Crawford, Elise Stefanik, Will Hurd, John Ratcliffe and ranking member Devin Nunes, who already planned to remain, were named to the committee by House Minority Leader Kevin McCarthy.
With Democrats having formally announced their choices January 16, the two-week delay from McCarthy caused Democrats to begin questioning if the GOP leader was purposefully delaying his appointments to impede the committee's work regarding Russia-related matters. McCarthy had already named members to the various other House committees.
"We can't do anything officially," Congressman Mike Quigley, Democrat from Illinois, told Newsweek just prior to McCarthy's announcement. "It's aggravating, it's ill-advised. This committee's functions are critical to our nation's security."
The previous lack of GOP appointments prevented the ability of Intelligence Chairman Adam Schiff, Democrat from California, to conduct official business, such as oversight of the intelligence community, provide Mueller with information and issue subpoenas for documents and testimony. With Mueller's investigation believed to be winding down, the clock was ticking for Schiff to provide transcripts of classified testimonies made to the committee by Russia-related witnesses, specifically the written testimony from Donald Trump Jr., the president's eldest son. He testified about a Trump Tower deal in Moscow, Russia, and Schiff has said possible criminal charges could arise for lying—but only if the committee authorizes the transcripts to be used for that purpose.
"[Mueller's team does not] have the use for them for perjury prosecutions until we authorize them for that use," Schiff told Newsweek. "Whether they can actually use the material in [the transcript] as part of their report is also, I think, in question."
Also at risk was Michael Cohen's private testimony to the committee set for February 8. The former Trump lawyer delayed his original testimony that was scheduled to be public due to alleged "ongoing threats" to his family from Trump and his current lawyer, Rudy Giuliani.
McCarthy's office did not respond to Newsweek's questions earlier in the day about why Republicans had not yet been appointed. Shortly after, his office released the names of the eight members that would be joining Nunes. During in an interview with NBC's Meet The Press over the weekend, McCarthy denied the suggestion that he was in any way trying to hinder the Intelligence Committee's ability to conduct official work.
"Nothing of the sort. The reason why committees weren't already reported, the Democrats were not organized," McCarthy said Sunday. "They waited until after the speaker race, which Republicans would never do, to give us the ratios. I just met with every single individual that I'm going to appoint on Friday. So it'll come out next week."
Prior to McCarthy's announcement, Intelligence Committee Democrats told Newsweek they would give him until the end of the week before they began questioning his motives and taking action.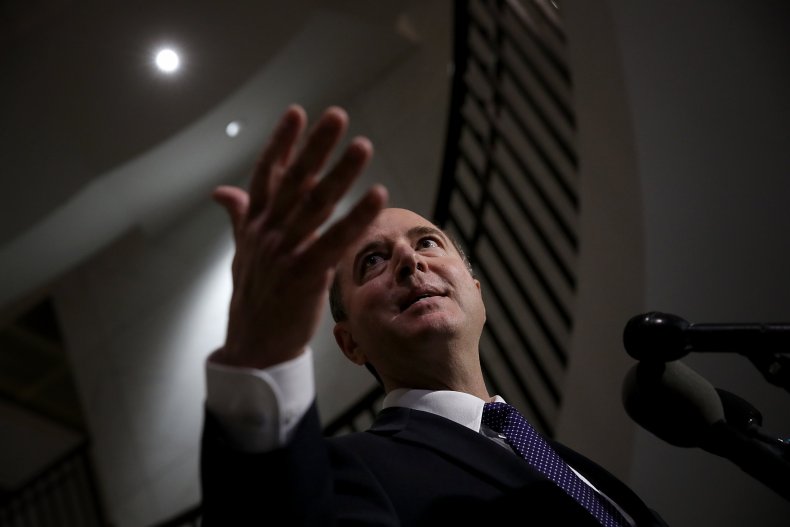 "If they bleed into next week with no committee members, we'll have to start thinking about what mechanism we can use so that they will not impact the investigation," Schiff said. "Whether this is directed at preventing us from providing transcripts to Mueller, you'd have to ask the majority. If it is, it's a very shortsighted tactic."
A lack of Republicans on the committee also meant the GOP was missing classified briefings from the intelligence community. A briefing the committee received earlier Wednesday featured only Democrats, Schiff said.
"I'm going to give it this week, putting it down to just being slow. If it stretches into next week, I'll begin to question the motivation," Quigley told Newsweek ahead of McCarthy naming his members. "People are ready to get rolling. They're anxious."
Democratic Congresswoman Jackie Speier, another member of the committee, told Newsweek following McCarthy's announcement that she "didn't have to wait until the end of the week to question his motives."
"I wouldn't be surprised if we find out through moles that his intent was to prevent the upcoming Michael Cohen testimony," she said, classifying the two-week delay as a "pretty apparent trick" and an "effort to sobotage the committee's work."
Eric Swalwell, a Democrat on the committee, told Newsweek the delay from McCarthy was "irresponsible."
"The world is getting more dangerous, not less," he added.