Michael Cohen Postpones Testimony to Congress, Cites 'Threats' to Family From Trump, Giuliani
Citing "ongoing threats" that were allegedly made to his family by President Donald Trump and his attorney Rudy Giuliani, on Wednesday Michael Cohen postponed his public hearing with Congress that was slated for next month.
Cohen, Trump's former lawyer, had been scheduled to voluntarily testify February 7 before the House Oversight and Government Reform Committee to "give a full and credible account of the events which have transpired."
"Due to ongoing threats against his family from President Trump and Mr. Giuliani, as recently as this weekend, as well as Mr. Cohen's continued cooperation with ongoing investigations, by advice of counsel, Mr. Cohen's appearance will be postponed to a later date," Cohen's attorney Lanny Davis said in a statement. Davis said his client looked "forward to testifying at the appropriate time."
Davis added this was "a time where Mr. Cohen had to put his family and their safety first."
In a joint statement, Democrat Elijah Cummings, House Oversight Committee chairman, and Democrat Adam Schiff, House Intelligence Committee chairman, said they "understand the completely legitimate concerns for the safety and security of Mr. Cohen and his family members." However, they still expect Cohen to testify before he reports to prison for his three-year sentence that begins March 6.
"Whatever we have to do to get him here, we're going to do it," Cummings told reporters when prompted whether issuing a subpeona was in the realm of possibilities. He noted that he believed Cohen was acting in good faith.
"I personally think he'll come in voluntarily, so long as the safety of his family and loved ones is assured," Congressman Raja Krishnamoorthi, Democrat on the Oversight Committee, told Newsweek. He added that he was unsure whether the president and Giuliani have made any private threats to Cohen, in addition to those he's made on Twitter and in the media.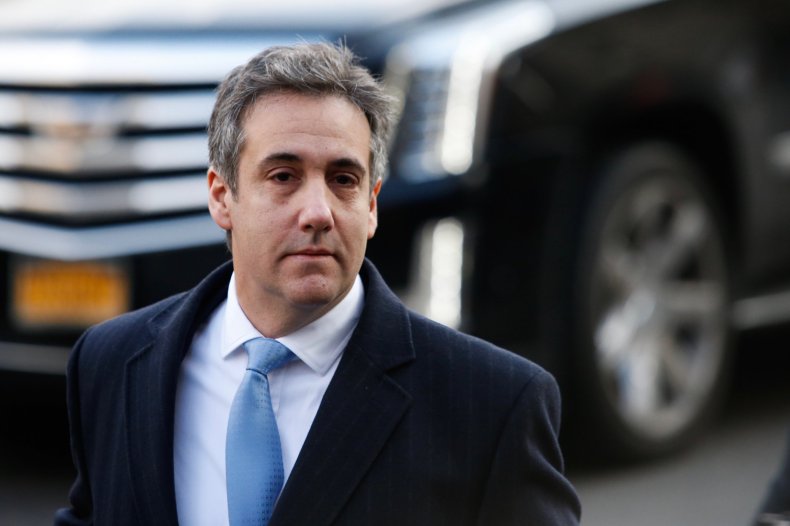 Former federal prosecutors told Newsweek last week that Trump's prior and ongoing public remarks regarding Cohen and his father-in-law could equate to witness tampering and intimidation. Top Democrats, including Cummings, have offered similar warnings. Davis also told MSNBC last week that Cohen was "considering whether to go forward in light of the concerns about his family."
In an interview earlier this month with Fox News, Trump suggested that Cohen's father-in-law, who the president does not know personally, should be the one investigated by special counsel Robert Mueller. After a BuzzFeed News report suggested Cohen was directed by the president to lie to Congress in 2017, Trump tweeted he was "lying to reduce his jail time! Watch father-in-law!"
"It is highly unusual for someone to intimidate a witness out in the open this way," Barbara McQuade, former U.S. Attorney for the Eastern District of Michigan, told Newsweek. "But if prosecutors could show that Trump is knowingly intimidating a witness in order to influence his testimony in an official proceeding, he is in violation of witness tampering statute."
Like Cummings and Schiff, Krishnamoorthi amounted the president's public comments directed at Cohen to "mob-like tactics."
"[Trump] has the full weight of law enforcement behind him and at his disposal," Krishnamoorthi said. "If I were Michael Cohen and someone was making threats and he was the president, I'd be a little concerned, too."
Nick Akerman, a partner at Dorsey & Whitney and a former assistant special Watergate prosecutor, told Newsweek there was a "strong likelihood that Cohen would feel intimidated" because of "what some deranged Trump supporter might do to them as a result of Trump's statements directed against them."
Trump, Akerman added, "has a history that makes such a concern on Cohen's part wholly reasonable," and that there's "no legitimate reason" for Trump to mention Cohen's in-laws. Akerman is also a former assistant U.S. attorney for the Southern District of New York, where Cohen pleaded guilty to campaign finance violations, tax evasion and lying to Congress.
Update: This story has been updated to include information from Cummings and Schiff. It was further updated to include comments from Krishnamoorthi.