Mueller Should Consider 'Perjury Charges' Against Donald Trump Jr., House Intelligence Committee Head Says
Democratic Congressman Adam Schiff has said that the House Intelligence Committee, which he chairs, will send transcripts of its previous questioning of Donald Trump Jr. to special counsel Robert Mueller so he can consider whether to pursue perjury charges against the president's son.
The representative from California made the comments during an interview Sunday on ABC's This Week. Host George Stephanopoulos asked the congressman about allegations from Schiff's fellow committee member Jackie Speier, accusing Trump Jr. of lying to the intelligence body. "Do you agree?" Stephanopoulos asked.
"Well, I'd like the special counsel to have access to Don Jr.'s testimony and determine whether it is evidence of—of false statements," Schiff responded. "I greatly appreciate the seriousness with which the special counsel takes lying to Congress," he added, "so I'll let Bob Mueller be the judge of that."
He then explained that the Intelligence Committee, which is now under Democratic control, will send copies of the interview transcripts to Mueller's team.
"One of the first acts, if not the first act, of our committee will be to send all of these transcripts of all the witnesses to Bob Mueller so that he can consider whether additional perjury charges are warranted," the congressman explained. Although he said Mueller already had access to the documents, he pointed out that the committee wants the investigation to be able to "use them for whatever purpose including perjury prosecution or witness intimidation or obstruction of justice."
Some of Trump Jr.'s testimony to the members of Congress has been disputed by others indicted by Mueller's ongoing probe into Russia's interference in the 2016 election and allegations that the president's campaign team colluded with Moscow. While the president's son told the committee that he did not inform his father about a now infamous Trump Tower meeting, which involved individuals linked to the Kremlin, Michael Cohen, who previously served as Trump's lawyer has reportedly disputed that claim.
Cohen is now cooperating with Mueller as a part of a plea agreement. The ex-Trump attorney pled guilty late last year to charges involving campaign finance violations, tax evasion and lying to Congress. At the end of December, former federal prosecutor and CNN legal analyst Elie Honig said Trump Jr. should be concerned.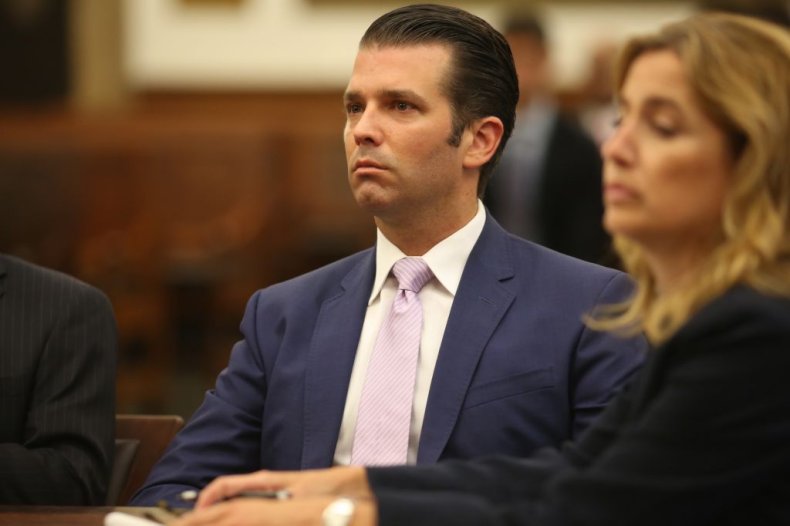 "When Michael Cohen pled guilty a few of weeks ago to making the hush money payments, the campaign finance violations, the papers referenced 'executive 1' and 'executive 2' within the Trump Organization. If either of those are Donald Trump Jr. he could be in trouble," Koning said.
"He also has potential exposure for lying to Congress about the Moscow project, which is another thing Michael Cohen pled guilty to. We could also have indictments there," he added.
Schiff told Stephanopoulos on Sunday that "it's clear that Mueller's work is not yet done."
On Friday, former Trump adviser and longtime friend Roger Stone was arrested as part of the ongoing probe. He has been charged with obstruction, witness tampering and making false statements, becoming the sixth associate of the president to be indicted by Mueller.