During his State of the Union address Tuesday evening, a speech that White House officials had touted as one focused on "unity," President Donald Trump took aim at Russia investigations being conducted by special counsel Robert Mueller and House Democrats.
"If there is going to be peace and legislation, there cannot be war and investigation," he said. "It just doesn't work that way!"
The president has long branded the special counsel's probe a "witch hunt," falsely accusing "angry Democrats" of leading it. Now in control of the House, Democrats are gearing up for several Russia-related congressional probes they tend to launch.
"An economic miracle is taking place in the United States," Trump said, "and the only thing that can stop it are foolish wars, politics or ridiculous partisan investigations."
The remarks led House Speaker Nancy Pelosi, seated behind the president and next to Vice President Mike Pence, to scoff, showing her distaste for Trump's continued public degradation of the ongoing investigation.
"Tonight, the president spoke about the honor of being in the House Chamber, and all the progress that has been achieved here," Pelosi later said in a statement. "But at the same time, he threatened the United States Congress not to exercise its constitutional responsibility of oversight."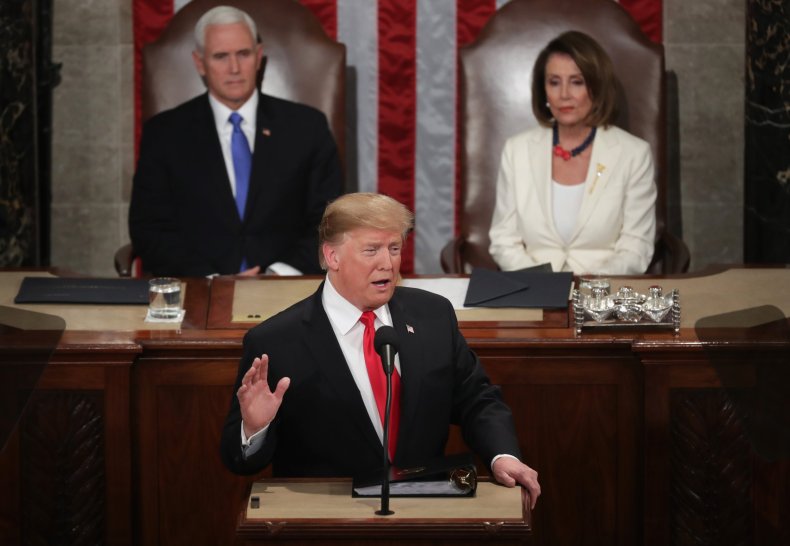 Although his criticisms of Mueller are often not decried by Republicans, his allies in Congress—and reportedly his own administration officials, according to GOP Senator Lindsey Graham—have pushed back at his decision to withdraw U.S. troops from Syria.
Following his speech, Democrats condemned Trump's comments, with House Intelligence Committee members telling Newsweek the president can publicly bash the investigations as much as he pleases. But it won't make a difference.
"We are going to hold the administration accountable at the same time we try to get things done with him," Democratic Congressman Raja Krishnamoorthi, intelligence committee member, told Newsweek. "Obviously, it was on his mind."
"When he turned that [sacred time] into talking about 'ridiculous investigations,' I was very disappointed and thought it was shameful for him to take that moment to talk about his own investigations that are swirling around him, his cabinet and his campaign," Congresswoman Val Demings, Democrat from Florida, told Newsweek. "The President of the United States was trying to send a message and get any help he could to stop the investigations. But the investigations are not going to stop."
This story has been updated to include comments made to Newsweek by Pelosi, Krishnamoorthi and Demings.