'We're Being Attacked From the Inside': Democrats Escalate Fight to Hold Attorney General William Barr in Contempt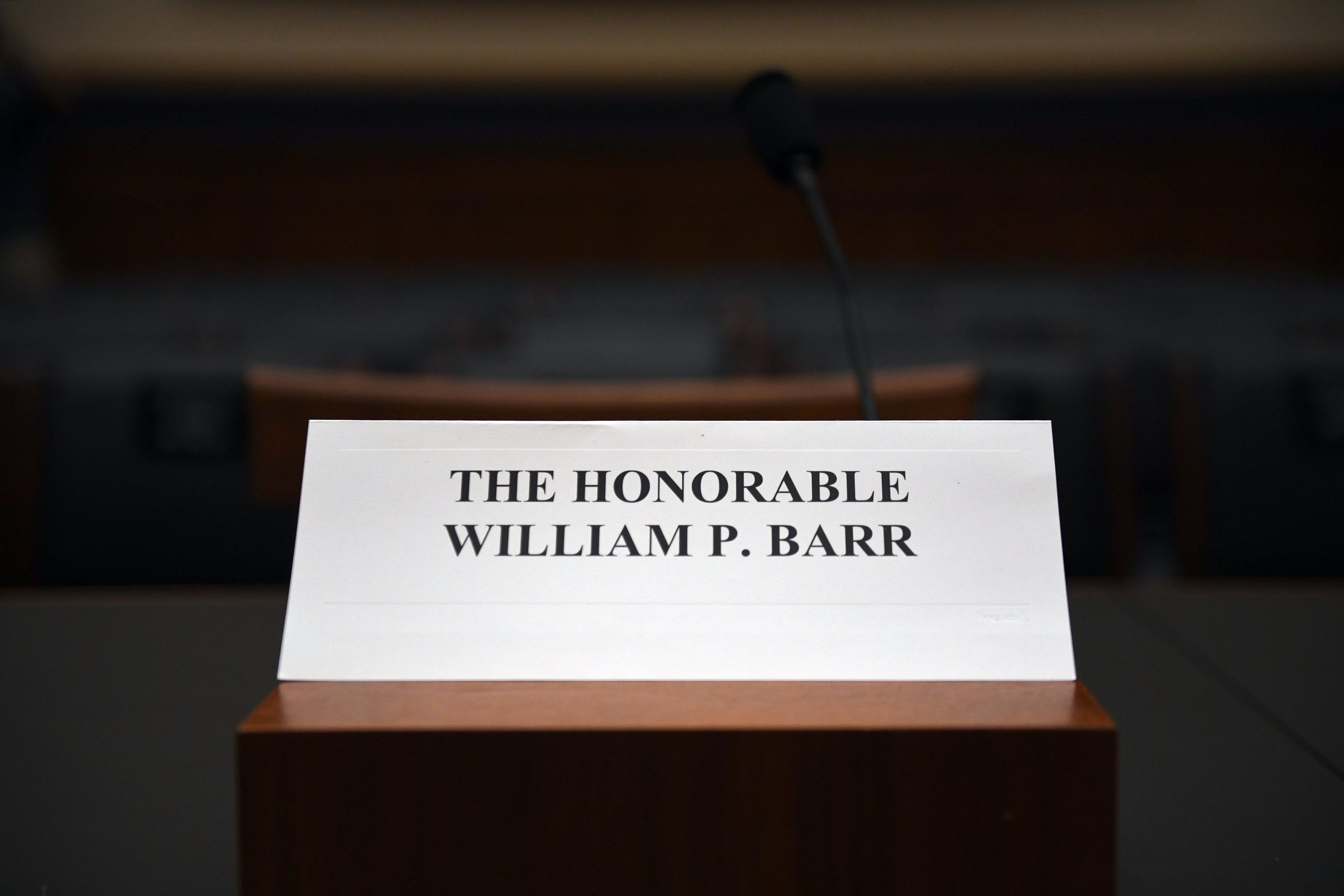 What was supposed to be a House Judiciary Committee hearing with Attorney General William Barr Thursday morning instead featured Democrats eating Kentucky Fried Chicken and threatening to hold the nation's top law enforcement official in contempt, while Republicans accused their counterparts of playing political games.
The witness chair behind the small placard that read "The Honorable William P. Barr" sat empty. "Attorney General Barr has informed us that he will not appear today," said Representative Jerrold Nadler, the committee's Democratic chairman.
"Although we worked to accommodate his concerns, he objects to the prospect of answering questions by staff counsel and to the possibility that we may go into executive session to discuss certain sensitive topics," Nadler said.
House Democrats escalated their fight to hold Barr in contempt, not because he failed to show up at Thursday's hearing—his attendance would have been voluntary—but because the attorney general has so far refused to comply with a subpoena to provide the Judiciary Committee with the full, unredacted report from special counsel Robert Mueller, along with its underlying evidence.
The deadline to adhere to the chairman's subpoena expired Wednesday as Democrats' calls for Barr's resignation—for allegedly lying to Congress—mounted.
"We will make one more good faith attempt to negotiate and to get access to the report, and if we don't get that, we will proceed to hold the attorney general in contempt," Nadler threatened. He and a handful of other top Democrats in Congress were offered the chance to review the redacted portions of the Mueller report, but only top Republicans have done so, with Democrats demanding all of Congress be allowed access to such matertial and the underlying evidence.
Nadler offered Barr "a day or two…maybe by Monday" until his committee initiates contempt proceedings. The committee and the full House would need to pass the contempt measure before legal proceedings could begin, a drawn-out process that would likely not allow Democrats to obtain the information they're seeking.
But Democrats warned that, while contempt proceedings play out in Congress, they have other remedies to try to compel the attorney general's compliance.
"In the past, they had a House jail. I don't think we're going to go that far. But…we will enforce it, and delay will not affect us because we can start imposing fines on that person immediately upon contempt off the House floor," said Representative Ted Lieu, a Democrat on the committee.
Current law says that contempt of Congress is "punishable by a fine of not more than [$100,000] nor less than $100 and imprisonment in a common jail for not less than one month nor more than 12 months."
Although Barr testified for several hours Wednesday before the Senate Judiciary Committee, the attorney general objected to Nadler's plan for House Judiciary Committee staff attorneys to question him after lawmakers did. Staff attorneys for the Republicans and Democrats would have had 30 minutes each to question Barr.
Justice Department spokeswoman Kerri Kupec called the format "inappropriate," while the committee's top Republican, Representative Doug Collins, labeled it "ludicrous demands" and "another line of circus stunts."
"This Democratic majority seems to be impatient…. They don't want to ask proper questions," Collins, the panel's ranking member, told reporters. "They hate this president, and they want to keep the circus going and make the American people believe they're doing impeachment."
Democrats argued that if the attorney general had nothing to hide, he would have appeared and agreed to the line of questioning from staff attorneys. Committee aides pushed back against Republicans' claims that such a move was "unprecedented," pointing to staff attorneys asking questions in high profile cases such as then-nominee for U.S. Supreme Court Brett Kavanaugh and the impeachment inquiries of Presidents Richard Nixon and Bill Clinton.
A letter written by special counsel Robert Mueller in the wake of Barr's four-page summary of his report revealed that Mueller was concerned with how the attorney general characterized the report. The letter told Barr that his short summary "did not fully capture the context, nature, and substance of this Office's work and conclusions."
Contrary to Mueller's misgivings, Barr told lawmakers weeks later that he did "not know whether Bob Mueller supported my conclusions."
On Thursday, Democratic Representative Steve Cohen brought a bucket of Kentucky Fried Chicken to the committee's hearing. He then passed out the food to his Democratic colleagues and coined a nickname for the attorney general: "Chicken Barr."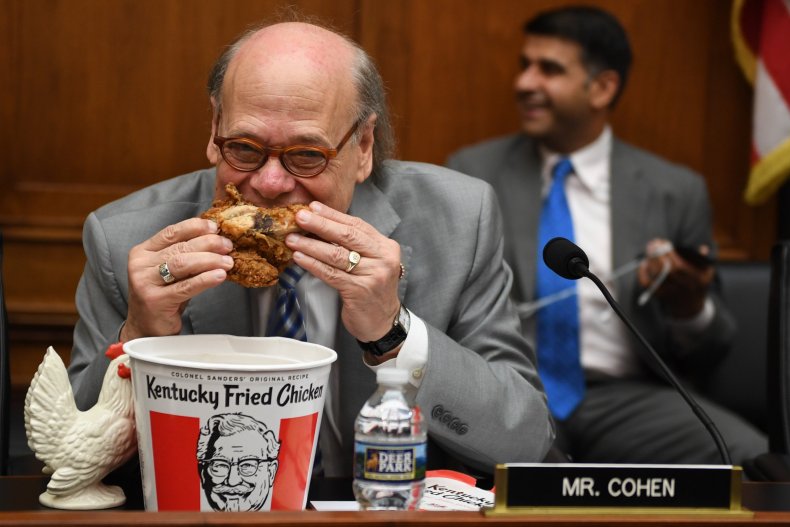 "The real question to the attorney general is: What are you afraid of?" said Representative David Cicilline, a Democrat on the committee. "Why don't you want to be questioned in a half-hour period by staff attorneys?"
Fellow Democratic committee member Hank Johnson compared Barr's refusal to cooperate to Russia trying to subvert the 2016 presidential election.
"This nation was attacked from outside its borders by the Russians. As a result of their outside attack, we are now being attacked from the inside by the very Trump administration whom the Russians favored," Johnson said. "The worst kind of damage that can be done to America is from its enemies from within."